U.S. U-14 Girls National Team roster named for ODP Interregional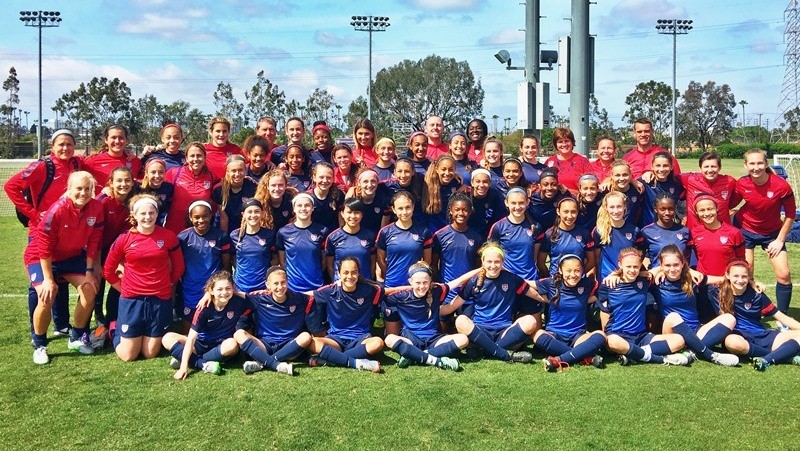 CHICAGO (Via U.S. Soccer) – The U.S. Under-14 Girls' National Team will come together in Sunrise, Fla., for a training camp running from Nov. 18-25 that will also see the team participate in the US Youth Soccer ODP Girls Thanksgiving Interregional tournament.
Head coach April Kater has called up 24 players for the event. The U.S. team, which is made up of 16 players born in 2002, seven players born in 2003 and one in 2004, will be playing up against teams consisting of players born in 2000.
The USA will play four matches in six days, starting on Sunday, Nov. 20 against Region IV at FAU Field 1 (3 p.m. ET). The U-14s will then face Region III on Monday, Nov. 21 at FAU Stadium Field (7:30 p.m.), will take on Region II on Wednesday, Nov. 23 at Spanish River Park Field 1 (1 p.m. ET) and finish against Region I on Friday, Nov. 25 at Spanish River Park Field 3 (8 a.m. ET).
+Read: About face? Heinrichs says Girls DA will allow high-school play
The U.S U-14 GNT did not have programming last year as players born in odd years start with two years in the U-15 Girls' National Team program. For this cycle in 2016, with the majority of players born in an even year, which are the age-cut-off years for the FIFA U-20 Women's World Cup, the players follow the path of one year as U-14s and then move to the Under-16 GNT (two years), Under-18 WNT (two years) and Under-20 WNT (two years). These players are on a path that for some may lead to the 2022 FIFA U-20 Women's World Cup.

U.S. U-14 Girls' National Team Roster by Position:
GOALKEEPERS (2): Mia Justus (PDA; North Brunswick, N.J.), Stephanie Sparkowski (East Meadow Soccer Club; East Meadow, N.Y.)
DEFENDERS (6): Baleigh Bruster (Tophat SC; Smyrna, Ga.), Kayla Colbert (Arsenal FC; Rancho Cucamonga, Calif.), Samar Guidry (FC Dallas; McKinney, Texas), Isabel Loza (Arsenal FC; La Mirada, Calif.), Emily Mason (PDA; Flemington, N.J.), Emily Royson (PDA; Toms River, N.J.)
MIDFIELDERS (9): Erin Carlton (Concorde Fire; Powder Springs, Ga.), Talia DellaPeruta (Tophat SC; Cumming, Ga.), Devi Dudley (Utah Celtic FC; American Fork, Utah), Emma Egizil (Beach FC; Downey, Calif), Jillian Martinez (Lonestar SC; San Antonio, Texas), Jaiden McClellan (Crossfire United Oregon; Wilsonville, Ore.), Alexis Missimo (Solar; Southlake, Texas), Michaela Rosenbaum (Santa Rosa United; Santa Rosa, Calif.), Allyson Sentnor (South Shore Select; Hanson, Mass)
FORWARDS (7): Trinity Byars (Soccer FC; Richardson, Texas), Kailyn Dudukovich (Cincinnati United; West Chester, Ohio), Dilary Heredia-Beltran (Sporting Blue Valley; Overland Park, Kans.), Samantha Kroeger (World Class FC; West Milford, N.J.), Aryssa Mahrt (FC Wisconsin Eclipse; Wauwatosa, Wisc.), Trinity Rodman (Blues; Newport Beach, Calif.), Jillian Shimkin (Albertson Soccer Club; Rockville Centre, N.Y.)