U.S. Soccer Development Academy East Conference Recap: Week 7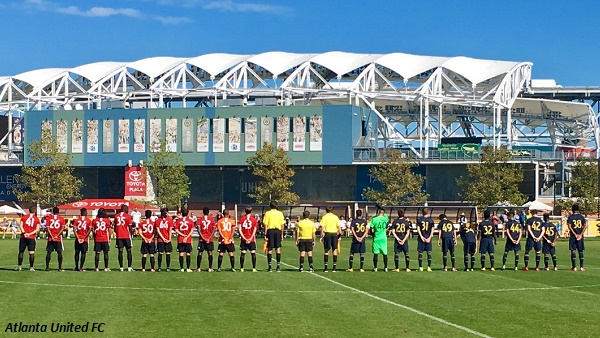 U.S. Soccer Development Academy East Conference clubs across all divisions were active over the weekend, as the standings continue to take shape.
Continue reading for a recap of some of the most notable performances in the U-14, U-15/16 and U-17/18 age groups.
U-14
The New York Red Bulls (5-0-0) maintained their unblemished record with a 5-3 defeat of Cedar Stars Academy – Monmouth on Saturday, as four players found the net. Daniel Ramm (4', 25') led the attack with a brace in the first half, as Alexander Dos Santos ('5), Esteban Molina (65') and Peter Stroud (71') each scored as well.
The New York Cosmos (5-1-1) extended their current unbeaten streak to six over the weekend, earning 3-1 and 2-1 victories over in-state opponents BW Gottschee Academy and Met Oval. Augustus McGiff recorded a hat trick with all three goals coming in the second half on Saturday, and found the net again Sunday against Met Oval. Richard DeBrosse netted the game-winner against Met Oval in the 82nd minute.
Oakwood SC (4-2-2) swept the weekend with back-to-back 3-1 wins over New York SC and Cedar Stars Academy – Bergen. Oakwood scored all three goals within a seven-minute span during the first half on Saturday against New York SC, with two coming from Zach Sauer (16', 22') and the other from Ronan O'Brien (19'). Against Cedar Stars on Sunday, Oakwood midfielder Evan Schweickert opened the scoring in the 10th minute before John Rossetti came on in the second half and promptly netted two goals in a three-minute stretch, putting the game out of reach by the 48th minute.
+Read: Region I rosters announced for US Youth Soccer Boys ODP Interregionals
Atlanta United (4-0-2) remains undefeated through six games, following the team's impressive fifth consecutive clean sheet, coming in a 2-0 win over in-state foe Concorde Fire on Saturday. Defender Josiah Blanton played full time for Atlanta and scored the go-ahead goal in the 15th minute, which was followed by an insurance score from Jackson Wrobel in the 69th. Goalkeepers Ryan Schewe and Donovan Jones combined for the shutout, as Garrett Gardner and Anthony Reaves also played full time on the back line.
Georgia United (4-0-2) also ran its unbeaten streak to six, trouncing Triangle FC Alliance 5-1 on Saturday afternoon in North Carolina. Five different players found the net in the rout, as United recorded its third five-goal performance in the past four matches.
Capital Area Railhawks – CASL (3-1-1) notched a 4-0 victory over NC Fusion on Saturday afternoon utilizing a balanced attack, as four different players got on the scoreboard. Meanwhile, goalkeepers Robert Alphin and Ethan Wady combined to earn the clean sheet behind a tough CASL back line.
Braces by Aboubacar Camara and Julian Anderson led the Philadelphia Union (3-3-0) to a defiant 4-0 road wins over PDA, bringing the team back to the .500 mark. Goalkeeper Lukas Burns recorded the clean sheet in net, while Union defenders Zach Golden, Sean Jennings and Cole Verrico each played full time.
Virginia Development Academy (4-4-0) evened its record with a 3-1 win against Arlington, fueled by a Griffin Yow brace and another goal by Thomas Corral Chavez.
Richmond United (2-3-1) bounced back with a 2-1 win over PA Classics, as Gerard Broussard and Maddux Reece helped lead the team to a second half comeback. Broussard entered the match at the start of the second half and promptly leveled the score at 1-1 in the 50th minute, before Reece entered in the 55th minute and netted the game-winner in the final minute.
All Results
Saturday, October 15
Charlotte Soccer Academy 1, Carolina Rapids 1
Philadelphia Union 4, PDA 0
New York Cosmos 3, BW Gottschee Academy 1
Oakwood SC 3, New York SC 1
Atlanta United FC 2, Concorde Fire 0
Baltimore Armour 2, Bethesda SC 2
Georgia United 5, Triangle FC Alliance 1
Richmond United 2, PA Classics 1
Capital Area Railhawks – CASL 4, NC Fusion 0
Seacoast United 2, FC Boston Bolts 1
Everton FC Westchester 0, Cedar Stars Academy – Bergen 0
Kendall SC 1, Boca United FC 1
New York Red Bulls 5, Cedar Stars Academy – Monmouth 3
Virginia Development Academy 3, Arlington Soccer 1
Weston FC 4, Chargers SC 0
New England Revolution 2, Met Oval 0
Sunday, October 16
Lehigh Valley United 3, Continental FC DELCO 0
Oakwood SC 3, Cedar Stars Academy – Bergen 1
Beachside SC 1, World Class FC 1
New York Cosmos 2, Met Oval 1
U-15/16
Atlanta United FC (7-0-0) continued its perfect start to the season with a 4-0 rout of Concorde Fire. James Brighton had a brace within the first 13 minutes of the match, as Dylan Gaither (17') and Dawson Gideon (31') put the game away soon after with goals of their own. U.S. Youth National Team defenders George Bello and Kendall Edwards, along with the rest of the back line and goalkeeper Sai Brown, led Atlanta to its second clean sheet of the season.
Another dominant performance on both sides of the pitch propelled the New York Red Bulls (6-0-1) to their third straight win as they remain unbeaten on the season, after blanking Cedar Stars Academy – Monmouth 4-0. Aziel Jackson has now scored a goal in each of the team's last five matches following his 77th minute strike.
Northeast Division leader Montreal Impact FC (4-0-1) rolled to a 2-0 shutout of Everton FC Westchester at home on Saturday, behind second half goals from Tristan Resendes and Jean Arnaud Tano. Goalkeeper Jordan Tisseur and the back line recorded their first clean sheet of the young season.
BW Gottschee Academy (4-0-1) remains on pace with Montreal at the top of the Northeast Division following a 2-1 home win over a tough New York City FC side. Joseph Koroma (18') and Diego Montes (65') provided the scoring as Gottschee earned its third straight victory.
+Read: ECNL Mid-Atlantic Conference Recap – October 15-16, 2016
Baltimore Armour (4-2-0) picked up its second straight win, edging Bethesda SC 2-1. Christian Sorto (30') and Peter Mangione (34') scored back-to-back first half goals in the victory.
D.C. United (3-2-1) stunned Continental FC DELCO with two goals in a four-minute span late in the second half to earn a 2-1 comeback win on Saturday at The Proving Grounds in the suburbs of Philadelphia. Eric Calvillo (69') and Alexis Cerritos (73') provided the scoring, while the United defense locked down for the final 76 minutes of the match after allowing an early goal.
A brace by Miguel Montano helped guide Capital Area Railhawks – CASL (3-2-2) to a 3-1 win over NC Fusion on Saturday at the WRAL Soccer Center in Raleigh, North Carolina. It was CASL's second straight win, as the attack has now racked up three goals in consecutive outings.
Empire United (2-2-1) came back from a 2-1 halftime deficit to edge out the New England Revolution 4-3 on Saturday afternoon in Massachusetts. Empire netted three goals in the second half to secure the win, highlighted by a brace from Joseph Alex. Forward Jonathan Ferreira scored twice for the home team in the loss.
All Results
Saturday, October 15
New York Red Bulls 4, Cedar Stars Academy – Monmouth 0
Empire United 4, New England Revolution 3
PA Classics 2, Richmond United 1
D.C. United 2, Continental FC DELCO 1
Montreal Impact FC 2, Everton FC Westchester 0
Atlanta United FC 4, Concorde Fire 0
Baltimore Armour 2, Bethesda SC 1
Kendall SC 2, Boca United FC 0
Capital Area Railhawks – CASL 3, NC Fusion 1
Carolina Rapids 1, Charlotte Soccer Academy 0
PDA 1, Philadelphia Union 1
Weston FC 1, Chargers SC 0
Sunday, October 16
BW Gottschee Academy 2, New York City FC 1
U-17/18
The New York Red Bulls (7-0-0) kept their perfect record in tact with another decisive win, cruising past Cedar Stars Academy – Monmouth 5-0. The No. 1 ranked team at the U-17/18 level has now outscored opponents 28-4 on the season following a third consecutive clean sheet.
Atlanta United FC (5-0-2) remains unbeaten after an impressive 5-2 defeat of Concorde Fire, led by a Lagos Kunga hat trick.
Baltimore Armour (5-1-0) continues to thrive, after winning an all-Maryland match-up 2-1 against Bethesda SC. Stephen Nichols scored a goal in each half to pace the offense, bringing his team-leading total to eight on the season.
A clean sheet effort by U.S. Youth National Team goalkeeper Trey Miller and the New England Revolution back line paired with a two-goal burst in the second half was a successful combination for the still unbeaten side against Empire United on Saturday. Two other U.S. Youth National Team players – Calvin Aroh and Daniel Jones – as well as Prince Loney-Bailey played the full 90 minutes for the dominant Revolution defense in the win. Another U.S. Soccer representative, Justin Rennicks, opened the scoring for New England in the 54th minute before Joseph Brito tacked on an insurance goal in the 89th.
+Read: U.S. U-17 Men's National Team Fall Residency roster named
Ever since a humbling 7-2 loss to the New York Red Bulls on September 17, the Philadelphia Union (4-1-1) have now steamrolled their past three opponents by a combined margin of 13-1. The Union continued their run of vengeance with a 5-0 rout of PDA on Saturday in New Jersey, led by a first half brace from Tiger Graham and the defense's fourth clean sheet effort this season.
Weston FC (4-1-1) got back on the winning side with a 3-1 defeat of Chargers SC in an all-Florida match on Saturday. With the match tied at 1-1 heading into the final 20 minutes of regulation, Sebastian Betancur (70') and Carlos Dulcey (72') netted back-to-back goals to put Weston ahead for good.
All Results
Saturday, October 15
New York Red Bulls 5, Cedar Stars Academy – Monmouth 0
New England Revolution 2, Empire United 0
Richmond United 0, PA Classics 0
Continental FC DELCO 2, D.C. United 0
Capital Area Railhawks – CASL 1, NC Fusion 1
Montreal Impact FC 3, Everton FC Westchester 3
Atlanta United FC 5, Concorde Fire 2
Kendall SC 3, Boca United FC 2
Baltimore Armour 2, Bethesda SC 1
Charlotte Soccer Academy 2, Carolina Rapids 1
Philadelphia Union 5, PDA 0
Weston FC 3, Chargers SC 1
Sunday, October 16
FC Boston Bolts 2, Seacoast United 0