U.S. Soccer Development Academy East Conference Recap: Week 6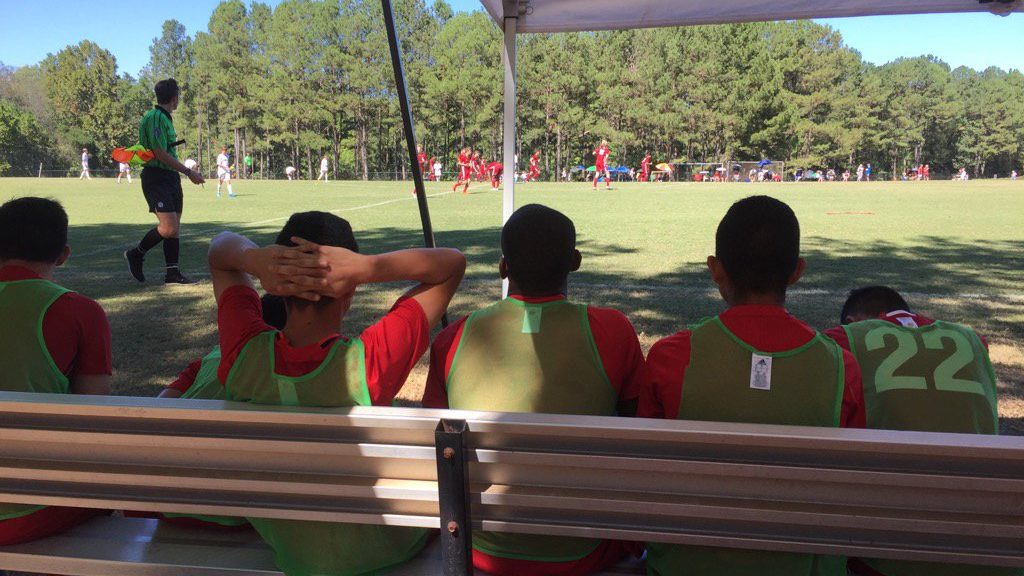 U.S. Soccer Development Academy East Conference clubs continued early season action over the weekend.
Continue reading for a recap of some of the most notable performances in the U-14, U-15/16 and U-17/18 age groups.
U-14
D.C. United (7-1-0) continued its scorching start to the season, earning its sixth and seventh victories 3-2 over Virginia Development Academy and 2-0 over Arlington Soccer Association. All five of United's goals were scored in the first half of the games, four of which came within the opening 13 minutes. Nick Andersen netted two goals, as Maxwel De-Bodene, Augustus Sam and Juan Torres each netted one on the weekend. While the offense got off to fast starts, the D.C. defense was strong as well behind goalkeeper Hayden Evans and the back line, who earned their fourth clean sheet through eight matches.
Georgia United (3-0-2) remains unbeaten following a 5-1 victory against Carolina Rapids, in a match where United racked up four first half goals. Simon Carlson recorded a brace within the first 19 minutes of the contest, as Carlos Luna, Riley Thomas and Colin Thomas each found the net as well.
FC Boston Bolts (4-2-1) got by New York City FC 3-2 in a match played at Mount Ida College, scoring three goals in a span of four minutes of game time. New York City FC's Balthazar Saunders recorded a first half brace to spot his team a 2-1 lead going into the intermission, as he and Boston's Steven Lopez traded goals in a thrilling final minute of the opening half. Boston's momentum carried over into the opening minutes of the second half, as Benjamin Verner and Lopez found the net in the 42nd and 43rd minutes to give their team the lead for good.
+Read: U.S. Soccer Development Academy East Conference Recap – Week 5
New England Revolution (3-1-2) won its second straight match, racking up another four goals in a win over New York SC. Michael Balleani found the net in the first half, before Damien Rivera, Michael Tsicoulias and Caleb Williams scored in a second half flurry for the Revolution.
Beachside SC (3-2-1) is now unbeaten in its last four matches following a 4-2 win over Everton FC Westchester on Sunday. Four different players – Erik Quaintance, Olivier Van Spaendonck, Phineas Callahan and Elijah Henry – found the net in the victory.
Oakwood SC (2-2-2) edged out World Class FC 2-1 on Saturday, thanks to a game-winner in the final minute by Ronan O'Brien. The teams were tied at 1-1 from the 38th minute on, following goals within a three-minute span by Oakwood's Shane Mendez and World Class' Michael Hernandez.
PA Classics (2-2-1) shut out Loudoun Soccer 2-0, behind a shutout effort by goalkeeper Ryan Glenlast and the back line. Defenders Samuel Bennett and Ethan Bredeman played the entire 80 minutes for Classics, while another defender, Braeden Glass, scored as a second half sub. Aiden Weaver netted the opening goal in the 25th minute, giving Classics the early lead.
Lehigh Valley United (2-2-1) came out on top of a defensive battle 1-0 against Baltimore Armour, with the only goal of the game coming in the 70th minute from Dat Pham. Meanwhile, LVU goalkeeper Blake Koski and the back line combined to earn their second straight clean sheet.
PDA (1-3-1) picked up its first win of the season, mounting a stunning comeback in the final nine minutes of the game to defeat Met Oval 2-1 with clutch goals from a pair of second half subs. After going down 1-0 in the middle of the first half, PDA broke through in the 71st minute on a strike from Christopher Fontanazza, and then Alex Caputo netted the game-winner in the 80th.
+Read: US Club Soccer id² Training Camp concludes in Connecticut
All Results
Saturday, October 8
Oakwood SC 2, World Class FC 1
PDA 2, Met Oval 1
New York Cosmos 1, Cedar Stars Academy – Monmouth 1
Georgia United 5, Carolina Rapids 1
PA Classics 2, Loudoun Soccer 0
D.C. United 3, Virginia Development Academy 2
Seacoast United 1, BW Gottschee Academy 1
Sunday, October 9
FC Boston Bolts 3, New York City FC 2
New England Revolution 4, New York SC 1
Lehigh Valley United 1, Baltimore Armour 0
Beachside SC 4, Everton FC Westchester 2
D.C. United 2, Arlington Soccer Association 0
U-15/16
Oakwood SC (4-0-1) remains unbeaten and in the lead in the Northeast Division, following a 1-0 shutout of Empire United. The dominant Oakwood defense has now given up just one goal through five games. Ronan Fitzpatrick provided the only score of the game on Saturday, converting a penalty kick in the 55th minute.
BW Gottschee (3-0-1) overpowered Seacoast United 4-0 on Saturday, as Steven Fernandez, Reed Kessler, Kevin Nunez and Gerard Rodman each found the net during a four-goal second half explosion.
Capital Area Railhawks – CASL (2-2-2) picked up a decisive 3-0 shutout win over in-state opponent Charlotte Soccer Academy, behind a first half brace from Justin Stone. Sheldon China added an 80th minute goal, while the CASL defense earned its second clean sheet of the season.
Everton FC Westchester (1-2-1) earned its first victory of the season, defeating Beachside SC 3-1 on Sunday at the University of Bridgeport. Jeremy Pantoni recorded a brace and Jonathan Jimenez scored a 36th minute goal in the win.
+Read: U.S. Soccer Development Academy East Conference Recap – Week 4
All Results
Saturday, October 8
Oakwood SC 1, Empire United 0
BW Gottschee 4, Seacoast United 0
Sunday, October 9
Everton FC Westchester 3, Beachside SC 1
Capital Area Railhawks – CASL 3, Charlotte Soccer Academy 0
U-17/18
Beachside SC (1-1-2) tallied its first win of the season, blanking Everton FC Westchester 4-0 on Sunday morning behind a hat trick from Austin DaSilva. Goalkeeper Giuliano Santucci and the back line notched their second clean sheet in the win.
Capital Area Railhawks – CASL (3-2-2) earned a narrow 2-1 win over Charlotte Soccer Academy, as Aidan Foster and Andrew Rabil spotted the team a lead with a pair of goals in a five-minute stretch in the second half.
Empire United (2-1-1) played Oakwood SC (0-2-3) to a 2-2 draw on Saturday, with all four goals coming in the second half. Brett Stern netted both for Empire, scoring in the 60th minute before recording the equalizer in the 81st. Simon Becher and Chris Roman tallied 57th and 65th minute scores for Oakwood.
All Results
Saturday, October 8
Empire United 2, Oakwood SC 2
Seacoast United 1, BW Gottschee Academy 1
Sunday, October 9
Beachside SC 4, Everton FC Westchester 0
Capital Area Railhawks – CASL 2, Charlotte Soccer Academy 1