U.S. Soccer Development Academy East Conference Recap: Week 4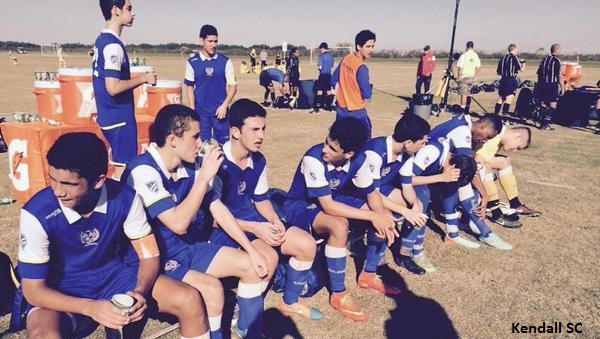 This weekend in the U.S. Soccer Development Academy East Conference, many U-15/16 and U-17/18, teams from the Atlantic and Northeast Divisions crossed over to face off in some early season match-ups. Several teams have made strong statements in the opening weeks of the fall slate, indicating they are ready to compete for a division title.
Match Recaps
U13/14
New York Red Bulls 2, Cedar Stars Academy 2
The Red Bulls entered their match having outscored their opponents, 17-1, en route to three-straight wins to the start the season. Cedar Stars Academy, meanwhile, had played one game, a 2-0 loss to NYCFC on Sept. 12. But when the two squads met in Ridgefield Park, New Jersey, on Saturday afternoon, the past statistics were rendered useless. Cedar Starts Academy netted more goals than the Red Bulls had allowed all season, and it held Dylan Sullivan, Scott Taylor and Kejiel Watt scoreless after the trio combined for 13 of the team's 17 scores over the first three games. Cedar Stars Academy will look to build on this positive result when it hosts World Class FC next weekend.
U15/16
Philadelphia Union 0, New England Revolution 0
After the Union and Revolution each pulled out 1-0 wins on Saturday over FC Boston Bolts and Continental FC DELCO, respectively, they both entered Sunday's match at 3-0-0. It appeared it would be a low-scoring game — the Revolution had not allowed a goal while the Union gave up just one — and that's what it turned out to be. Neither team converted a goal in the scoreless draw, keeping both teams undefeated and near the top of their respective division standings.
Kendall SC 3, Concorde Fire 1
In the third weekend of the season for teams in the Southeast Division, Kendall SC finally played its season opener Saturday afternoon and began the 2015-2016 campaign with a 3-1 win against Concorde Fire. A day later, Truman Gelnovatch notched a hat trick, and Kendall SC pulled out the victory over Georgia United, 4-3. With two wins under its belt, Kendall SC joins Capital Area RailHawks as the league's only two undefeated teams. Kendall SC will be challenged next weekend, though, when play at Boca United Football, which has three wins in its opening four contests.
U17/18
Kendall SC 3, Georgia United 1
Entering this weekend, Kendall SC tied its only contest, while Georgia United had not lost in three games (two wins and a draw.) Both teams earned wins Saturday — Kendall SC beat Concorde Fire, 4-2, and Georgia United cruised to a 6-2 win over Weston FC — and it appeared Georgia United had the upper hand heading into Sunday's matchup based on its early season results. But behind goals from Gonzalo Marquez and Miguel Perez, who combined for a hat trick against Condorde Fire, Kendall SC earned a 3-1 win, handing Georgia United its first loss of the season.
BW Gottschee Academy 2, D.C. United 0
D.C. United came into Saturday's game with a lot of momentum. After defeating NJCSA, 2-0, in its season opener, it cruised to a 5-1 over New York Red Bulls, handing the Atlantic division's top team its only loss in five games. Against BW Gottschee Academy, however, D.C. United attack tampered off in a 2-1 loss. Gustavo Fernandes and Conor McGlynn paced the squad with one goal each and helped BW Gottschee to its second victory in as many games.
Other Match-ups
U13/14
Metro Division
Philadelphia Union 5, NJCSA 2
Met Oval 2, Everton FC Westchester 2
World Class 4, Beachside SC 0
North Atlantic Division
Bethesda-Olney 1, Richmond United 1
Prince William Courage 3, Continental FC DELCO 1
Lehigh Valley United @ Baltimore Armour
Northeast Division
Prince William Courage 3, Continental FC DELCO 1
New England Revolution 6, Oakwood Soccer Club 2
Met Oval 2, Everton FC Westchester 2
World Class FC 4, Beachside SC 0
NYCFC 4, FC Boston Bolts 0
New York Soccer Club 1, Seacoast United 0
South Atlantic Division
Capital Area Railhawks 8, Carolina Rapids 1
Sunshine Division
Kendall SC 2, Tampa Bay United 2
Weston FC 2, Jacksonville FC 1
IMG Academy @ Boca United Football
U15/16
Atlantic Division
Baltimore Armour 3, Beachside SC 2
New England Revolution 1, Continental FC DELCO 0
Players Development Academy 2, Seacoast United 2
NJCSA 0, Montreal Impact 0
Everton FC Westchester 2, PA Classics 2
Oakwood Soccer Club 2, Bethesda-Olney 0
Philadelphia Union 1, FC Boston Bolts 0
Richmond United, 0 Albertson FC 0
Philadelphia Union 0, New England Revolution 0
Continental FC DELCO 2, FC Boston Bolts 0
Bethesda-Olney @ Beachside FC
Richmond United 1, BW Gottschee Academy 1
New York Red Bulls 3, Empire United 0
D.C. United 4, Albertson SC 0
NJCSA @ Seacoast United
Montreal Impact 2, Players Development Academy 1
Oakwood Soccer Club 5, Baltimore Armour 4
Northeast Division
Baltimore Armour 3, Beachside SC 2
New England Revolution 1, Continental FC DELCO 0
Players Development Academy 2, Seacoast United 2
NJCSA 0, Montreal Impact 0
Everton FC Westchester 2, PA Classics 2
Oakwood Soccer Club 2, Bethesda-Olney 0
Philadelphia Union 1, FC Boston Bolts 0
Richmond United 0, Albertson FC 0
Continental FC DELCO 2, FC Boston Bolts 0
Bethesda-Olney @ Beachside FC
Philadelphia Union 0, New England Revolution 0
Richmond United 1, BW Gottschee Academy 1
D.C. United 4, Albertson SC 0
New York Red Bulls 3, Empire United 0
NJCSA @ Seacoast United
Montreal Impact 2, Players Development Academy 1
Oakwood Soccer Club 5, Baltimore Armour 4
Southeast Division
Boca United Football 5, South Carolina Battery Academy 1
Kendall SC 3, Concorde Fire 1
Georgia United @ Weston FC
Capital Area Railhawks 2, Carolina Rapids 1
Kendall SC 4, Georgia United 3
Concorde Fire @ Weston FC
Orlando City SC 2, South Carolina Battery Academy 1
IMG Acadmey @ Boca United Football
U17/18
Atlantic Division
Beachside SC 3, Baltimore Armour 1
Continental FC DELCO 2, New England Revolution 1
BW Gottschee Academy 2, D.C. United 1
NJCSA 0, Montreal Impact 0
Players Development Academy 3, Seacoast United 1
Everton FC Westchester 0, PA Classics 0
Bethesda-Olney 1, Oakwood Soccer Club 0
Philadelphia Union 2, FC Boston Bolts 0
Richmond United 3, Albertson FC 0
Continental FC DELCO 5, FC Boston Bolts 1
Philadelphia Union @ New England Revolution
Bethesda-Olney @ Beachside FC
Richmond United @ BW Gottschee Academy
Seacoast United 2, NJCSA 0
D.C. United 2, Albertson SC 0
New York Red Bulls 1, Empire United 0
Players Development Academy 3, Montreal Impact 3
Baltimore Armour @ Oakwood Soccer Club
Northeast Division
Beachside SC 3, Baltimore Armour 1
Continental FC DELCO 2, New England Revolution 1
BW Gottschee Academy 2, D.C. United 1
NJCSA 0, Montreal Impact 0
Players Development Academy 3, Seacoast United 1
Everton FC Westchester 0, PA Classics 0
Bethesda-Olney 1, Oakwood Soccer Club 0
Philadelphia Union 2, FC Boston Bolts 0
Richmond United 3, Albertson FC 0
Continental FC DELCO 5, FC Boston Bolts 1
Philadelphia Union @ New England Revolution
Bethesda-Olney @ Beachside FC
Richmond United @ BW Gottschee Academy
Seacoast United 2, NJCSA 0
D.C. United 2, Albertson SC 0
New York Red Bulls 1, Empire United 0
Players Development Academy 3, Montreal Impact 3
Baltimore Armour @ Oakwood Soccer Club
Southeast Division
South Carolina Battery Academy 3, Boca United Football 0
Kendall SC 4, Concorde Fire 2
Georgia United 6, Weston FC 2
Capital Area Railhawks 3, Carolina Rapids 0
Concorde Fire 2, Weston FC 2
South Carolina Battery Academy @ Orlando City SC
Boca United Football 2, IMG Academy 0