U.S. Soccer Development Academy East Conference Recap: Week 10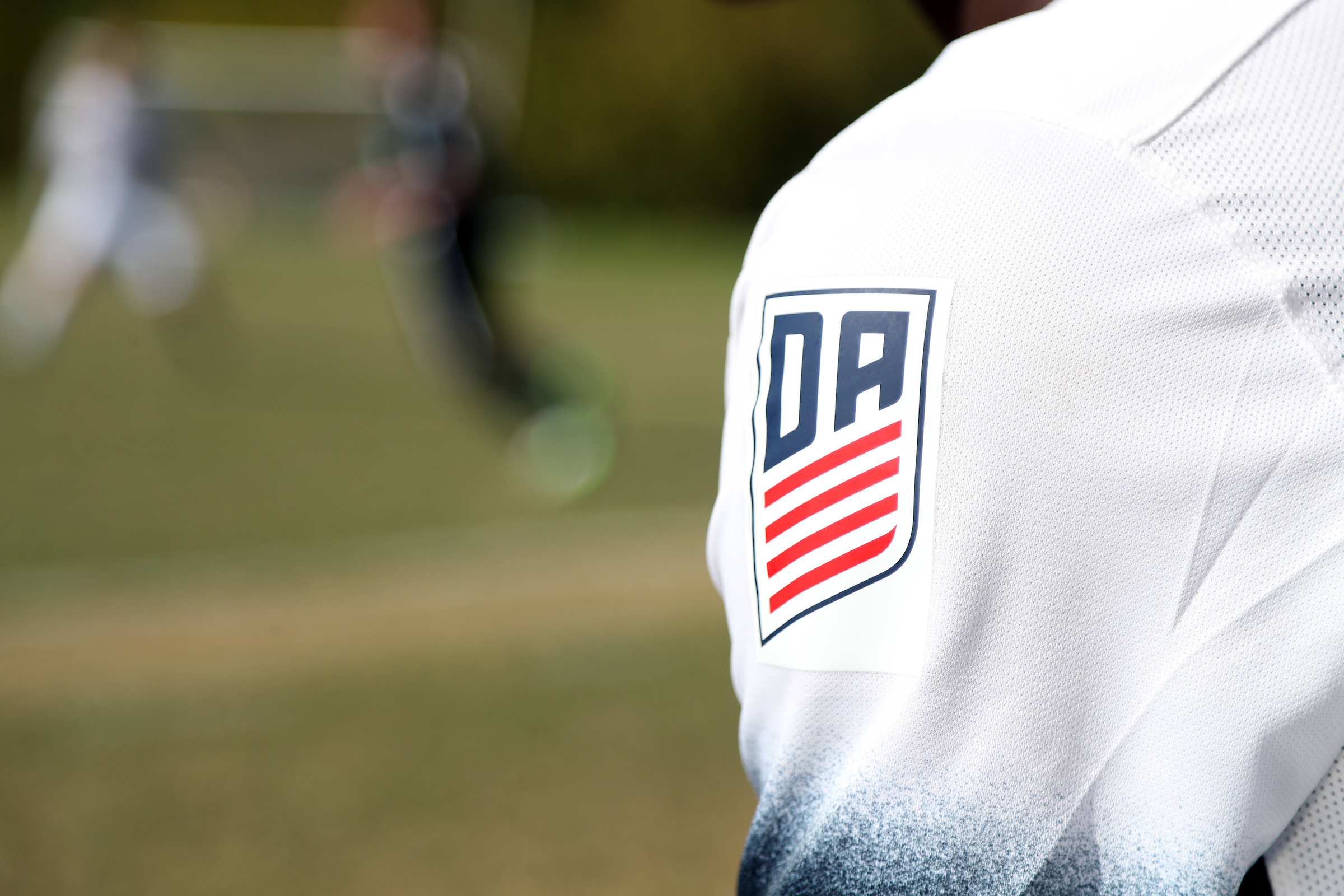 U.S. Soccer Development Academy East Conference clubs across all divisions were active over the weekend.
Continue reading for a recap of some of the most notable performances in the U-14, U-15/16 and U-17/18 age groups.
U-14
Weston FC earned a pair of home wins over in-state opponents Boca United FC and Tampa Bay United. On Saturday, Weston downed Boca United 3-1, behind a brace from Francisco Raggio and another strike from Adrian Levy-Salamanca. The team followed up that victory with a 1-0 shutout of Tampa, as Giancarlo Gonzalez netted the game-winner in the 52nd minute.
Bethesda SC extended its winning streak to four with a 2-1 victory against Arlington Soccer Association on Saturday at Long Bridge Park in Northern Virginia. Cole Hyland (33′) and Jose Ortega (74′) netted goals to build a 2-0 lead for Bethesda, before Arlington's Diego Guzman found the net in the 80th minute to cut the final margin back down to one.
D.C. United Academy won its third straight match, defeating PA Classics 3-0 on Saturday at RFK Field. Following a scoreless first half, United's attack hit its stride in the second half, as Maxwel De-Bodene (61′), Juan Torres (79′) and Moses Nyeman (80′) piled up goals for the home side. Goalkeeper Hayden Evans and the United back line earned the team's sixth clean sheet of the season.
+Virginia Fall State Cup Finals Recap: U15-U19/20 Boys
The New York Red Bulls got back on the winning side following their only loss of the season last weekend. New York stormed past Baltimore Armour 5-1 on Saturday at home, led by a balanced attack with four different players scoring. Jake Novoshelski netted two goals in the win.
Virginia Development Academy picked up its second victory in a row, shutting out Richmond United 2-0. Playing on its home field at Howison Park, VDA took an early lead on a fourth minute score from Griffin Yow, and three minutes into the second half Keegan Shackford added an insurance goal. Goalkeeper James Anderson earned the clean sheet in net, while defenders Noah Murdaugh and William Wagner played the full 80 minutes for the back line.
Cedar Stars Academy – Bergen edged New York City FC 5-4 in a high-flying match that saw a total of nine goal scored. Charles Fish and Kayvon Gray scored first half goals for Cedar Stars, before Kevin Lopez entered as a second half sub and promptly recorded a hat trick within 20 minutes of being on the pitch. On the other side, Nicholas Kapanadze recorded a hat trick for NYCFC in the defeat.
In one of the weekend's most closely contested matches, the Philadelphia Union came back to defeat Lehigh Valley United 3-2 on Saturday at YSC Sports. After LVU took a 2-1 lead into halftime, Aboubacar Camara scored two goals in a five-minute span early in the second half to put the Union ahead for good.
The New York Cosmos defeated in-state opponent World Class FC 3-1 on Saturday at Orangetown Soccer Complex, behind goals from Marco Lanza, Michael Mollica and Constantinos Nicolaou.
BW Gottschee Academy recorded the team's fourth clean sheet of the season in a 2-0 win over Continental FC DELCO on Sunday. Larry Diggs opened the scoring for Gottschee in just the second minute of play, and Salvatore D'Angelo added an insurance strike in the 72nd minute.
Beachside SC blanked Seacoast United 2-0 in more Sunday action, playing on its home field at Danbury High School. Liam Coffey and Oskar Ekeberg provided the scoring, while goalkeeper Blake Hylton and the Beachside back line earned the team's third clean sheet of the season.
+Read: Thirty-six players called to U.S. U-15 Boys National Team camp
Second half goals from Johnny Bernardi, Jackson Gould and Sebastian Docters propelled New York SC to a 3-2 win over Everton FC Westchester on Sunday, pushing the team's current unbeaten streak to four.
Capital Area Railhawks – CASL piled up eight goals in a rout of Triangle FC Alliance, highlighted by a second half hat trick from Adam Armour and a second half brace from Jacob O'Connor.
All Results
Saturday, November 5
New England Revolution 1, Oakwood SC 0
Philadelphia Union 3, Lehigh Valley United 2
Cedar Stars Academy – Bergen 5, New York City FC 4
PDA 1, Cedar Stars Academy – Monmouth 1
Weston FC 3, Boca United FC 1
Carolina Rapids 3, NC Fusion 1
Bethesda SC 2, Arlington Soccer Association 1
D.C. United 3, PA Classics 0
Met Oval 1, FC Boston Bolts 1
Orlando City SC 2, Chargers SC 1
New York Red Bulls 5, Baltimore Armour 1
Virginia Development Academy 2, Richmond United 0
New York Cosmos 3, World Class FC 1
Sunday, November 6
BW Gottschee Academy 2, Continental FC DELCO 0
New York SC 3, Everton FC Westchester 2
Beachside SC 2, Seacoast United 0
Weston FC 1, Tampa Bay United 0
Capital Area Railhawks – CASL 8, Triangle FC Alliance 0
U-15/16
Baltimore Armour (8-2-0) edged out the New York Red Bulls 3-2 behind a brace from Jerome Webbert and another score from Danique Parker. It was Baltimore's sixth straight win in USSDA league play, and an important one as the Armour hold a narrow lead over the second place Red Bulls in the Atlantic Division.
Oakwood SC (7-0-2) needed only a 58th minute goal by Ronan Fitzpatrick to defeat the New England Revolution 1-0 in a defensive battle on Saturday, as the team remains undefeated through nine league matches. Goalkeeper Justin Figueiredo and the Oakwood back line recorded the team's fifth clean sheet of the season.
Orlando City SC (5-0-4) also kept its undefeated season going, blanking Chargers SC 2-0 on Saturday at the Premier Sports Campus. Jose Aldaco and Jaime Lopez provided the scoring in the team's second straight shutout effort.
Empire United (5-2-1) stunned New York City FC with a last-minute game-winner by Isaac McGinnis. United won 3-2 after building a 2-0 halftime lead with first half scores from Niko Dimkopoulos and Michael Lantry. NYCFC stormed back to tie the game at 2-2 as Jose Flores (55′) and Justin Haak (60′) found the net, but McGinnis' late strike nullified the comeback effort.
+Read: Roster named for U.S. U-19 Men's National Team training camp
Weston FC (7-1-1) continued its outstanding season with a 1-0 shutout of Boca United FC, fueled by a 55th minute score by Bautista Hambra and the defense's fifth clean sheet effort.
Kendall SC (5-2-1) blanked IMG Academy 3-0 in a road victory, as three players found the net for the team's balanced attack. Defender Edwin Garcia played full time in the clean sheet effort and scored a goal for Kendall in the win. Goalkeeper Abdiel Martinez earned the win in net, while Daniel Hurtado and Federico Mion also played full time for the dominant back line.
PDA (5-2-3) emerged with a 3-2 victory over Cedar Stars Academy – Monmouth, as Nigel Griffith netted the game-winning goal in the final minute. The goal was Griffith's second of the match, as Zach Riviere also found the net for PDA in the win. Cedar Stars players Andres Gonzalez and Valentino Ambrosio erased PDA's 2-0 halftime lead by the 73rd minute, but Griffith put the match back in PDA's favor in the nick of time.
The Philadelphia Union (5-1-2) defeated Bethesda SC 4-0 on Saturday, led by a brace from Daniel Bloyou and a shutout effort by the Union back line. The win extended Philadelphia's current unbeaten streak to seven.
BW Gottschee Academy (5-1-3) piled up four second half goals in a 5-3 win over FC Boston Bolts, storming back to overcome a two-goal deficit. After Boston pushed its lead to 3-1 in the 44th minute, Joseph Koroma equalized with two goals in a four-minute span from the 59th to the 62nd. In the closing minutes of the match which appeared headed for a draw, Michael Quintero (79′) and Kevin Nunez (80′) put Gottschee on top.
Continental FC DELCO (5-2-1) won a third straight game, fueled by second half scores by Jeremy Rafanello and Joshua Dubost along with a clean sheet effort in a 2-0 decision against Richmond United. Goalkeeper Flannan Riley recorded the shutout, behind a defensive unit which had Dubost, Namit Deshpande, Jacob Lemelin and Raimondo Partito play the full 80 minutes.
All Results
Saturday, November 5
Empire United 3, New York City FC 2
NC Fusion 2, Carolina Rapids 1
Oakwood SC 1, New England Revolution 0
Philadelphia Union 4, Bethesda SC 0
Orlando City SC 2, Chargers SC 0
Kendall SC 3, IMG Academy 0
Weston FC 1, Boca United FC 0
PDA 3, Cedar Stars Academy – Monmouth 2
BW Gottschee 5, FC Boston Bolts 3
Sunday, November 6
Continental FC DELCO 2, Richmond United 0
Beachside SC 0, Seacoast United 0
D.C. United 4, PA Classics 1
Baltimore Armour 3, New York Red Bulls 2
U-17/18
The New England Revolution (5-0-3) ran their season-opening unbeaten streak to eight, defeating Oakwood SC 4-1. The Revolution racked up all four goals in the first half, with Izaiah Jennings recorded a brace, and Justin Rennicks and Alex Shterenberg scoring one each.
The Atlantic Division leading New York Red Bulls (10-0-0) pushed their perfect season-opening run to double digits, defeating a tough Baltimore Armour side 3-0. All three goals came in the first half, as Benjamin Mines opened the scoring in the 13th minute and Omir Fernandez recorded a brace. Meanwhile, the Red Bulls defense recorded its fifth clean sheet of the season.
The Atlantic Division's second place side, the Philadelphia Union (6-1-1), earned a defiant 4-0 victory over Bethesda SC on Saturday. Tiger Graham notched a first half brace, before Justin McMaster and Kalil ElMedkhar added second half scores for the Union's potent attack. Goalkeeper Jahmali Waite and the back line shut out an opponent for the sixth time this season, and for the third straight match.
+U.S. Soccer Development Academy East Conference Recap: Week 9
Orlando City SC (8-1-0) blew past Chargers SC 6-0 on Saturday, as Isaque Couto and Mikael Martins netted two goals each to lead the attack. Meanwhile, the Orlando defense notched its fifth shutout of the young season.
Weston FC (5-2-2) continues to build a strong postseason push, building on its strong early run with a 2-1 win over Boca United FC. Alfred Perez put Weston on the board in the 34th minute, quickly equalizing after Boca took a 1-0 lead just four minutes earlier.  Jesus Alberto Luna netted the game-winner in the 74th minute for Weston, as goalkeeper Santiago Hermida and the back line held Boca off the scoresheet the rest of the way.
Continental FC DELCO (2-4-2) picked up its second win of the season, defeating Richmond United 5-0 on Sunday. Gabriel Ivins led the attack with a hat trick, while goalkeeper Aaron Schwartz and the back line held United scoreless.
All Results
Saturday, November 5
Carolina Rapids 2, NC Fusion 1
New England Revolution 4, Oakwood SC 1
Philadelphia Union 4, Bethesda SC 0
Orlando City SC 6, Chargers SC 0
IMG Academy 3, Kendall SC 3
Weston FC 2, Boca United FC 1
PDA 2, Cedar Stars Academy – Monmouth 2
FC Boston Bolts 1, BW Gottschee Academy 0
Sunday, November 6
Continental FC DELCO 5, Richmond United 0
Beachside SC 1, Seacoast United 1
D.C. United 2, PA Classics 2
New York Red Bulls 3, Baltimore Armour 0