U.S. Soccer Development Academy drops U-12 programming ahead of 2019-20 season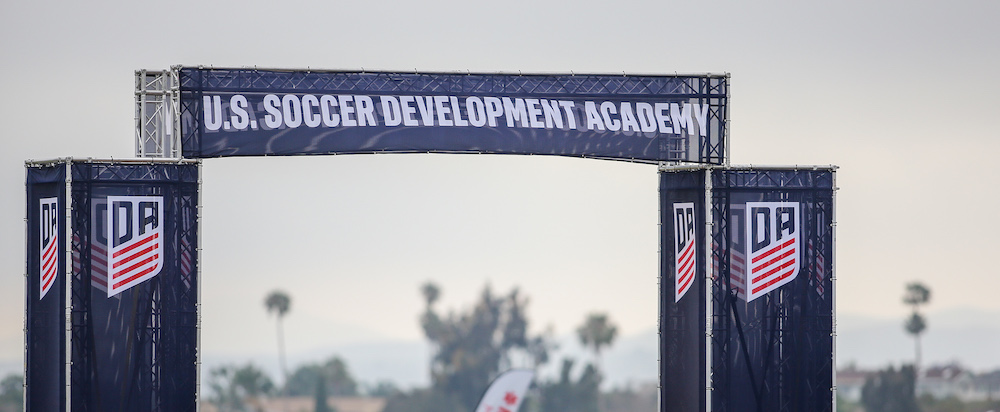 Starting with the 2019-20 season, the U.S. Soccer Development Academy will no longer operate U-12 programming. Moving forward, clubs and member organizations will directly manage Zone 1 (U-6 to U-12) development while continuing to uphold Academy philosophy and standards.

See below for a detailed explanation of the changes from U.S. Soccer:

Why are these changes being made?
U.S. Soccer believes it's the right time to empower clubs and youth member organizations across the country to run their own U-12 programming based on the Academy standards and U.S. Soccer Player Development Initiatives (PDIs).
Since the U-12 Academy program was established in 2016, clubs nationwide have worked to improve their environments according to Academy standards. Within Academy Clubs, those standards and philosophies have even spread to teams not competing in the Academy. Outside the Academy, members have also worked to adopt Academy Standards in addition to PDIs. With clubs and members taking the initiative on these standards as they develop Zone 1 players, their environments can continue to improve without direct programming organized by U.S. Soccer and the Academy.
What are the benefits for U-12 players across the country?
Giving clubs and member organizations the chance to drive the development of U-12 players allows them to more directly manage individual player needs. The Federation hopes that more and more clubs will continue to adopt Academy standards to positively impact more and more young players.
As local clubs take the reins of U-12 development, U.S. Soccer also hopes that it will reduce travel and costs for players and parents, so players can spend more time on the field.
How do these changes affect the current soccer landscape, especially in the Academy?
Starting in the fall of 2019, the Development Academy will no longer operate U-12 programming, therefore it will no longer be an option for a U-12 only Club to participate in the Academy.
U.S. Soccer still believes that the development of Zone 1 players (U-6 to U-12) is critically important as players take the first steps in their development pathway towards reaching their full potential, but it also believes that the best environment for these young players is managed with their local clubs, where their needs can be more directly addressed.
The Federation encourages clubs and member organizations to find affiliations with full Academy clubs (that offer Academy programming at every age group) or professional clubs to help make sure that talented young players continue to find the best possible environment for their development.
How will U.S. Soccer ensure that standards are still upheld at the U-12 level without Academy programming?
U.S. Soccer aims to improve everyday environments for all players across the country. The new Club Development department was created this year to collaborate with clubs nationwide to help create the best possible environments for player development. Through this department, the Federation will continue to support clubs at all levels as they work to improve their environments and take control of U-12 programming.
How can my club support these initiatives? What can I do to support these initiatives?
U.S. Soccer expects that clubs will continue to uphold Academy standards and commit to the PDI philosophy. Additionally, the Federation hopes that clubs will keep working to implement the following Zone 1 principles:
Be an example in your community. Establish partner and affiliate clubs for cooperation and collaboration.
Focus on training and the creation of positive learning environments.
Give all players meaningful minutes in games. The focus should be on development, not results.
Make sure every player plays at least 50 percent of minutes in each game.
Try to cut down on interruptions during games and training. Longer periods of continued play help player development.
Make sure players are challenged appropriately to accelerate their learning. Based on physical needs or other factors, move players up or down age groups.
Everyone involved with the club (parents, coaches, staff) needs to work together to create a supportive and positive environment for training and games.
What is Zone 1?
There are three zones of player development and Zone 1 is where it all beings: U-6 to U-12. This time period is critical for young players as they start their development pathway towards reaching their full potential.
Zone 2 includes U-13 to U-17 and Zone 3 is U-18 and older. In the new Academy programming set-up, clubs and member organizations take control of Zone 1 player development, while the Academy provides an ideal environment for players to develop in Zone 2 and at the start of Zone 3.
What are Player Development Initiatives and Academy standards?
At its core, the Player Development Initiative philosophy places the focus of youth soccer on the individual development of players. PDIs aim to create the best possible environment for youth players to grow and develop their soccer abilities. PDIs were implemented in 2016 to create nationwide standards for small-sided games at Zone 1 age groups and to institute a birth-year registration policy.
These uniform standards allow youth players across the country to grow on a level playing field, and it allows U.S. Soccer to better serve and educate players, parents, coaches, referees and members.
The PDIs are the foundation of the Academy's mission to impact everyday club environments to develop world-class players. Academy philosophy prioritizes individual development, by emphasizing the club environment with a minimum of three (U-12 and U-13) and four (U-14 and above) training sessions per week while playing fewer, but more meaningful games over the course of a year.
Who can I talk to if I have more questions?
It's important to communicate with your local soccer leaders about these changes and their objectives. This includes speaking with your coach, club or academy director. In addition, your state association and national members are a valuable resource for establishing standards-based environments.