U.S. Soccer Boys Development Academy East Conf. September Recap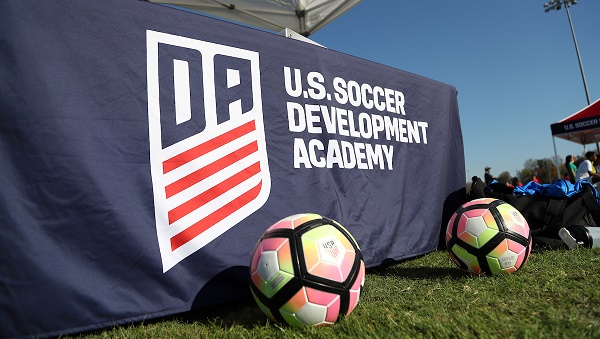 A new season of U.S. Soccer Development Academy action kicked off in September for clubs across the East Conference. Continue reading for a look at which teams in the U-15, U-15/16 and U-17/18 age groups have come out of the gates the strongest to open the 2017-2018 campaign.
+Full U.S. Soccer Boys' DA Standings
U-15
Montreal Impact FC is off to a perfect 5-0-0 start on the season, outscoring opponents 15-2. Matthew Catavolo has found the net six times and Tomas Giraldo has netted three goals to lead the attack, while the Impact defense enters the month of October riding a three-game shutout streak.
Alongside Montreal at the top of the Northeast Division table is BW Gottschee Academy, which is also off to an unblemished 5-0-0 start. Gottschee has limited opposing offenses to a total of two goals, and has earned clean sheets in each of its last three matches. The goal scoring combination of Paolo Primavera and Luigi Prosperi has produced nine of the team's 10 goals on the attacking side.
In the Atlantic Division, MLS academies New York Red Bulls (5-0-0) and D.C. United (5-0-1) have climbed to the top of the table with unbeaten records.
+READ: USA opens FIFA U-17 World Cup with 3-0 win over host India
Thomas Tulgar (5 goals), Dion Ahmetaj (3 goals) and Joseph Zalinsky (3 goals) have sparked the Red Bulls' attack, which has scored 20 times through its first five games. On the defensive side, New York has shut out three of its past four opponents.
For D.C. United, Jonathan Valladares' seven goals have paced the Atlantic Division's leading offense, which has seen nine different players score in the first six games of the season.
The Southeast Division has seen all 15 teams lose at least one game through the first month, demonstrating even competition across the board. Chargers Soccer Club holds a slim lead for the top spot in the division entering October with a 3-1-0 record. Chargers has rebounded from a 2-1 season-opening loss to Concorde Fire with three consecutive victories, as Dominick Phanco's four goals and Seth Martinez' three goals have propelled the attack.
U-16/17
North Carolina FC Youth has vaulted to the top of the Southeast Division table with an unbeaten 4-0-1 record through its first five games. Justin Stone (6 goals),  Owen O'Malley (3 goals) and Stephen Vorobiov (3 goals) have combined for 12 of the teams' 14 goals, while goalkeeper Trace Alphin and the back line are fresh off their first clean sheet of the season, a 2-0 win over Boca United FC on Sept. 24.
In the Northeast Division, Montreal Impact has a narrow grasp on the top spot with a 3-1-0 record, led by seven goals from the division's top scorer, Woobens Pacius. Montreal is closely followed by BW Gottschee Academy, New York City FC and Empire United, all three of which have identical 3-1-1 records.
+READ: U.S. Soccer Girls Development Academy East Conference September Recap
The New York Red Bulls have posted five straight wins to open the season in the Atlantic Division, outscoring opponents 15-6. Balthazar Saunders has netted seven goals in his first five appearances, while Scott Taylor has scored four in his first four outings.
Richmond United is close behind the Red Bulls with the No. 2 spot in the division, posting a 4-1-0 record. Jacob Thomas and Key White have combined for 10 of the team's first 14 goals, scoring five each, while the defense has limited three of its first five opponents to one or zero goals.
U-18/19
The U-18/19 age group has also seen Montreal Impact FC climb to the top of the Northeast Division table, as the team brings a perfect 4-0-0 record into October. Montreal has racked up 19 goals while giving up only three in its first four games, as six different players have found the net multiple times for the balanced attack. Meanwhile, the defense has shutout two of its first four opponents.
New York City FC is the only other unbeaten side, earning three wins and two draws. Forward Gio Reyna (5 goals) and Veljko Petkovic (3 goals) have paced the offense, while goalkeepers Johan Penaranda and Alex Rando have each recorded a shutout behind the team's strong back line.
The New York Red Bulls (5-0-0) and Philadelphia Union (3-0-0) each have unblemished records in the Atlantic Division, having both conceded only one goal so far. The Red Bulls have amassed 20 goals on the attacking side, highlighted by five from Skylar Conway, four from Benjamin Mines and three from JP Marin. Goalkeepers Matt Frank and Sam Ilin combined to earn four clean sheets in the opening month, complementing a stout Red Bulls back line.