U-20 USWNT facing Mexico in Concacaf Women's Championship Final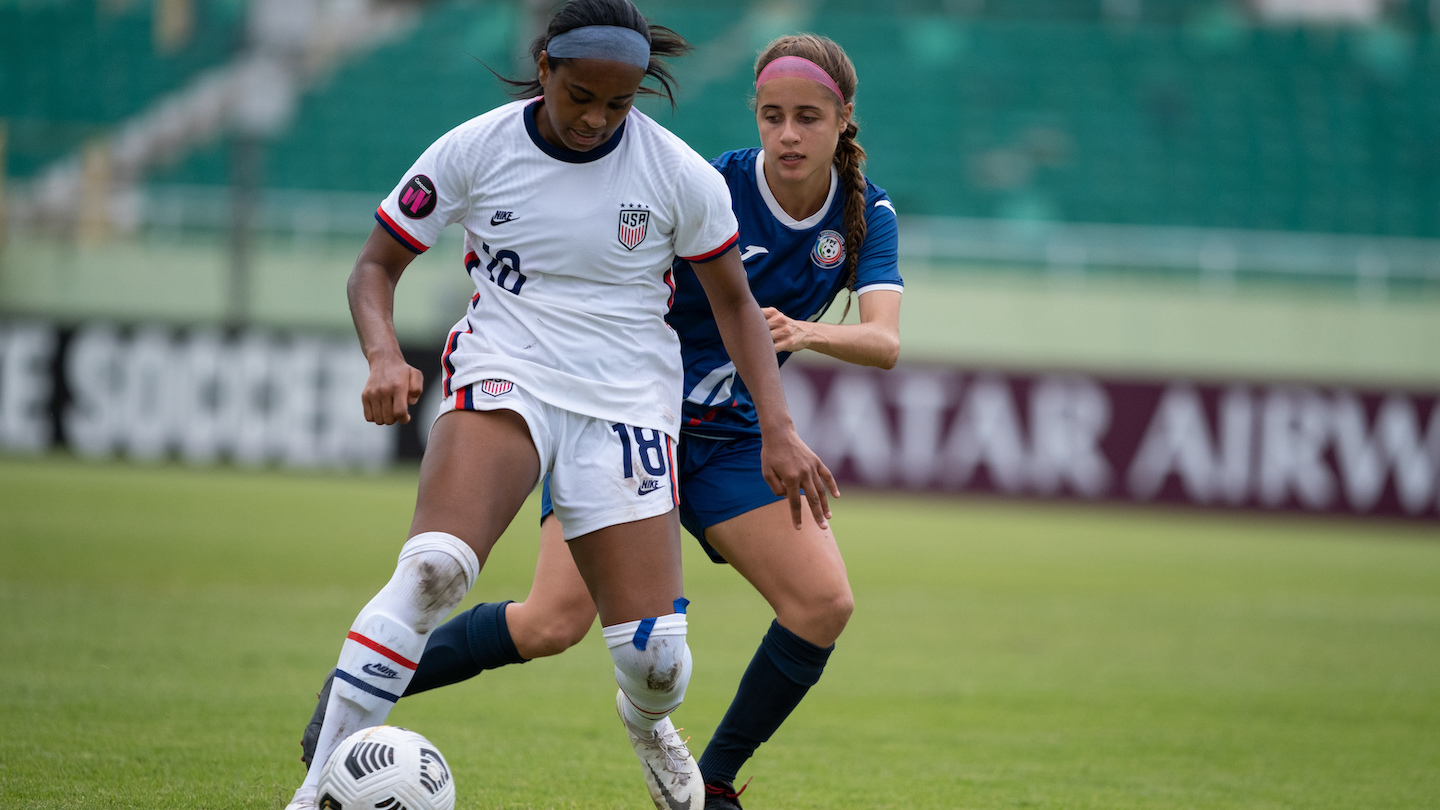 U.S. U-20 Women's National Team vs. Mexico
2022 Concacaf Women's U-20 Championship – Final
Estadio Olimpico Felix Sanchez; Santo Domingo, Dominican Republic
3:40 p.m. ET (Fox Soccer Plus, TUDN)
March 12, 2022
U-20 WYNT PLAYS FOR CONCACAF CROWN:
After punching its World Cup ticket with an emphatic semifinal victory vs. Puerto Rico, the U.S. Under-20 Women's Youth National Team is onto the Concacaf Women's U-20 Championship Final as it seeks its record seventh regional title at this level.
The USA enters the championship match riding six straight dominant victories and will face Mexico for the third-straight tournament final after El Tri edged Canada 1-0 in the semifinals.
Saturday's match will be broadcast live on Fox Soccer Plus and TUDN at 3:40 p.m. ET. Follow the U-20 WYNT throughout the tournament on ussoccer.com as well as U.S. Soccer Facebook, Twitter and Instagram.
CHAMPIONSHIP HISTORY:
The USA has won six of nine previous Concacaf Women's U-20 Championships that have crowned a champion, the most of any nation. The USA has reached the final of all nine Concacaf championships that have been held at this level and has won five of the last six.
This year's final is the third consecutive Concacaf U-20 women's tournament to culminate with a USA-Mexico showdown. In the 2020 championship game, the U.S. conceded its first goal of the tournament in the opening minutes before rattling off four unanswered to take home its sixth title. Current USWNT forward Trinity Rodman and tournament Golden Ball winner Mia Fishel both bagged braces in the match.
Four years ago, the USA and Mexico battled to a 1-1 draw through added extra time with a goal from USWNT defender Tierna Davidson. The U.S. would fall in penalties 4-2 as Mexico took home its first Concacaf Women's U-20 Championship.
The U.S. and Mexico also met in the 2014 and 2010 tournament finals. In 2014, current USWNT players Margaret Purce and Andi Sullivan contributed goals to a 4-0 win while all-time USA U-20 WYNT leading scorer Sydney Leroux netted a late game-winner for a 1-0 triumph in 2010. 
USA VS. MEXICO:
●      The U.S. is 9-0-2 all-time vs. Mexico at this tournament, including four finals and two semifinals. The USA holds a 32-6 goal differential against El Tri in the competition.
●      Several USWNT stars have scored against Mexico at this tournament, including Morgan Brian, Tierna Davidson, Julie Ertz, Lindsey Horan, Sydney Leroux, Kelley O'Hara and Mallory Pugh. Most recently, forward Trinity Rodman, who earned her first USWNT cap in February, netted twice in the 2020 tournament final vs. Mexico.
●      Mexico, alongside Jamaica and the USA, are the only three nations to appear at every Concacaf Women's U-20 Championship. El Tri has reached the final in five of 10 tournaments that have held one, the second-most of any team.
●      Sixteen of Mexico's 20 players are based in Mexico, led by four players from Chivas Guadalajara. Two are based in England as midfielder Silvana Flores is with Tottenham Hotspur and defender Tatiana Flores plays with Chelsea.
●      Two players compete collegiately in the USA, including defender Samantha Lopez, a teammate of U.S. defender Lilly Reale at UCLA. Seven players were based at U.S. colleges in the 2020 tournament.
●      Eleven players have scored for Mexico at the tournament, led by six goals from midfielder Aylin Avilez.
●      Mexico has called up 10 players born in 2002, eight in 2003, one born in 2004 and one born in 2005.
WORLD CUP CLINCHED:
After facing Puerto Rico in the group stage, the USA met Las Boricuas again in the tournament semifinal with a FIFA U-20 Women's World Cup berth on the line. Despite the raised stakes, the result was the same, a 7-0 victory for the U.S. to clinch its berth to Costa Rica for this summer's World Cup.
While Puerto Rico's low block initially did well to hold the U.S. attack at bay, the Americans broke through in the 19th minute with a rocket of a shot from midfielder Talia DellaPeruta. Midfielder Olivia Moultrie employed some fancy footwork to double the lead just three minutes later, while captain Michelle Cooper bagged a brace in six minutes to end the first half.
After the break, substitute Simone Jackson made a massive impact off the bench, netting a hat trick in just 16 minutes with goals in the 65th, 76th and 81st. Jackson's trio of goals tied the fastest scored by the U.S. at this tournament since 2004, a record set by forward Avery Patterson vs. Puerto Rico in the group stage on Feb. 27.
2022 CONCACAF WOMEN'S U-20 CHAMPIONSHIP ROSTER BY POSITION (COLLEGE OR CLUB; HOMETOWN; U-20 CAPS/GOALS)
GOALKEEPERS (2): 1-Mia Justus (Florida State; Lakewood, Ohio; 4/0), 12-Neeku Purcell (OL Reign Academy; Seattle, Wash.; 3/0) 
DEFENDERS (7): 14-Lauren Flynn (Florida State; Arlington, Va.; 5/0), 13-Samar Guidry (Virginia; McKinney, Texas; 9/0), 4-Emily Mason (Rutgers; Flemington, N.J.; 12/3), 15-Aidan McConnell (Wisconsin; Dexter, Mich.; 4/1), 3-Ayo Oke (California; Lawrenceville, Ga.; 6/0), 5-Lilly Reale (UCLA; Hingham, Mass.; 4/1), 2-Laney Rouse (Virginia, Cary, N.C.; 6/0) 
MIDFIELDERS (5): 6-Emily Colton (UNC; Carlsbad, Calif.; 6/3), 20-Talia DellaPeruta (UNC; Cumming, Ga.; 16/4), 17-Sally Menti (Santa Clara; Seattle, Wash.; 3/0), 10-Alexis Missimo (Texas; Southlake, Texas; 6/3), 8-Olivia Moultrie (Portland Thorns FC; Wilsonville, Ore.; 4/2)
FORWARDS (6): 18-Trinity Byars (Texas; Richardson, Texas; 6/0), 9-Michelle Cooper (Duke; Clarkston, Mich.; 5/7), 7-Simone Jackson (USC; Redondo Beach, Calif.; 4/6), 19-Andrea Kitahata (Stanford; Hillsborough, Calif.; 4/7), 16-Avery Patterson (UNC; Jacksonville, Fla.; 5/6), 11-Alyssa Thompson (Total Futbol Academy; Studio City, Calif.; 4/3)
ADDITIONAL NOTES:
●      Michelle Cooper's seven goals are tied for the team lead with forward Andrea Kitahata. The two are also tied for the tournament lead with Canada's Olivia Smith.
●      With the 7-0 semifinal win, the USA broke its tournament scoring record of 40 goals set during the 2020 qualifying tournament. The U.S. has tallied 47 goals and have yet to concede with one match left to play.
●      Twelve players have scored for the U.S. at this tournament: Cooper, Kitahta (seven each), forward Simone Jackson, forward Avery Patterson (six each), midfielder Talia DellaPeruta (four), midfielder Emily Colton, midfielder Alexis Missimo, forward Alyssa Thompson (three each), midfielder Olivia Moultire (two), defender Aidan McConnell and defender Lilly Reale (one each).
●      DellaPeruta will look to win her fourth Concacaf championship on Saturday after previously winning titles at the U-15 (2016), U-17 (2018) and U-20 (2020) levels.
●      Mason, Moultrie and Thompson will also be looking for their second Concacaf championships. Mason was a part of the 2020 U-20 title-winning team, while Moultrie and Thompson helped the U-15 WYNT take home the 2018 Concacaf U-15 Girls' Championship. While the tournament featured mostly 2003-birth year players, the USA brought a younger squad composed of players born in 2004 and 2005, including the 2004-born Thompson and 2005-born Moultrie.
●      Through six games in this tournament, the USA has scored at least three goals in all but one half of play – the first half of the quarterfinal match vs. Haiti on March 8, when the U.S. was limited to just one goal.
●      The USA has outshot its opponents 215-6 through six games of CWU20 and holds a 99-1 advantage in shots on goal. On average, the U.S. is taking a shot every two-and-a-half minutes at the tournament.
●      Fourteen players have logged assists for the USA, led by five from Colton and four from Patterson.
●      Outside back Laney Rouse is the only player to start all six matches for the USA. Eight have appeared in all six matches thus far – Rouse plus forward Trinity Byars, Colton, DellaPeruta, defender Samar Guidry, Mason, Missimo and defender Ayo Oke.
●      Missimo's 410 minutes played lead the USA, closely followed by Guidry's 403.
MEXICO'S ROAD TO FINAL:
Seeded as the second-best team in the Concacaf Women's U-20 rankings, Mexico rolled through the group stage with three shutout wins, beating Panama 3-0, Guyana 5-0 and Honduras 5-0. In the Round of 16, El Tri rolled pre-qualifying group winner Curaçao 9-0 as seven different players scored, including three successful penalties.
Mexico topped El Salvador 5-1 in the quarterfinals, going up 3-0 in the first half before conceding its first goal early in the second. In the semifinal, Mexico faced Canada, its toughest match-up yet for a spot in this summer's World Cup. Forward Annette Vazquez netted the game's lone goal in the 27th minute and Mexico controlled the match from then on to secure its berth to Costa Rica and spot in the championship match.
MEXICO ROSTER BY POSITION (CLUB/COLLEGE)
GOALKEEPERS (2): 1-Celeste Espino (Guadalajara), 12-Paola Manrique (Pachuca)
DEFENDERS (9): 14-Emili Bautista (Juarez), 3-Carol Cazares (Tigres), 16-Paola Chavero (Pumas), 19-Tatiana Flores (Chelsea/ENG), 4-Jana Gutierrez (Tigres), 15-Kinberly Guzman (Guadalajara), 13-Samantha Lopez (UCLA/USA), 2-Daniela Monroy (Cruz Azul), 5-Alexxandra Ramirez (Santos Laguna)
MIDFIELDERS (7): 7-Aylin Avilez (Monterrey), 6-Daniela Delgado (Santos Laguna), 8-Silvana Flores (Tottenham Hotspur/ENG), 18-Isabella Gutierrez (Guadalajara), 17-Martiza Maldonado (Queretaro), 20-Amanda Marroquin (Washington State/USA), 10-Annette Vazquez (Guadalajara)
FORWARDS (2): 11-Natalia Mauleon (Club America), 9-Alexia Villanueva (Santos Laguna) 
PATHS TO THE FINAL:
UNITED STATES
| | | | |
| --- | --- | --- | --- |
| Date | Stage | Result | Goal Scorers |
| Feb. 25 | Group E | USA 6, Nicaragua 0 | Moultrie, Cooper, Jackson, Kitahata (2), McConnell |
| Feb. 27 | Group E | USA 7, Puerto Rico 0 | Patterson (4), Missimo, Mason, Kitahata |
| March 1 | Group E | USA 7, Dominican Republic 0 | Kitahata, Missimo (2), DellaPeruta, Colton, Jackson, Own Goal |
| March 4 | Round of 16 | USA 14, Suriname 0 | Colton (2), Kitahata (3), DellaPeruta, Cooper (3), Thompson (2), Reale, Patterson, Mason |
| March 8 | Quarterfinal | USA 6, Haiti 0 | Mason, Thompson, Jackson, DellaPeruta, Patterson, Cooper |
| March 10 | Semifinal | USA 7, Puerto Rico 0 | DellaPeruta, Moultrie, Cooper (2), Jackson (3)  |
MEXICO
| | | | |
| --- | --- | --- | --- |
| Date | Stage | Result | Goal Scorers |
| Feb. 26 | Group F | Mexico 3, Panama 0 | Avilez, Villanueva, Chavero |
| Feb. 28 | Group F | Mexico 5, Guyana 0 | Chavero, Maldonado (2), T. Flores, Avilez |
| March 2 | Group F | Mexico 5, Honduras 0 | Avilez (2), Villanueva, Maldonado, Mauleon |
| March 5 | Round of 16 | Mexico 9, Curaçao 0 | Avilez (2), Delgado (2), Villanueva, Vazquez, Marroquin, Chavero, Maldonado |
| March 8 | Quarterfinal | Mexico 5, El Salvador 1 | Maldonado, Mauleon (2), Cazares, Guzman |
| March 10 | Semifinal | Mexico 1, Canada 0 | Vazquez |