U-15/16 Development Academy Playoff Quarterfinals set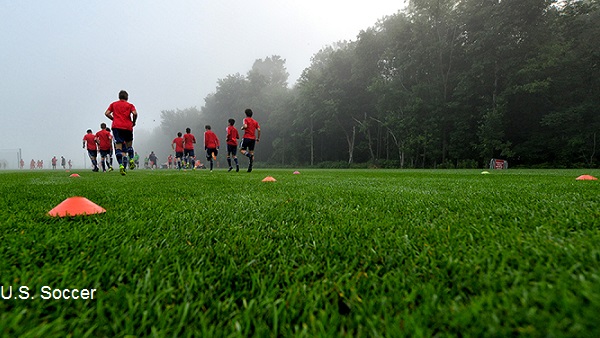 (Via U.S. Soccer) – The 2014-15 Development Academy Playoffs group stage for the U-15/16 age group concluded Friday afternoon at Grand Park in Westfield, Indiana following a weather delay. When it was all said and done, eight teams won their respective groups and advanced to the knockout rounds.
The matchups for the Quarterfinals, which will take place on July 8 at the home site of the top four seeds, are as follows:
Georgia United was the first team to secure their place in the next round when they won Group G with their third straight win earlier in the morning.
The remaining matches kicked off at 11:15 a.m. ET, but lightning in the general vicinity around the 60th minute mark forced a weather delay.
The New England Revolution, Chivas USA and Vancouver Whitecaps were leading their respective groups going into the day, and maintained their lead in their final match to advance as winners of Groups A, C and H, respectively.
Four matches, which pit the top two teams in their respective groups – with the winner advancing – resumed after a two and a half hour delay. The New York Red Bulls would go on to defeat the Portland Timbers 4-2 to win Group G on nine points, Beachside Soccer Club tied Orlando City SC 1-1 and won Group E with seven points, the Philadelphia Union defeated the Houston Dynamo 2-0 to win Group F with nine points, and FC Dallas defeated the LA Galaxy 2-0 to claim Group B with nine points.
As group winners, the eight teams advance to a single-game knockout round played at the higher seed's home facility on July 8. The four winners from the quarterfinals will advance to the Academy Championships, the semifinals will take place on July 16 in Carson, California. The Championship games for each age group will be played on July 18.
END OF YEAR AWARDS: The following players were recognized as the 2014-15 U.S. Soccer Development Academy Conference XI for each U-15/16 conference:
Eastern Conference:
Goalkeeper: Trey Miller (New England Revolution)
Defenders: Daniel Jones (New England Revolution), Jordi Avila (Kendall SC), Mason Deeds (New York Red Bulls), Jonathan Rosales (Orlando City SC)
Midfielders: Chris Durkin (Richmond United), Raul Aguilera (Orlando City SC), Jose Carranza (D.C. United)
Forwards: Patrick Okonkwo (Georgia United), Colby Agu (Capital Area RailHawks Academy-CASL), Brian Saramago (New York Red Bulls)
Central Conference:
Goalkeeper: Ben Hale (FC Dallas)
Defenders: Aiden Stanley (St. Louis Scott Gallagher Missouri), Reggie Cannon (FC Dallas), Gabe Kash (St. Louis Scott Gallagher Metro), Matthew Constant (Dallas Texans)
Midfielders: Weston McKennie (FC Dallas), Suniel Veerakone (Crew SC Academy Wolves), Djordje Mihalovic (Chicago Fire)
Forwards: Devin Vega (FC Dallas), Daniel Wright (Crew SC Academy Wolves), Dwight Williams Jr. (Solar Chelsea SC)
West Conference:
Goalkeeper: Pierce Ashworth (Pateadores)
Defenders: Angel Farias (De Anza Force), Eves McKay (Real Salt Lake AZ), Vernon Fernandez (De Anza Force), Daniel Villegas (Chivas USA)
Midfielders: Marc Joshua (Juventus Sport Club), Oscar Penate (Chivas USA), Terrell Lowe (Portland Timbers)
Forwards: Ethan Zubak (LA Galaxy), Simon Lekressner (Crossfire Premier), Wilson Harris (Real So Cal)