Twenty-six teams claim Capital Fall Classic girls division titles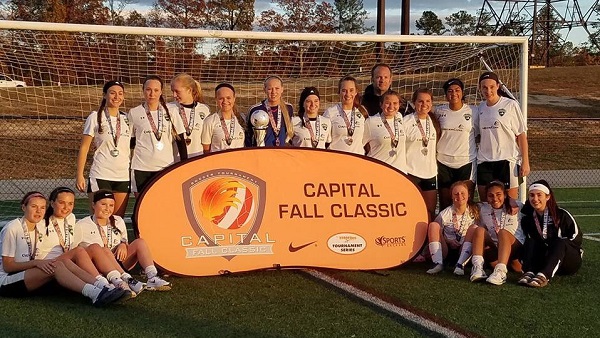 Girls Weekend Results | Tournament Website
@RSKTournaments: Twitter | Instagram
Richmond, VA (Via Richmond Strikers Tournaments) – Division champions were crowned and 2018 Jefferson Cup automatic berths were decided on Sunday as the Capital Fall Classic Girls Weekend came to a close, capping off the expanded three-weekend tournament which featured more than 500 total teams.
The Girls Weekend saw more than 175 teams from six states and Washington, D.C., compete across 26 total divisions in the U-9 through U-19 age groups.
Premier Division champions earned automatic qualification in the 2018 edition of the Jefferson Cup, one of the nation's most competitive youth soccer tournaments.
Capital Falls Classic games are played on some of the top natural grass and artificial turf fields in the greater Richmond area, including at Striker Park, West Creek Complex, River City Sportsplex, Bon Secours Washington Redskins Training Center, Capital Park, Dorey Park, Mary B. Stratton Park and Poor Farm Park.
The fall end-of-season event annually hosts a wide variety of teams from throughout the East Coast and beyond, providing teams with unfamiliar opponents, tactics and playing styles.
U-9
Orange Division
Champions: Richmond Strikers – 09 Black
Finalists: SYA Cardinals – 09G Red
U-10
Premier Division
1st: Gunston Soccer Club – Premier Red 08*
2nd: Richmond Strikers – 08G Elite
Classic Division
Champions: FC Richmond – FCR U10 Travel NAVY
Finalists: Richmond Strikers – 08 Noftsinger
U-11
Premier Division
Champions: SYA Cardinals- 07 Girls Red*
Finalists: Virginia Rush Soccer Club – 07 Girls Black
Superior Division
Champions: VSA 07G Pre Academy NCSL
Finalists: FCUSA – Fusion
Classic Division
Champions: Virginia Rush Soccer Club – 07G Blue
Finalists: Culpeper Soccer Club – 07 Girls
U-12
Premier Division
Champions: Virginia Rush Soccer Club – 06G Black*
Finalists: FC Richmond – FCR Mystx '06
Superior Division
Champions: Richmond Strikers – 06G Premier Black
Finalists: Herndon Youth Soccer – Lightning White
Classic Orange Division
Champions: Fredericksburg FC – 06 Girls Red
Finalists: VSA 06G Pre Academy NCSL
Classic Black Division
Champions:  Loudoun Soccer – 06G-White
Finalists: Chesapeake Soccer Club – Sharknadoes Platinum
U-13
Premier Division
Champions: LTSC – 2005 Strikers (Purple)*
Finalists: Stafford Soccer – Revolution 05G Blue
Classic Division
Champions: Fredericksburg FC – 05 Red
Finalists: Gunston Soccer Club- Spirit Red 05
U-14
Premier Division
Champions: Commonwealth Futbol Club – 04 Black*
Finalists:  Richmond Strikers – 04G Elite
Classic Division
Champions: SOCA – CVILLE 04 U14G Premier
Finalists: Shenandoah Valley United Inc. – 04 Girls Premier
U-15
Premier Division
Champions: Richmond Strikers – 03G Elite*
Finalists: South County Athletic Association – Green 03
Superior Division
Champions: South County Athletic Association – Green 03
Finalists: FC Richmond Mystx '03
Classic Division
Champions: Richmond Strikers Chesterfield – Elite Blue 03/04
Finalists: Shenandoah Valley United Inc. – 03 Girls Premier
U-16
Premier Orange Division
Champions: Herndon Youth Soccer – Thunder Black*
Finalists: Richmond Kickers – Elite '02
Premier Black Division
Champions: North Carolina FC Youth – 02 Gold South*
Finalists: FC Richmond Mystx '02
Superior Division
Champions: Arlington Soccer Association – 2002 Girls White
Finalists: Beach FC (VA) – 02G Legacy
U-17
Premier Division
Champions: Premier Soccer Club – Pride 01*
Finalists: Northeast Attack Soccer Club – 01G
Superior Division
Champions: Valley AFC – Xpress 01G Green
Finalists: Beach FC (VA) – 01G Black
U-19
Premier Orange Division
Champions: North Union United – 99F Lady Cannons*
Finalists: Arlington Soccer Association – 99G
Premier Black Division
Champions: Monticello United Soccer Club – U18G Flames*
Finalists: PWSI Courage – 99/00G NPL
Superior Division
Champion: Beach FC (VA) – 99/00G Red Reign
Finalist: Commonwealth FC Girls 00 Black
Classic Division
Champions: Liberty Soccer Academy Elite
Finalists: Valley AFC – Xpress 99G Green