Twenty-eight players named to U.S. U-17 MNT Spring Residency Roster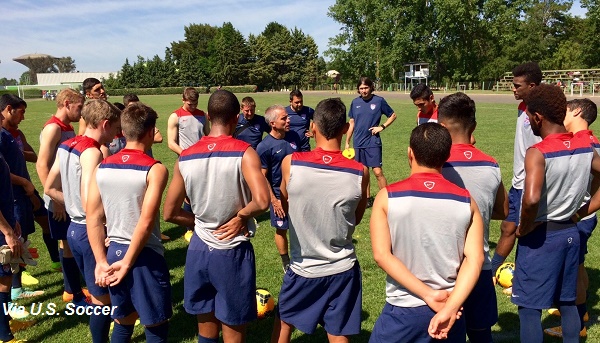 CHICAGO (Via U.S. Soccer) – U.S. Under-17 Men's National Team head coach Richie Williams has invited 28 players to the 2015 Spring Semester of the U.S. U-17 Residency Program in Bradenton, Florida.
In late February and early March, the U-17 MNT will be participating in the 2015 CONCACAF U-17 Championship, which serves as the qualifying tournament for the 2015 FIFA U-17 World Cup for the CONCACAF region.
"This is an important semester for us and an important year for this cycle," Williams said. "With World Cup qualifying at the beginning of March, it will be important for us to continue training well and performing well. We also need to find a balance with this group and some of the players who are not with us on a regular basis to form a 20-man roster that will head to qualifying to compete and get results."
+Read: Shea, Altidore goals not enough as USMNT falls to No. 14 Chile
The U-17 Residency Program roster features 24 players who were with the team during the 2014 fall semester. The four newcomers to the group are defender Matthew Constant, midfielder Giuseppe Barone and forwards Elvir Ibisevic and Josh Perez.
The Residency roster also includes 25 players currently registered with Development Academy clubs, and 27 in all with ties to the Academy.
U.S. U-17 MNT Roster by Position: Detailed Roster
GOALKEEPERS (3): Eric Lopez (LA Galaxy; Westminster, Calif.), Will Pulisic (Richmond United; Mechanicsville, Va.), Kevin Silva (Players Development Academy; Bethlehem, Pa.)
DEFENDERS (9): Tyler Adams (New York Red Bulls Academy; Wappingers Falls, N.Y.), Hugo Arellano (LA Galaxy Academy; Norwalk, Calif.), Matthew Constant (Dallas Texans; Carrollton, Texas), Nikkye De Point (Empire Revolution; Rochester, N.Y.), Tanner Dieterich (Real Salt Lake AZ; Nashville, Tenn.), John Nelson (Internationals; Medina, Ohio), Matthew Olosunde (New York Red Bulls Academy; Trenton, N.J.), Logan Panchot (St. Louis Scott Gallagher Missouri; St. Louis, Mo.), Alexis Velela (San Diego Surf; San Diego, Calif.)
MIDFIELDERS (8): Giuseppe Barone (Crew SC Academy Wolves; Grandville, Mich.), George Braima (Crew SC Academy; Columbus, Ohio), Eric Calvillo (Real So Cal; Palmdale, Calif.), Keegan Kelly (Baltimore Celtic; Baltimore, Md.), Thomas McCabe (Players Development Academy; South Orange, N.J.), Luka Prpa (Chicago Magic PSG; Wind Lake, Wis.), Nick Taitague (Richmond United; Midlothian, Va.), Alejandro Zendejas (FC Dallas Academy; El Paso, Texas)
FORWARDS (8): Pierre Da Silva (Orlando City SC; Port Chester, N.Y.), Lucas Del Rosario (Capital Area RailHawks Academy – CASL; Durham, N.C.), McKinze Gaines (Lonestar SC; Austin, Texas), Joe Gallardo (Monterrey; San Diego, Calif.), Elvir Ibisevic (Sporting Iowa; Urbandale, Iowa), Eric Matzelevich (Bethesda-Olney; Washington, D.C.), Josh Perez (Unattached; La Habra, Calif.), Elijah Rice (Chicago Magic PSG; Highland Park, Ill.)