Tough defense, competition featured at Jefferson Cup Boys Showcase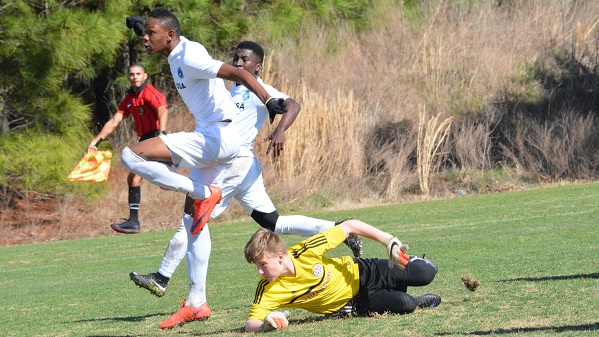 Follow the Jefferson Cup
Twitter | Instagram | Facebook
Results / Standings | Photos | College Coaches
The 2017 Jefferson Cup Boys Showcase concluded on Sunday, April 2 with a final day of tough competition in front of college coaches from around the country.
In addition to three days of high level showcase matches, the weekend also included another edition of the 'Own the Goal' Goalkeeper Showcase, providing college coaches with a chance for extensive, up-close exposure when watching potential recruits at the position.
Once again, the Jefferson Cup also provided teams with a glimpse of the next level, as the University of West Virginia and Virginia Commonwealth University played an NCAA men's soccer spring exhibition match at Sports Backers Stadium on Saturday evening, a special event for Jeff Cup attendees.
#WVUSoccer 2-2 VCU.

Had the lead at 2-1, but still a good point/result on the road.

Fr. Logan Lucas w/ a brace.@jeffersoncup pic.twitter.com/3zmO0IQ5sj

— West Virginia Soccer (@WVUMensSoccer) April 2, 2017
See below for summaries of the top two flights from each age group, as well as a full listing of champions and runners-up from the weekend.
U-16 Championship Division
OBGC Rangers Blue completed a perfect 3-0-0 run at the Jefferson Cup, finishing alone at the top of the 12-team U-16 Championship Division. The Maryland side netted six goals and allowed only one at the event, behind a dominant defensive effort throughout the weekend.
Along with a balanced attack which saw multiple players find the net, OBGC's success was fueled largely by two clean sheet performances from the back line. The Rangers shut down reigning Pennsylvania East State Cup champion Penn Fusion Elite 01 in the tournament opener on Friday evening, and held Virginia side BRYC Elite Academy 01/02 off the board in Sunday's finale. The only goal allowed by OBGC came in a 3-1 win over New Jersey's Wall SC Elite Cosmos on Saturday.
Brian Noutchang had a standout performance on the OBGC back line, consistently stealing the ball off opposing passes and off the dribble, and winning headers in the box. The physical center back covered substantial ground across the pitch, and showed superior closing speed as he chased down opposing runs to make high-speed tackles, shutting down scoring chances.
The OBGC defense as a unit played extremely well, swarming the ball with two or more players whenever the ball crossed into their zone. Christopher Rindov, Eli Kerstein and Keenan Lange all had strong defensive performances as well, along with a steady effort from goalkeeper Dike Nnawuchi.
CASL '01 Red was the only other team to go unbeaten in the U-16 Championship Division, earning two wins and a draw. After a 4-1 blowout win over World Class FC '01 to open the event, CASL played Levittown Gunners FC to a 1-1 draw, then closed out the weekend with a 2-1 victory against Bethesda SC South '01.
While goalkeeper Brendan Pulley and the back line limited their opponents to one goal each, the CASL offense netted a division-high seven goals. Dylan Lane led the attack with a brace against World Class and an assist on a corner kick during the team's win over Bethesda.
Although the weekend ultimately did not go their way, Bethesda SC South 01 opened the tournament with a highlight performance in a scoreless draw against Levittown Gunners FC. US Youth Soccer Region I ODP goalkeeper Angel Sanchez-Palomino stole the show with multiple challenging saves, shutting down set pieces and making a couple diving stops to preserve the clean sheet.
Another team that left a major impression on Jeff Cup attendees was Florida side Inter USA Scuola Calcio '01 Academy. Inter USA got off to a scoring start, winning its first two matches by 2-1 scorelines over Georgia State Cup finalist Concorde Fire Central Elite and Virginia State Cup champion Arlington '01 Red.
Inter's team speed and technical skill was on full display, highlighted by the play of Shanyder Borgelin on the attacking side. Borgelin scored one of the most stunning goals of the tournament on Saturday in a win over Arlington, nailing the upper 90 with a howler from over 30 yards out.
Christian Maldonado and Cale Torres anchored the Inter USA defense along with goalkeeper Alexander Pearce, as the team conceded only three goals at the tournament.
U-16 Elite Division
GPS Massachusetts NPL 01 did not allow a single goal on the weekend, picking up three straight clean sheet victories against high level opponents to place first in the U-16 Elite Division.
After storming past Delaware State Cup champion Delaware Rush '01 by a 3-0 score on Friday in the opener, GPS went on to edge out Bethesda SC Blue '01 and Brentwood SC NPL Arsenal '01 by 1-0 scorelines in its final two contests. Team captain James Michielli had an outstanding weekend playing in his holding midfield position, playing a vital role in the possession battle and helping his side hold all three of its opponents scoreless.
GPS, the reigning US Club Soccer Massachusetts State Cup champion, was the only side in the 16-team U-16 Elite Division to run the table in its three matches.
Triangle United SA '01 XL Rangers also had an impressive weekend, posting an unbeaten 2-0-1 record while scoring a whopping 11 goals, three more than the next highest-scoring side in the 16-team bracket. Edson Candela-Perez, a former trialist with English club West Ham United F.C Academy, and his teammates on the attacking side wreaked havoc on opposing defenses throughout the weekend.
U-17 Championship Division
North Carolina State Cup finalist CASL '00 Red posted an unblemished 3-0-0 record at the Jefferson Cup, taking down a trio of high profile opponents in the process.
Starting on Friday evening, CASL's dominant defensive unit showed its ability to shut down opponents with a 1-0 clean sheet effort against Pennsylvania East State Cup finalist Penn Fusion Elite '00. Following the narrow victory, CASL went on to overpower reigning US Youth Soccer national champion McLean Youth Soccer Hotspur Green 4-1 and US Youth Soccer New Jersey State Cup champion STA-MUSC '00 NPL 3-0.
Goalkeepers Emir Sevim and Andrew Hevener split time between the posts for CASL, combining to earn three consecutive clean sheets. Alex Payne, Jacob Strasser, Jared Mendoza, Braden Teller, Aidan Sullivan and Ethan Watts each started at least one match on the back line, consistently stifling their opponents.
On the attacking side, Camden Holbrook, Thompson Schollaert and Gabe Mercer served as steady playmakers for CASL, each scoring multiple goals and racking up assists, setting up their teammates with some creative passing.
Perennial powerhouse and 2016 Jefferson Cup U-16 Championship Division winner, Manhattan SC Villa, had another noteworthy performance at the 2017 event, posting a pair of victories after opening the weekend with a loss to Delaware Rush. Manhattan SC Villa shut out BRYC Elite Academy 2-0 and Match Fit Academy FC '00 Blue 1-0 in its final two matches, putting on a dominant defensive effort. Winger Marouf Barry was simply everywhere for Manhattan, covering the entire defensive side of the pitch, as well as the midfield and even into the attacking zone.
On Sunday, Manhattan SC picked up a stunning last-minute victory over Tri-State area foe Match Fit, as Drew Dworkin netted a dramatic game-winner in the final seconds, off a well-placed cross from Anthony Lima-Sanchez. Dworkin connected on a challenging volley, beating the keeper amid a crowded box.
In other U-17 Championship Division action, SoCal NPL side LA Premier FC '00 made its first ever appearance at the Jefferson Cup, and the West Coast club had a strong defensive showing at the event. LA Premier earned two draws against a couple extremely tough opponents in its opening matches, playing Virginia State Cup champion SOCA to a 0-0 decision and tying Maryland's OBGC Rangers Blue 1-1. Lucas Lizardo, Ian Young, Spencer Harris and Mendez Andres anchored the back line, and goalkeeper Edward Youssef helped limit LA Premier's first two opponents to a combined one goal.
Pennsylvania East State Cup finalist Penn Fusion Elite '00 capped off its weekend with an encouraging result, earning a point in a hard-fought 1-1 draw against reigning US Youth Soccer National Championships title holder, McLean Youth Soccer Hotspur Green. Trailing 1-0 in the second half, Fusion's William Micheletti netted a critical equalizer, charging into the box and securing a deflection off a nice save made by McLean keeper Nathan Paolozzi, who had stopped a tough shot taken by Fusion's Samuel Wilson. However, Micheletti's anticipation proved vital, as he took advantage of the broken play and knotted the game up for his team.
U-17 Elite Division
New Jersey side TSF Academy picked up three straight wins to claim the U-17 Elite Division title, finishing ahead of 11 other teams from around the country in what proved to be a very evenly-matched bracket. Behind TSF Academy in the standings, three teams earned two wins apiece while seven others earned one each, and only one team went winless.
TSF Academy's perfect run began with a 1-0 shutout of South Carolina State Cup finalist CESA '00 Premier, followed by a 5-1 rout of Philadelphia Ukrainian Nationals '0 Black Premier and a 2-1 defeat of Eastern New York's Black Watch '00 Premier.
U-18 Championship Division
Reigning US Youth Soccer Region III champion Concorde Fire Elite '99 powered through the U-18 Championship Division, racking up three wins over teams from up and down the East Coast.
The Georgia team started off with a 3-1 victory over North Carolina State Cup finalist CASL '99 Red, before going on to shut out Northern Virginia's Arlington '99 Red 1-0, and narrowly defeat New York side ACYS Spirit United '99 Elite by a 2-1 scoreline.
Playing relatively close to home, Virginia State Cup champion BRYC Elite Academy 99/00 posted a 1-1-1 record at the event, highlighted by a 2-1 win over West Florida Flames '99 Elite. Julien Reininger netted both goals for BRYC in the win, and went on to score the team's only goal on Sunday as they earned another point in a 1-1 draw South Carolina State Cup champion CESA '99 Premier.
U-18 Elite Division
New Jersey squad Parsippany SC '99 Blue NPL and Maryland's Pachuca FC USA '99 claimed the top two spots in the U-18 Elite Division table, each finishing with undefeated 2-0-1 records. Parsippany SC earned the edge in the tiebreaker to secure the top overall spot, thanks in large part to three straight clean sheet efforts.
Parsippany racked up the maximum standings points in its first two contests, both of which were 3-0 victories, over Georgia's Storm SA / Tormenta FC '99 Black and Pennsylvania's LDC United Crushers 99-00. Parsippany also shut out its final opponent, GPS-Massachusetts '99, in a hard fought scoreless draw.
Meanwhile, Pachuca FC outscored opponents by a combined margin of 5-1, and recorded clean sheets against STA '99 NPL and Baltimore Bays '99. The only goal conceded by Pachuca at the event came in a 2-1 victory on Sunday against Delaware State Cup champion Delaware Rush '99.
U-19 Championship Division
In one of the 2017 Jefferson Cup's highest-scoring brackets, three teams – Total Futbol Academy '98 Elite, Ohio Galaxies FC '98 Elite and Penn Fusion Elite '98 – each racked up 24 standings points secure a share of first place.
Penn Fusion was the only one of the three to post a perfect 3-0-0 record, and the team did so despite facing a rigorous gauntlet of a schedule. Fusion started the weekend with a 1-0 shutout win over a Loudoun '98 Red team which is not only the reigning Virginia State Cup champion, but also finished as the finalist in its age group in the 2016 US Youth Soccer National Championships and at the Region I Championships. On Saturday, Fusion defeated Pennsylvania East State Cup champion FC Europa '98 Elite XTREME Crunch by a narrow 2-1 score, and on Sunday, Fusion edged out Lake Grove Newsfield SC Rampage by the same margin.
Ohio South side Total Futbol Academy '98 Elite matched Fusion's total of 24 standings points, recording two wins and a draw, while racking up a division-high 10 goals. The Cincinnati area team kicked off with a 3-1 win against 2016 US Youth Soccer National Championships semifinalist Arlington '98 Red, before defeating MUSC-STA '98 NPL in a high-scoring 4-3 contest, and capping off the event with a 3-3 draw against GPS-Massachusetts '98 NPL.
Reigning US Youth Soccer State Cup champion Ohio Galaxies FC '98 Elite also went unbeaten with two wins and a draw, netting nine goals on the weekend. Galaxies downed TSF Academy 98/99 by a 3-1 margin on Friday morning, before going on to play BRYC Elite Academy 98/99 to a 3-3 draw on Saturday, and to defeat Florida's Jacksonville Armada Youth FC '98 Elite 3-2 on Sunday.
U-19 Elite Division
East Meadow SC NPL '98 Hawks went unbeaten in the U-19 Elite Division, earning a pair of wins and a draw and finishing atop the 16-team table.
The team from Long Island, New York tied for the division-high with nine goals on the weekend, and only gave up three along the way. East Meadow kicked off the Jeff Cup with a 3-1 win over Florida side Braden River SC '98 Rage Premier, then cruised past Delaware State Cup champion Delaware Rush '98 by a lopsided 5-1 margin, before playing Connecticut's FSA FC '98-'99  Elite to a 1-1 draw in Sunday's finale.
Champions and Runners-Up
U-16
Championship Division
Champions: OBGC Rangers Blue (MD)
Runner-up:  CASL 01 Red (NC)
Elite Division
Champions: GPS-Massachusetts NPL 01 (MA)
Runner-up: Triangle United SA 01 XL Rangers (NC)
Superior Division
Champions: Triangle United SA 01 Gold (NC)
Runner-up: Match Fit Academy 01 Black (NJ)
Platinum Division
Champions: FSA FC Elite 01 (CT)
Runner-up:  Liverpool FC NPL 01 (MA)
Classic Division
Champions: TSF Academy 01 Blue (NJ)
Runners-up: SUSA Elite Blue 01 (NY), Massapequa SC 01 Elite (NY)
Premier Division
Champions: Penn Fusion SA Predators 01 (PA)
Runner-up: Campton United SC 01 NPL (IL)
U-17
Championship Division
Champions: CASL 00 Red (NC)
Runner-up: GPS-New Hampshire 00 NPL (NH)
Elite Division
Champions: TSF Academy 00 (NJ)
Runner-up: Concorde Fire Elite 00 (GA)
Superior Division
Champions: Virginia Rush 00 (VA)
Runner-up: Triangle United SA 00 XL Rangers (NC)
Platinum Division
Champions: FC Richmond Magic 00 (VA)
Runner-up: Metro FC Rapids (OH)
Classic Division
Champions: Met Oval '00 (NY), Liverpool FC – Massachusetts '00 NPL (MA)
Premier Division
Champions: FC Europa 00 Elite (PA)
Runner-up: Campton United SC 00 NPL (IL)
U-18
Championship Division
Champions: Concorde Fire Elite 99 (GA)
Runner-up: Loudoun Soccer 99 Red (VA)
Elite Division
Champions: Parsippany SC 99 Blue NPL (NJ)
Runner-up: Pachuca FC USA 99 (MD)
Superior Division
Champions: Arsenal Maximus Rage (NJ)
Runner-up: GPS Florida West 99 Black (FL)
Platinum Division
Champions: Charlotte 99 Predator (NC)
Runner-up: Seacoast United Mariners NPL 99 (ME)
Classic Division
Champions: Jersey United Spartans 99 (NJ), CASL 99 Black (NC)
U-19
Championship Division
Champions: Total Futbol Academy 98 Elite (OH), Ohio Galaxies FC 98 Elite (OH), Penn Fusion Elite 98 (PA)
Elite Division
Champions: East Meadow SC NPL 98 Hawks (NY)
Runner-up: Birmingham United 98 East (AL), Triangle Alliance 98 (NC)
Superior Division
Champions: Eastern FC Spurs NPL (NY)
Runner-up: Rochester Futbol 99/98 (NY)