Fifteen players honored as standouts from ECNL National Training Camps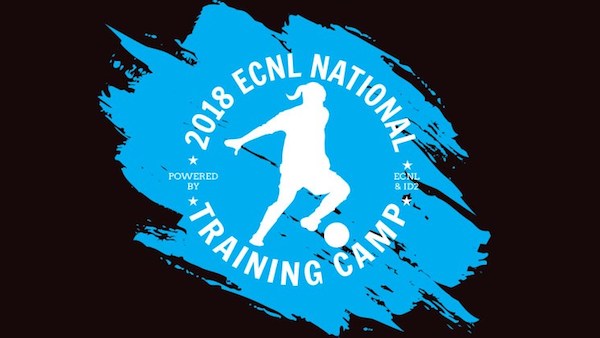 PORTLAND, OR (Via ECNL) – The 2018 ECNL Integrated National Training Camp, and the ECNL/id2 National Training Camp, each took place at the University of Portland in Oregon from July 21-28. Combined, the two camps brought 120 of the country's best players together to train and compete under the guidance of some of the best coaches in youth soccer, in one of the most professional environments in all of youth sports.
The ECNL Integrated Training Camp featured the first two ECNL National Selection Teams, consisting of 34 players born in 2001 and 2002.  The ECNL/id2 National Training Camp included an additional 95 players born in 2003, 2004 and 2005, representing some of the best young talent in the country.
+READ: Girls ECNL All-America Team, Player of the Year announced
The ECNL National Selection Teams were in camp at the same time as two of the top women's professional teams in the world, Paris Saint-Germain (PSG) and Manchester City FC, and the ECNL National Selection Teams trained with these clubs in 2 sessions during the week. Additionally, four ECNL National Selection players were chosen by the PSG staff to participate in their friendly match against Manchester City on July 24:
Sam Agresti – FC Stars
Maddy Anderson – Challenge SC
Aleigh Gambone – McLean YSA
Natalie Maurer – Richmond United
After the match, PSG and Manchester City, both in preseason, left Portland to participate in the first ever Women's International Champions Cup in Miami.
"The ECNL National Training Camps are set up to provide the most professional soccer development environment in the country for young female players, and to inspire them to greater heights in the future," said Girls ECNL President Christian Lavers.  "They are an experience that we believe can transform the players' views of their possible future, and we hope that the players return to their clubs more excited about the game than ever before."
On the final day of the younger camp, the top 11 performers were selected to the ECNL Best XI based on the quality of their play throughout the week.
The 2018 ECNL Best XI: 
Carley Borgelt – GSA
Jordan Fusco – Internationals SC
Amanda Graziano – Connecticut FC
Maile Hayes – Challenge SC
Maddie Ishaug – Minnesota Thunder Academy
Kyah Le – FC Portland
Molly Martin – FC Stars
Abigail Reisz – Ohio Premier
Ella Sanchez – SLSG – IL
Samantha Smith – FC Nova
Olivia Thomas – Michigan Hawks
The full list of players are available here: ECNL Integrated National Training Camp and ECNL/id2 National Training Camp.