Tony Marino appointed as Boys Director of Coaching for FC Stars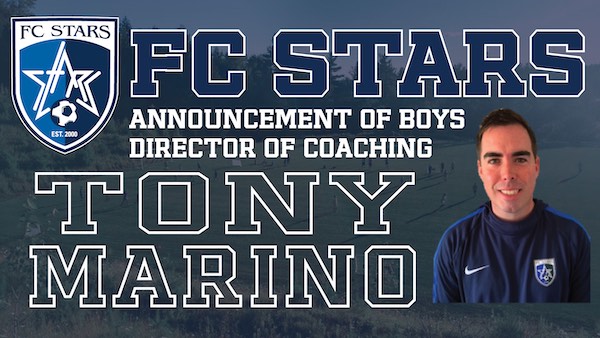 FC Stars has appointed Tony Marino as the club's new Boys' Director of Coaching. See below for statements from FC Stars Executive Director Jason Dewhurst, and Marino, who has been coaching with the club since 2013.
"We are thrilled to announce the appointment of Tony Marino to the position of Boys' Director of Coaching at FC Stars. Tony has worked at Stars since the summer of 2013. He has years of coaching experience and qualifications that make him most suitable for the position. He graduated from Franklin Pierce University in 2002 with a degree in Business Administration and Marketing. He holds a USSF National "A" license as well as a USSF Goalkeeper license, a NSCAA Premier Diploma and a NSCAA Advanced Youth Diploma. He will continue to coach in the Central Region while expanding his focus to managing Boys' teams, programs and coaches across all our regions. Please join us in congratulating Tony on this promotion as we look forward to the continued growth and development of our boys program at FC Stars."
– Jason Dewhurst, Executive Director
"I am honored at being named the first-ever Boys' Director of Coaching at FC Stars. I want to first thank the Board of Directors for putting their faith in me to lead the program to new heights. I also want to thank my current colleagues and the wonderful families at the club; you challenge me to be better everyday. The prospect of how much more we can achieve together in the coming years brings me great confidence upon accepting this role.
This a major step in the development process of our Club. Ambition is important to me, and the Board's intent to create this position shows an ambitious investment in its staff never seen prior. I look forward to leading the Boys' Program with a player-centered approach, integrity, respect for all and most importantly, thoughtful planning for the advancement of our players, teams and coaches."
Sincerely,
Tony Marino
Boys' Director of Coaching