Thirty-six players called to U.S. U-14 Boys National Team camp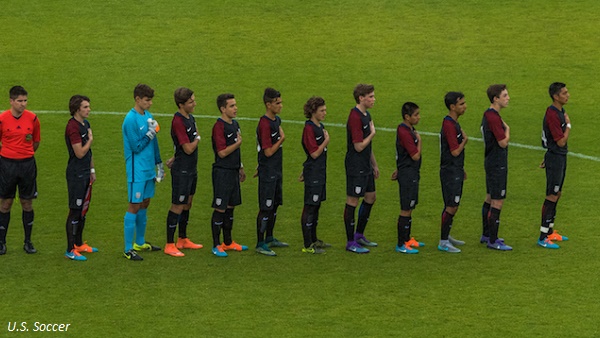 CHICAGO (Via U.S. Soccer) – U.S. Under-14 Boys' National Team head coach Clint Peay has named a 36-player roster for the team's first training camp of the year, taking place at U.S. Soccer's National Training Center in Carson, California.
During the camp, the U-14 BNT will face Club Tijuana's U-15 and U-14 (birth year 2002 and 2003, respectively) squads in two friendly matches on Feb. 24.
Of the 36 players on the roster, 20 are returning from the most recent U-14 BNT camp last November. In addition, 33 currently play for U.S. Soccer Development Academy clubs. All 36 players were born in 2003.
+READ: USA defeats Haiti 4-1 in CONCACAF U-20 Championship group match
Roster by Position

GOALKEEPERS (4): Andrew Cordes (Colorado Rapids; Denver, Colo.), Eliot Jones (NE Revolution; New Britain, Conn.), Jacob Morris (Real Colorado; Parker, Colo.), Vicente Reyes (Atlanta United; Cumming, Ga.)
DEFENDERS (12): Prince Amponsah (NYCFC; Bronx, N.Y.), Rowan Browne (AB Gladsaxe; Annapolis, Md.), Nikas Dossmann (De Anza Force; Belmont, Calif.), Reece Fragle (FC Dallas; Plano, Texas), Jacob Greene (DC United; Crofton, Md.), Isaac Homer (Portland Timbers; Portland, Ore.), Michael Lenis (Weston FC; Weston, Fla.), Morris Matthews (NE Revolution; Cambridge, Mass.), Kayden Pierre (Vardar; Rochester Hills, Mich.), Bogart Roca (Real So Cal; Sylmar, Calif.), Zachary Sardi-Santos (NE Revolution; Newton, Mass.), Jude Zamora (Crossfire Premier; Renton, Wash.)
MIDFIELDERS (11): Alejandro Araneda (FC Golden State; Montclair, Calif.), Javier Casas (Chicago Fire; Addison, Ill.), Jeremy Garay (DC United; Woodbridge, Va.), Fabian Hernandez (LAUFA; El Monte, Calif.), Luke Hille (CASL; Cary, N.C.), Martin Killeen (LA Galaxy; Brea, Calif.), Andrew McGee (Pateadores; Fullerton, Calif.), Jack McGlynn (BW Gottschee; Middle Village, N.Y.), Nicolas Pereira (Weston FC; Miami, Fla.), Kobey Stoup (Capital City Streaks; Montgomery, Ala.), Leonardo Vasquez (FC Golden State; Corona, Calif.)
FORWARDS (9): Andres Cardenas (Weston FC; Doral, Fla.), Balmore Cruz-Quinones (Atlanta United; Stockbridge, Ga.), Tyler Freeman (Sporting KC; Shawnee, Kan.), Jose Gonzalez (Crossfire Premier; Cowiche, Wash.), Brian Gutierrez (Chicago Fire; Burbank, Ill.), Patrick Leal (NE Revolution; Newton, Mass.), Alex Monis (FC United; Naperville, Ill.), Sam Sarver (Internationals; Beachwood, Ohio); Dante Sealy (FC Dallas; Frisco, Texas)