The Women's Cup, hosted by Racing Louisville FC, returns for 2022 with expanded format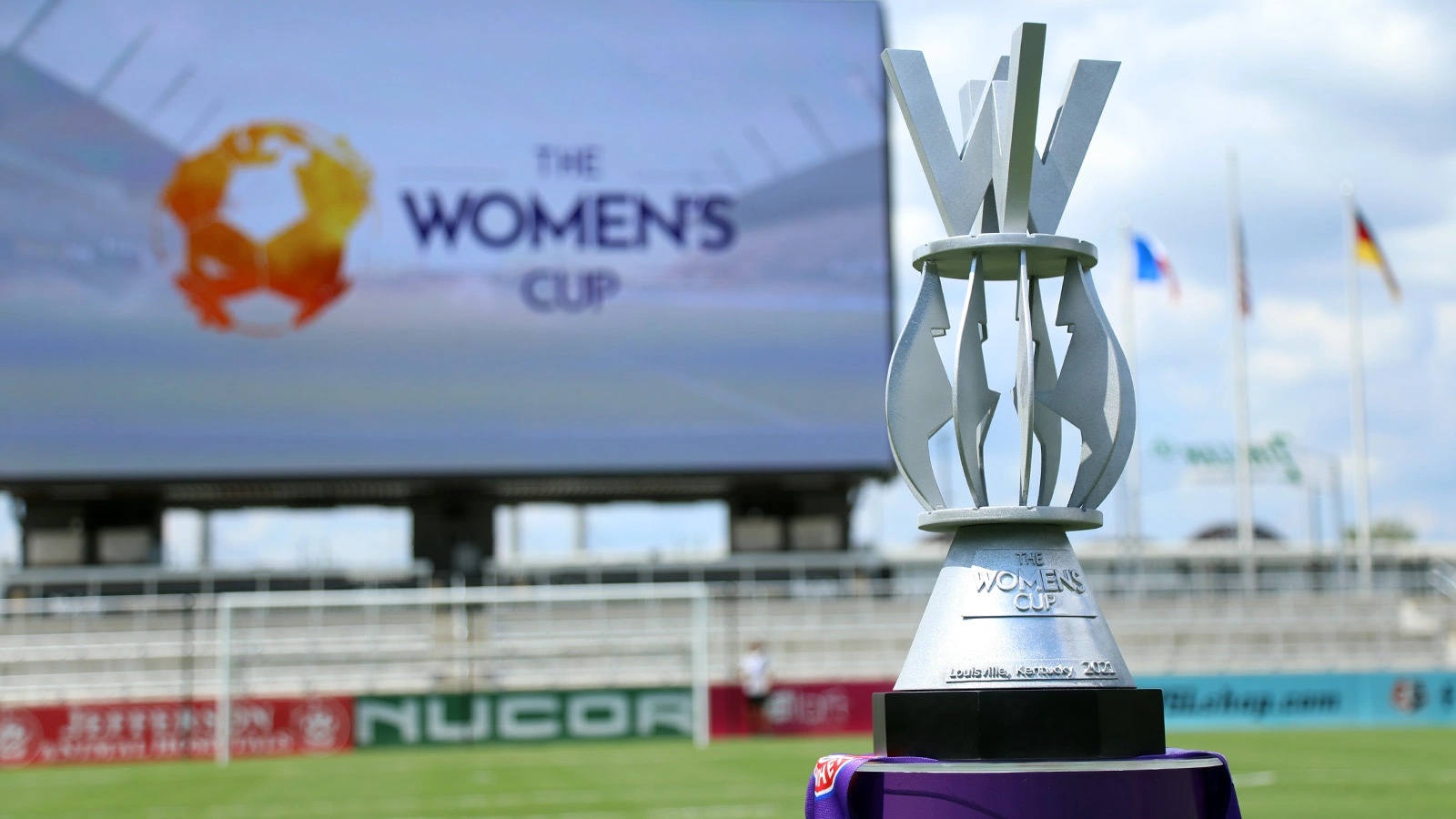 The Women's Cup will return to Louisville, Ky., this August with an expanded format featuring six world-class teams playing seven games across a week at host club Racing Louisville FC's Lynn Family Stadium.
On the heels of visits last year from FC Bayern Munich and Paris Saint-Germain, at least four different international clubs — two from Europe, one from Asia and one from Latin America — are set to join the National Women's Soccer League's Racing Louisville and OL Reign in the 2022 event.
International participants will include Liga MX Femenil's Club América (Mexico) and the WE League's Nippon TV Tokyo Verdy Beleza (Japan). Two top-flight participants from England and Spain will be announced later this spring.
The international clubs open The Women's Cup with quarterfinals on Sunday, Aug. 14. On Wednesday, Aug. 17, the winners will meet Racing and OL Reign in the semifinals, while the two losing teams from Sunday will play against each other for fifth place. The final and third-place matches are set for Saturday, Aug. 20.
𝗧𝗵𝗲 𝘄𝗼𝗿𝗹𝗱 𝗶𝘀 𝗰𝗼𝗺𝗶𝗻𝗴 𝘁𝗼 𝗟𝗼𝘂𝗶𝘀𝘃𝗶𝗹𝗹𝗲.

In for @thewomenscup's 2022 edition: @AmericaFemenil, @OLReign, @tokyo_beleza and Racing Louisville!

Two top-flight European participants will be announced later this spring once Champions League positions are set. pic.twitter.com/G0BQR2Ahqm

— Racing Louisville FC (@RacingLouFC) April 12, 2022
"The 2022 edition of The Women's Cup promises to be bigger and better than the last one," said the tournament's president and CEO, J.P. Reynal. "This event will continue to present an opportunity for women's soccer fans to see how the NWSL stacks up against strong sides from nations such as England, Japan, Mexico and Spain."
In addition to the on-field action, The Women's Cup is looking to further connect with its home city of Louisville. Tournament organizers are planning additional events throughout the week, including a music festival and youth soccer activities.
On the pitch, The Women's Cup will seek to replicate last year's excitement after Racing Louisville outlasted Bayern in a dramatic penalty shootout en route to raising the club's first trophy in front of home fans.
"We are thrilled to build on the success of last year's tournament," said James O'Connor, Racing's interim president. "Our supporters were able to witness some fantastic games from some of the world's biggest clubs in Bayern and PSG, and this year will be no different. Our players had a wonderful experience facing top-class opposition, and the final last year is something we will always remember."
The Women's Cup will be staged completely outside of the regular-season NWSL schedule. Visiting European clubs will arrive in the final stages of their preseasons, and tournament officials looked to new continents to continue extending the reach of this international event.
Club América, founded in 2016 as the women's side of the massive Mexico City-based organization, won a title in 2018 and calls home the famous Estadio Azteca, which recently hosted a FIFA Men's World Cup qualifier between Mexico and the United States. Prolific scorer Daniela Espinosa, also a member of Mexico's national team, captains Club América.
Tokyo Verdy Beleza is Japan's only women's soccer club to have never been relegated from the top flight, finishing first or second in its league every year since 1997. The side boasts a number of tournament trophies, including a record 15 titles in the Empress's Cup, the annual knockout tournament open to all Japan Football Association clubs.
Seattle-based OL Reign, an unbeaten 2-0-1 this year to open the NWSL's Challenge Cup, boasts one of the league's most star-studded rosters with World Cup winners Megan Rapinoe and Rose Lavelle. Reign also features Welsh midfielder Jess Fishlock, voted the NWSL's Most Valuable Player in 2021.
"We are very excited, and it's a huge honor to present the 2022 edition of The Women's Cup to be played in Louisville this summer," said tournament co-founder and executive director Jaime Phillips. "We continue to make history in the women's soccer industry by having more teams from different continents participating this year. We invite everyone to be part of it and enjoy this special event."
The host venue Lynn Family Stadium is a 15,304-capacity facility that's home to Racing Louisville — currently playing its second season — as well as the title-winning USL Championship club Louisville City FC. Lynn Family Stadium opened in 2020 in the Butchertown neighborhood just east of downtown. It boasts seating in close proximity to the pitch, ideal sight lines and a number of amenities, among them a state-of-the-art video board and free WiFi.