Texas youth club SG1 Soccer partners with West Ham United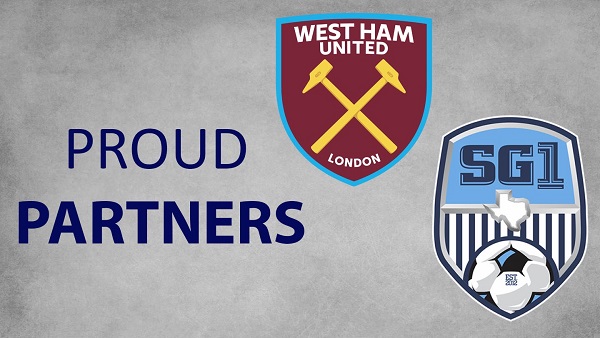 Katy, Texas (Via SG1 Soccer) – West Ham United of the English Premier League have formed a partnership with Katy, Texas based, SG1 Soccer. The partnership was formed through Global Image Sports, the North American partnership mechanism of West Ham United.
This partnership will provide SG1 members with access to:
ID Camps with West Ham Academy coaches
West Ham United's National Camp featuring the Academy Directors
College and Professional recruitment advice
Tours to West Ham United in London, England with exclusive partner access
West Ham United Coaching Diploma Course
Coaching Curriculum from West Ham United's Academy
SG1 Technical Director, Adam Girdlestone said "We are proud of our newly established partnership with West Ham United Football Club which now gives us the opportunity to expand our programs for current and future players. Beyond that, our trainers will now be able to interact with some of the top coaches in European Football and learn from their knowledge and experience".
"Houston is a fantastic soccer market and one that we wanted West Ham United to have a strong presence in. After speaking with Adam and Alex, we felt SG1 Soccer would be the perfect partner. SG1's impressive growth since 2012 gave us confidence that this will be a long and productive relationship. We look forward to future events and growing the beautiful game in Southeast Texas with SG1." – Reis Williams – Vice President – Global Image Sports.
SG1 Club Director, Alex Parra said, "We are honored to be partnering with West Ham United Football Club who are one of the most important clubs in the English Premiership. As the only affiliated club in the Houston area, we can now bring the very best of FA Soccer knowledge and tradition to Texas." Parra added, "The pathway for SG1 players to be identified by a top English club is now a reality. This is a great opportunity and we hope to one day have a Texan playing in the Top flight of English Soccer".