Houston Texans SC joins Super Y League for 2017 season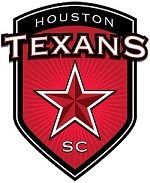 TAMPA, Florida (Via Super Y League) – Texans Soccer Club in Houston has been named a member club to compete in the Super Y League for the 2017 season. The club joins the newly created Mid South Division.
"Texans Soccer Club is a leading organization that has continued to enhance the game through developing top talent," USL Director of Business Development Joel Nash said. "With some of the highest standards in coaching and infrastructure, it's no wonder they are respected among the elite youth organizations. We are thrilled to have their standard of excellence as part of the league and the Mid South Division."
"The Texans Soccer Club is very proud to be included in the Super Y League," Texans Executive Director Lee Baker said. "The league has a great history, and we are excited that it now has a footprint in our region. We look forward to the competitive matches it will provide."
The club has produced a number of collegiate, professional and international players for the past three decades. The likes of Vancouver Whitecaps FC's Brek Shea and former Premier League player Stuart Holden have come through Texans Soccer Club to enjoy top-level success professionally and with the U.S. Men's National Team. Other alumni such as current OKC Energy FC forward Alex Dixon and Orlando City SC midfielder Tony Rocha have also progressed well as professionals.
Baker and Texans Soccer Club are looking forward to incorporating the Super Y League platform to enhance the players' pathway and develop further top-tier talent.
"The players in our club are going to be excited to have another platform to showcase their talent," Baker said. "As a club, we are always looking to provide different pathways to be identified by collegiate and national team scouts, and this is just another great layer to our structure. Having an opportunity to go and compete for a National Championship through the league is another carrot that our players will love chasing after."
Texans Soccer Club joins Oklahoma FC, Liverpool-Texas, FC Wichita, TSC Hurricane, and Lonestar Soccer Club as new SYL-member clubs in the newly created Mid South Divisions ahead of the 2017 season.