Tennessee SC, Nashville FC Youth announce merger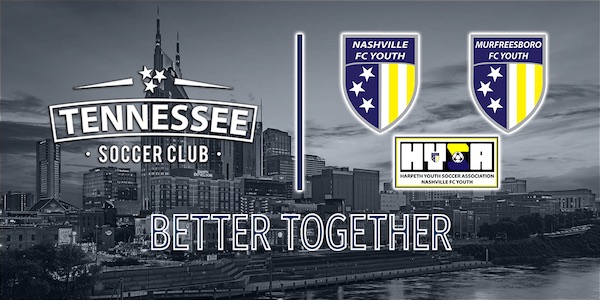 Tennessee SC and Nashville FC Youth have announced that the two youth soccer clubs have agreed in principle to a merger. See below for the official announcement, penned by Tennessee SC executive director Stuart Brown:
Dear TSC, NFCY, MFCY and HYSA members,
We are excited to announce that the Board of Directors of Tennessee Soccer Club and Nashville FC Youth have agreed in principle to a merger that would take place starting with Recreational registration and Competitive Team tryouts at the end of this Spring season. Both clubs will continue their operations as separate entities for the remainder of the spring, and once all necessary paperwork has been filed the merger will become official heading into next season.
After much discussion during a seven-month due diligence process, leadership from both organizations feel that it is in the best interest of all parties to move forward in operating as one club. Bringing together the two premier youth soccer organizations in the area creates multiple new avenues for all youth players within the Greater Nashville soccer community from recreation to Elite Clubs National League (ECNL) level.
Key info for the merged club:
The merged club will operate as Tennessee Soccer Club beginning in the 2019-20 season
The HYSA Rec program will be part of TSC, however will continue to operate as HYSA for at least the 2019-20 season
The focus and mission of TSC will remain on developing excellence in all players on and off the field.
Stuart Brown will remain in the Executive Director role with TSC
Josh Severns, current NFCY Executive Director, will have a soccer Director role with TSC
With this merger comes the need to communicate important information to our families. Please pay attention to this communication as we try to keep everyone informed over the course of the next six weeks! Information will be emailed and posted on our social media accounts and club websites.
Next Monday, April 15, all tryout information for 2019-20 will be released to members of TSC, NFCY and MFCY and tryout registration will open online.
We appreciate all of the members across both organizations that provided input throughout the process of due diligence. We feel prepared to take this next step and thank everyone for their patience while we worked to get to this point. Click here to view an  FAQ which we hope will answer any questions our members may still have.
Sincerely,
Stuart Brown
Executive Director
Tennessee Soccer Club