Ten Potomac area ECNL teams move on to Champions League playoffs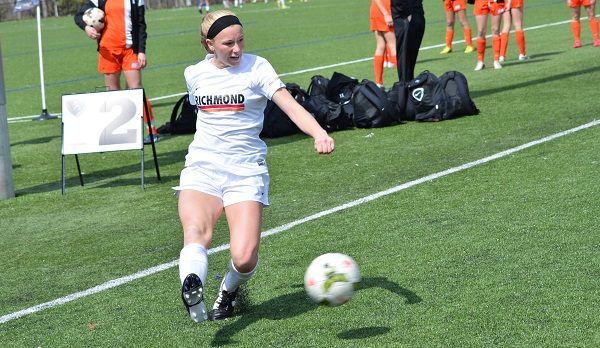 The ECNL regular season wrapped up over the weekend with several high stakes match-ups involving Potomac area clubs. A total of 10 teams representing local clubs FC Virginia, McLean Youth Soccer, Richmond United, Bethesda SC and Maryland United FC have qualified for the ECNL Champions League playoffs across the U-14 to U-18 age groups.
[player_box id=53592 leftright=right]Rounding up the final action of the regular season, Bethesda U-14 completed an undefeated campaign with a 3-0 victory over Maryland United on Thursday night. Bethesda finishes with a 14-0-1 record, 45 goals scored and only 12 allowed to claim the No. 1 overall Champions League seed. They closed the season on a five-game winning streak, outscoring opponents 17-2 in that span.
+Read: Two Potomac area sides earn spots in U.S. Soccer Development Academy postseason
[player_box id=53569 leftright=right]FC Virginia U-14 beat Ohio Premier 5-2 in their regular season finale on Saturday at Evergreen SportsPlex. Brianna Robinson scored a goal and assisted another while Cassidy Brown had a brace to lead the FCV attack, as the team closed the season with an 8-4-2 record and [player_box id=45777 leftright=right]second place finish in the Chesapeake Division. Maryland United U-14 tied Ohio Premier 1-1 closing out the season at McDonogh School on Sunday afternoon. Defender Mia Isaac set up Kaitlyn Parks for MUFC's goal.
[player_box id=43410 leftright=right]In the U-15 age group, Bethesda fell to Indiana Fire Juniors 2-0, FC Virginia beat Ohio Premier 1-0, McLean defeated Indiana [player_box id=43423 leftright=right]Fire 1-0 and Maryland United lost to Ohio Premier 4-0. Amy Thompson added her 10th assist of the season for FCV, setting [player_box id=43843 leftright=right]up Maria Pareja for the only goal of the match in the team's shutout win. FCV earned the No. 10 Champions League seed and secured the Chesapeake Division title with the victory. The 1-0 win for McLean also proved huge, as they locked up the No. 31 out of 32 Champions League spots with a 10-8-2 record. Kristina Toms scored the only goal of the match, her 10th of the season, on a feed from Mikayla Johnson.
McLean U-16 ended their season on a high note, beating Indiana Fire Juniors 1-0 as Abby McDowell found the net to go along with a strong team-wide defensive effort. FC Virginia fell 1-0 to Ohio Premier on Saturday afternoon, ultimately conceding the Chesapeake Division title to Richmond United. Bethesda lost to Indiana Fire Juniors 1-0 as well, but hold on to the No. 17 Champions League seed and second place in the Ohio Valley Division. Maryland United U-16 dropped their season finale 2-1 to Ohio Premier on Sunday morning
[player_box id=43841 leftright=right]Potomac area teams swept the U-17 age group, as FC Virginia and Maryland United beat Ohio Premier 2-0 and 4-1 [player_box id=55694 leftright=right]respectively, while Bethesda and McLean overpowered Indiana 4-0 and 3-1. FCV takes the No. 2 Champions League berth, [player_box id=43418 leftright=right]completing the regular season with a 15-1-4 record, scoring 50 goals and giving up just 11. Emily Fox scored her 19th goal of [player_box id=52553 leftright=right]the season and second-leading scorer Emma Kershner netted her 8th, while Julia Phillips  added her 5th assist of the season to tie Kershner for the team lead. Christiana Davey also picked up her third assist for FCV in the win.
[player_box id=53285 leftright=right]Maryland United U-17 secured the Ohio Valley Division title with their beat down of Ohio Premier, as Kia Rankin (13 goals, [player_box id=52388 leftright=right]3 assists) had another impressive performance, scoring 2 goals and assisting Alyssa Hill on another. Hill had a brace as well for MUFC, while Abbigale Ellis and Sarah Osborne each notched assists as well.
Nicole Brodkowitz and Elizabeth Coletti each scored their 4th goals of the season for Bethesda, tying Jessica Hopkins for the team high. McLean locked up [player_box id=46948 leftright=right]the No. 29 Champions League spot with their win over Indiana Fire Juniors, taking second in the Chesapeake Division (11-9-1 Overall, 7-6-1 Conference). Madeleine Dale and Ayan Adu each had a goal and an assist in the victory.
[player_box id=55696 leftright=right]Makayla Lewis had 2 goals and 1 assist, Gabrielle Hull scored a goal and assisted another, and Danielle Toone netted [player_box id=54399 leftright=right]two as FC Virginia U-18 earned a dominant 7-1 win over Ohio Premier to close the season on Saturday. Bethesda and McLean U-18 both blanked Indiana Fire Juniors 3-0 and Maryland United tied Ohio Premier 1-1. McLean concluded the season with a 14-2-0 overall record and unblemished 13-0-0 conference record, securing the No. 2 overall Champions League seed.
See below for a list of local Champions League qualifiers along with this weekend's ECNL match reports posted on Report-a-Score.com.
Potomac area Champions League qualifiers
U-14 (Field of 16)
1. Bethesda SC (14-0-1)
U-15 (Field of 32)
7. Richmond United (14-2-4)
10. FC Virginia (12-1-7)
31. McLean Youth Soccer (10-8-2)
U-16 (Field of 32)
17. Bethesda SC (11-4-6)
21. Richmond United (10-5-4)
U-17 (Field of 32)
2. FC Virginia (15-1-4)
24. Maryland United FC (13-9-2)
29. McLean Youth Soccer (11-9-1)
U-18 (Field of 16)
2. McLean Youth Soccer (14-2-0)
Results
U-14
| | | | |
| --- | --- | --- | --- |
| Jun 04 7:30pm | | | |
| Jun 06 12:00pm | | | |
| Jun 07 1:00pm | | | |
U-15
| | | | |
| --- | --- | --- | --- |
| Jun 06 12:00pm | | | |
| Jun 06 4:00pm | | | |
| Jun 07 10:00am | | | |
| Jun 07 11:00am | | | |
U-16
| | | | |
| --- | --- | --- | --- |
| Jun 06 2:00pm | | | |
| Jun 06 2:00pm | | | |
| Jun 07 8:00am | | | |
| Jun 07 9:00am | | | |
U-17
Jun 06 2:00pm

Jun 06 2:00pm

Jun 07 10:00am

Jun 07 1:00pm
U-18
| | | | |
| --- | --- | --- | --- |
| Jun 06 12:00pm | | | |
| Jun 06 4:00pm | | | |
| Jun 07 8:00am | | | |
| Jun 07 9:00am | | | |
Final Standings
Champions League Playoff Pool