SoccerWire Q&A: Mountaineer United coach Pat McGinnis on the West Virginia scene
By Roger Gonzalez and Charles Boehm
RICHMOND, Va. — When most sports fanatics think of West Virginia, several lasting images come to mind. The Mountain State is the birthplace of NBA legend Jerry West and the nation's most lauded college football coach, Alabama's Nick Saban, not to mention the passionate support of West Virginia University's gridiron team.
It's also the home to two solid Division I soccer programs at WVU, but we rarely hear about the youth soccer scene.
Until now.
Mountaineer United, a newly-rebranded club based in Morgantown — an area not traditionally considered the hottest spot for youth soccer talent — has made some noise.
At the Capital Fall Classic girls weekend last week in Richmond, Va., Mountaineer United's Elite Under-16 squad won the U-16 Premier division, earning a championship trophy and booking themselves a place in next year's Jefferson Cup.
The team rebounded impressively from a 3-2 loss to VSA Heat 97 Blue (Va.) in their opening match, taking down FASA Impact Elite 97 3-0, Loudoun 97 3-0 in the semifinals and Springfield YC Pride United 1-0 in the final.
Their coach, Patrick McGinnis, spoke to SoccerWire.com about the club, the competition and the future.
SoccerWire.com: What's the soccer scene like out your way and is it hard to adjust to out-of-state competition?
Patrick McGinnis: "It's good, it's good. It's challenging to come play Virginia teams that are in club season … This is kind of to get your feet wet, get the rust off you that got developed during the high school season, and just have a little fun before winter break rolls through."
SW: You guys are in the Colonial League in Region I and play travel teams across West Virginia. What is the scene like in your home areae?
PM: "It's good. Not bad. We struggle because geographically, the state is so [big]. Literally, I think from one point to the other, we are talking seven hours. We get a lot of situations like this [where we need guest players]. You go to a tournament, and you grab a few kids from Charleston. Especially as you hit the 16, 17, 18 range where the die-hard kids have a tendency to rise to the top."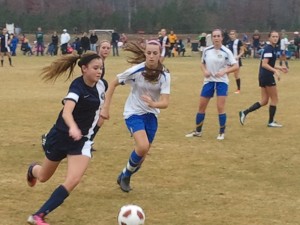 SW: How do you develop your players in the relatively small setting of Morgantown?
PM: "We get creative. We've done things now where we have done weekend trainings with kids that drive two hours for training. We will also do like Friday night back-to-back training sessions with Saturday morning, they'll come up and spend the night. You've got to draw where the kids are from, and every age group we have in our club is kind of different … [Mountaineer United] is roughly a shade under 300 kids, it's a small club in the grand scheme of things."
SW: You competition at CFC includes better-known teams from major talent areas. Do your kids recognize the stakes, and the challenges?
PM: "As much as you try, they are still kind of wide-eyed and glazed over. They view it as a white team or a blue team or a red team … Some of them, you get some soccer junkies that look behind the numbers, look behind the name and find out who they are. But for a lot of them, they just go out and play, which sometimes is good. They tune in a little bit more [at Colonial League and tournament matches], they play a little more attention."
SW: Do you think being near WVU helps your program?
PM: "I really do. WVU, and [Mountaineers women's head coach] Nikki Izzo-Brown and her staff have been absolutely fantastic. Her assistants both coach in our club and her daughters are in our club … And we get the perks, we've used their unbelievable practice facility a few times.
"It gives these kids that affinity bond – they have their [U.S.] Women's National Team idols, but they're so disconnected because they're so far away from those people. So now they've got their own sort of local celebrities, and a lot of the fifth-year seniors or kids that stay for grad school come out and [coach] for our club. It's been really huge, especially on the girls side … Everybody's a Mountaineer fan."