Super Y League ODP National Select Teams announced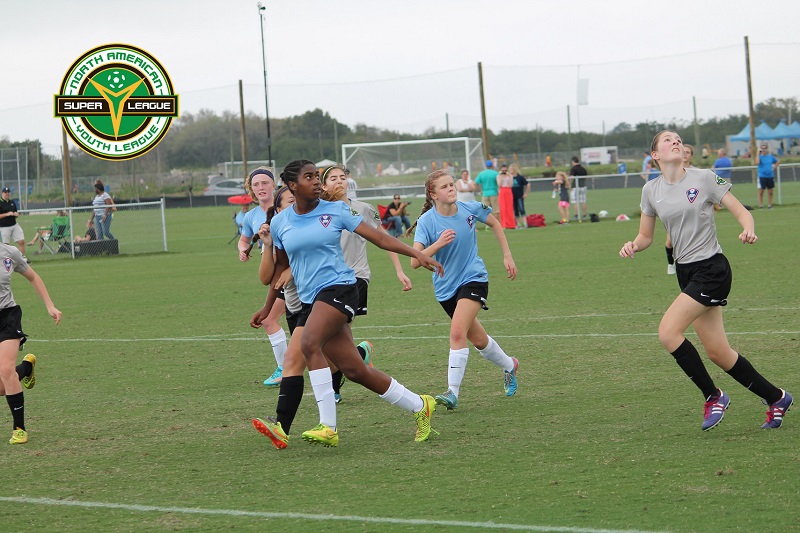 BRADENTON, Fla. (Via USL) – The 2015 Super Y League Boys' and Girls' ODP National Camps concluded on Sunday morning at IMG Academy with the announcement of the camp's National Select Teams in both the U-16 and U-14 divisions.
Players from throughout North America were honored following impressive performances both in training and competition, as the camp's invitees competed in the IMG Cup College Showcase. A total of 64 players were named to the camp's National Select Teams, with 16 coming from each age division.
"All of the coaches were impressed with not only the quality of players at this year's camp, but with the way they responded to the tournament atmosphere in such a short period of time," USL National Technical Director Peter Mellor said. "All of the players at the camp showed why they were chosen to attend, but the players on the Select Teams stood a little bit above the rest and earned this recognition."
Among those selected to the U-16 Boys Select Team was Ironbound SC's John Antunes, who was also named to last year's Select Team, and helped his club move to the semifinals in the Boys U-16 tournament at last December's SYL North American Finals. Force Football Club goalkeeper Isiah Handspike was also named to the Select Team. Handspike was part of Force's U-17 team which won the championship at the Finals in December.
The U-16 Girls Select Team is led by Washington Spirit MD's Alisha Holcombe, who followed up on her Golden Boot award at the Finals with a strong showing at the ODP National Camp. Holcombe's coach at the ODP camp, Gardner-Webb University Head Coach Mike Varga, identified her as one of the top players on his team.
"She's quality, as far as athletic ability. She's got the ability in tight space, but also as a forward to get by defenders and score goals, and that's what you're looking for," Varga said.
Valkyries FC was well-represented on the U-14 Girls Select Team, as three members of the club were recognized, including goalkeeper Isabella Castagnetti and midfielders Meagan O'Callahan and Trinity Garay. Castagnetti stole the show on Saturday at the IMG Cup as she made several diving saves, including one save of a penalty kick to help her side earn a shutout.
FA Euro New York defender Giancarlo Franco was named to the U-14 Boys Select Team. Franco played up in age with FA Euro at the Finals, and was named to the All-Tournament team for the U-15 division after helping his side reach the semifinals.
2015 SYL ODP National Camp Select Teams
U-16 Boys Select Team
GK – Isiah Handspike, Force Football Club
GK – Yaroslav Moschenko, FA Euro New York
D – Thomas Bould, TSF Academy
D – Zachary Sivulich, Ironbound SC
D – Justin Charkowski, NJ Stallions Academy
D – Machop Chol, DDYSC Wolves
M – Aristotle Seferlis, Ironbound SC
M – Diogo Ferreira, NJ Luso Parma
M – Caleb Whitaker, Liberty FC
M – John Antunes, Ironbound SC
M – Alhaji Tambadu, DDYSC Wolves
M – Louis Nanni, Indiana Invaders
M – Andro Garcia-Economides, FA Euro New York
M – Nathan Frizzi, Florida Fire Juniors
M – Noah Campagna, Ottawa Fury FC
F – Joe Estes, Gulf Coast Texans
U-16 Girls Select Team
GK – Sophia Barros, VA Alliance
GK – Shannon McLaughlin, FASA
D – Courtney Baker, Georgia Revolution
D – Alisha Holcombe, Washington Spirit MD
D – Jessica Flores, Mequon United
D – Sara Larsen, Atlanta Fire United
D – Hannah Schell, Force Football Club Academy
D – Brennen McCarthy, VA Alliance
M – Karli Beaumont, FASA
M – Vivian Gasca, Chicago City Soccer Club
M – Emily Porteous, Toronto Lynx Jrs.
M – Aubrie Jackson, FASA
M – Zoe Wright, Chicago City Soccer Club
F – Jordan White, Atlanta Metro's FC
F – Lakaiah Robinson, ETA United
F – Isabel Eigenbauer, Atlanta Fire United
U-14 Boys Select Team
GK – Kevin Mulholland, Westchester Flames
GK – Holden Tracy, Alpharetta Ambush
D – Tyler James, Atlanta Metros FC
D – Giancarlo Franco, FA Euro New York
D – Ulisses Silguero, Cedar Stars Academy
D – Jason Diaz, NJ Stallions Academy
D – Joshua Campagna, Keystone Athletic
M – Brennan Creek, Kalamazoo Kingdom
M – Joey Rossi, Ottawa Fury FC
M – Ifreke Jacob, Barca Elite Futbol Club
M – Victor Delgado, Atlanta Fire United
M – Ahmed Abukwaik, TSF Academy
M – Christian Arcos, Met Oval
M – Jake Samieske, NJ Stallions Academy
M –Dominic Bellomo, National Soccer Academy
F – Andrew Meyers, Thunder Soccer Club
U-14 Girls Select Team
GK – Isabella Castagnetti, Valkyries FC
GK – Gwen Schad, Mequon United
D – Emma Little, Mequon United
D – Macy Hollingsworth, Grand Rapids Crew Juniors
D – Sydney Waiters, Gold Soccer Academy
D – Mia Green, Northern Virginia Majestics
D – Lilliana Graves, Gold Soccer Academy
D – Danielle Bruckschen, Mequon United
M – Trinity Garay, Valkyries FC
M – Meagan O'Callahan, Valkyries FC
M – Meike Ingles, WAZA FC East
M – Maddison Bondon, Atlanta Fire
M –Kayleigh Goodrich, Long Island Rough Riders
F – Autumn Woodward, Clay County SC
F – Khloe Hayes, Grand Rapids Crew Juniors
F – Shea Bonacci, Atlanta Fire