Stanford claims Men's College Cup title with 4-0 win over Clemson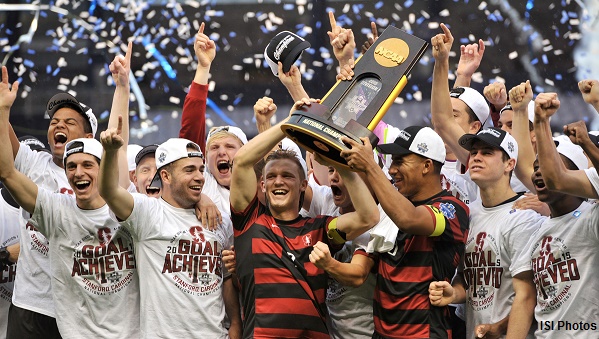 KANSAS CITY, Kan. – Sparked by two brilliant goals by Jordan Morris, Stanford earned its first national championship in more than 100 years of men's soccer.
Morris, Stanford's U.S. national team forward, scored only 87 seconds into the NCAA College Cup final and added another in the 51st minute to lead the eighth-seeded Cardinal to a 4-0 victory over Clemson on a rainy Sunday at Sporting Park.
The Cardinal completed a three-goal second half surge on a penalty kick by Brandon Vincent and a half-field run and strike by Eric Verso. Stanford scored the most goals in an NCAA final since 1996 and won by the largest margin since 1969, tying for the highest-margin in College Cup history. In addition, Stanford became the fifth school to capture men's and women's Division I soccer titles, following the Cardinal women in 2011.
Coach Jeremy Gunn, in his fourth season, led the resurgence of a program that has fielded a varsity team since 1911 and reached two previous NCAA finals before breaking through in spectacular fashion.
Stanford extended its streak of at least one NCAA team championship to 40 years, on ongoing record, while earning its 108th NCAA team title and 129th overall. In addition, Gunn became one of four coaches to win NCAA titles in both Division I and Division II, following his 2005 crown at Fort Lewis.
With Gunn stressing a strong start, Stanford struck quickly when Corey Baird won the ball near midfield, worked a give-and-go with Foster Langsdorf and took off up the left flank. The sophomore sent a left-footed centering pass to the top of the box toward Morris, who dummied the ball to Eric Verso.
As Verso drew two defenders, he pushed the ball on his second touch forward to Morris, who had launched a deeper run into the box. Morris met the pass with a hard right-footed shot into the right side of the net as a defender was left sprawling in his wake.
The goal, at 1:27, was the fastest for Stanford (18-2-3) since Sept. 19, 2013, when Zach Bateer scored 1:24 into a 2-0 home victory over College of Charleston.
It was the 12th goal of the season for Morris, a junior who is among three finalists for the Hermann Trophy as college soccer's best player, but not his last.
Early the second half, left back Vincent headed the ball forward near midfield and Verso pushed it back with one touch to Langsdorf, who in turn, sent the ball forward to Morris making a run. Morris spun to his left to receive the ball and in the same motion, split two defenders to fire from eight yards — a true golazo.
In the 71st minute, Morris created Stanford's third goal. Vincent tossed in a throw-in to Morris, who flicked the ball to himself as he got hip-checked to the ground just inside the box, drawing a penalty that Vincent converted for a 3-0 lead.
Verso closed the scoring in the 74th minute at the end of a solo run that he capped with a clinical finish.
The result could have been greater if Ty Thompson's second-half shot hadn't been deflected off the post with the Cardinal holding a 1-0 lead. No matter, this was a stunning domination by Stanford, and a championship more than a century in the making.
Stanford 4, Clemson 0
Halftime: Stanford 1, Clemson 0. Scoring: Jordan Morris (Eric Verso, Corey Baird), 1:27; Morris (Baird, Foster Langsdorf), 50:09; Brandon Vincent (penalty kick), 70:16; Eric Verso (unassisted), 73:07. Records: Stanford 18-2-3, Clemson 17-3-4.
Offensive Most Outstanding Player: Jordan Morris (Stanford).
Defensive Most Outstanding Player: Brandon Vincent (Stanford).
All-Tournament Team: Corey Baird (Stanford), Andrew Epstein (Stanford), Eric Verso (Stanford). Jake Fenlason (Akron), Richie Lareya (Akron), Julian Buescher (Syracuse), Andrew Tarbell (Clemson), Kyle Fisher (Clemson), Paul Clowes (Clemson).