Speedy Purce turning heads with Freestate, U.S. U-17 Women, earns Korrio Player to Watch award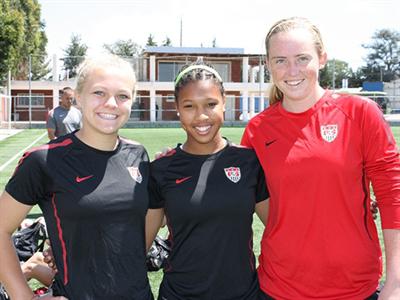 By Charles Boehm
Margaret "Midge" Purce earned her nickname as an undersized Under-8 player many years ago, and she remains a petite presence compared to her taller teammates on Freestate Soccer Alliance's U-16 ECNL squad and the U.S. Under-17 Women's National Team.
Watch her play, however, and it rapidly becomes clear that her particular physical gift is one more precious than mere height: blistering speed, which, when matched with her slick ball skills and aggressive mentality, makes her one of the most dangerous strikers in the nation – and a deserving Korrio Player to Watch nominee for May.
"I like to go at players and I like to play fast and get in behind," Purce told ussoccer.com in the runup to the CONCACAF U-17 Women's World Cup qualifying tournament which kicked off in Guatemala this week.
A native of Olney, Md., Purce exploded onto the national scene with SAC United Premier at U-15 level last year, scoring a tournament-leading six goals in four games at the U.S. Youth Soccer National Championships in Arizona. She has also excelled at high school level for Our Lady of Good Counsel, racking up 25 goals and 10 assists as a sophomore, and has adapted to each new level of competition her previous exploits have led her to, including a national team call-up during the later stages of preparation for the current U-17 World Cup cycle.
"Midge Purce came to us a little bit later in the process and she's really been a pleasant surprise, and has improved in every camp she's been in with us," U-17s head coach Albertin Montoya told The Soccer Wire last week. "So we're very excited about having her up top and the special things she brings to the game."
Now it seems as if the CONCACAF qualifying tourney will serve as another statement of intent. Playing as a frontrunner in Montoya's 4-3-3 system, Purce netted a hat trick in the United States' 10-0 demolition of the Bahamas on Thursday – and she herself admits that her development is far from complete.
"It's been such an amazing experience, playing with really high-level players [with the national team] and then coming back and playing with my [club] team, which is also at a high level. It's just been the best experience," she told The Soccer Wire at the Jefferson Cup in March. "Coach Albertin [and his staff], they break down the game so well, so I'm not just playing – I get to see exactly what I need to do, with runs and timing and when to get in. So I can bring that back here – they just teach you so much. They break it down."
Amazingly, Purce has resisted the strong pressure to select a college destination that usually settles on players of her age and ability, and remains uncommitted. In fact, she declines to even name her short list, explaining her desire to take her time with a choice she clearly values – though her Freestate coach, former U.S. international Shannon Cirovski, has been counseling her to visit as many college campuses as possible, and as soon as possible.
"A lot of coaches always talk to me about decision-making being really early and fast," she said. "College is a big decision for me and so I want to make sure that I'm completely content with my decision and happy with where I'm going to go. So I'm still deciding, but I'm getting a little pressure from Coach Shannon, she's always looking out for me."
Cirovski, whose squad sits in fourth place in the ECNL Midatlantic Conference standings with a 7-4-2 record, agrees when asked if taking a little extra time has empowered Purce in her school selection process.
"It has been for her," said the veteran coach. "I'm hoping that she'll get an opportunity to make a real quality decision. Her issue is that she hasn't been on the campuses, and if you haven't been on the campuses, to me, you shouldn't make a decision."
Rest assured, Purce will be wearing the uniform of a top NCAA Division I program when the fall 2013 season rolls around. The only question is which one.
[ + View all Korrio Player to Watch winners here ]
[ + Read "11 Questions with Margaret Purce" on USSoccer.com ]