Sophia Smith shines again for USWNT in 4-0 rout of Nigeria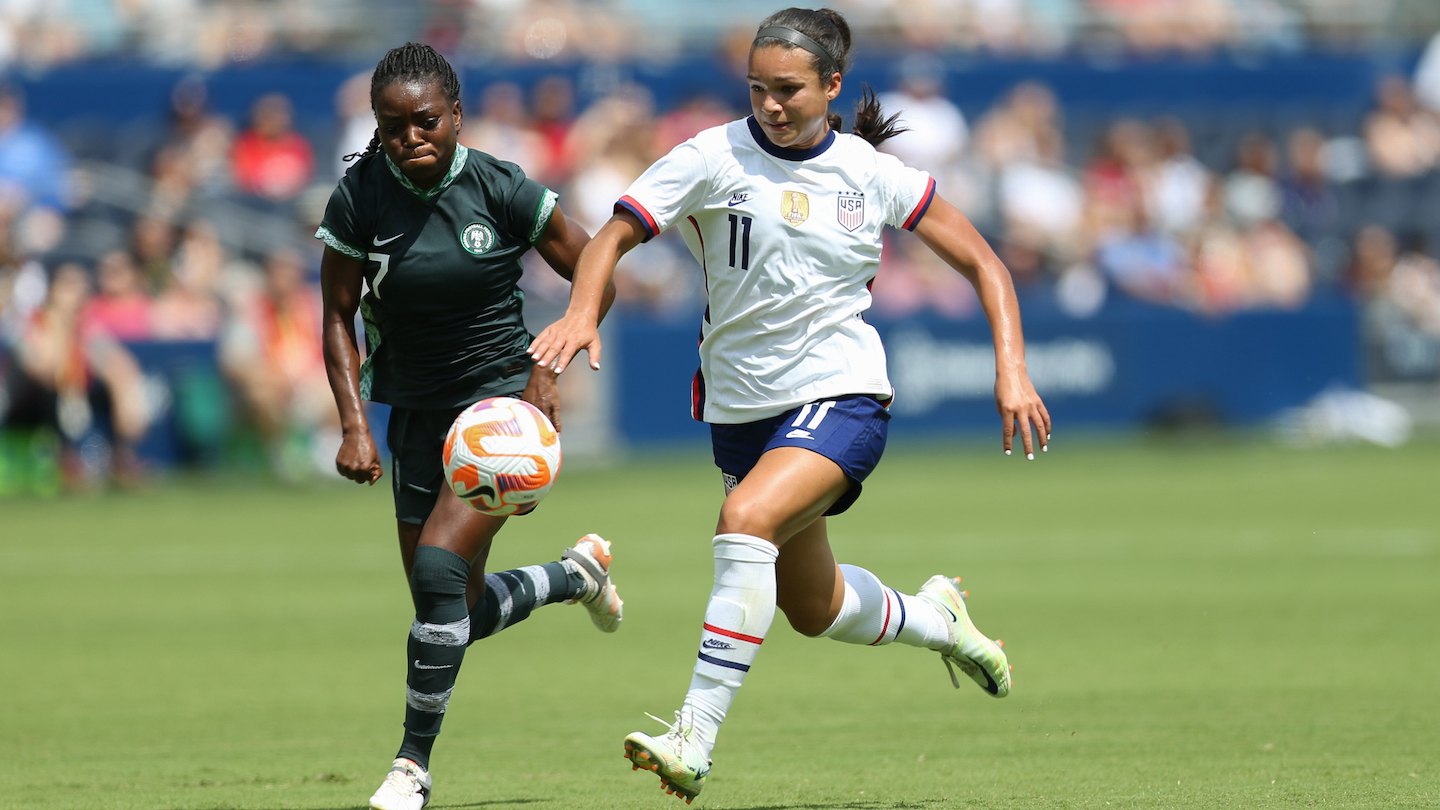 KANSAS CITY, Kansas – In its return to action for the first time since qualifying for the 2023 FIFA Women's World Cup and 2024 Paris Olympics, the U.S. Women's National Team earned a 4-0 victory over Nigeria in front of a  boisterous crowd of 14,502 at Children's Mercy Park.
In the first of two friendlies between the USA and the Super Falcons, U.S. head coach Vlatko Andonovski started the same XI that defeated Canada 1-0 in the title game of the Concacaf W Championship title in mid-July.
The USA, which outshot Nigeria 14-8, put their opponents under pressure from the opening whistle and by the time the first water break arrived midway through the opening half, the Americans had a 2-0 lead thanks to forward Sophia Smith scoring on a breakaway and midfielder Lindsey Horan converting off a Smith feed in the right side of the penalty area. Smith would tack on a second strike in first half stoppage time, giving the USA a commanding 3-0 advantage going into the break.
Soon after the teams began the second half, forward Mallory Pugh raced into the Super Falcons' penalty box on the left side where she was fouled by Nicole Payne. Forward Alex Morgan dispatched the resulting penalty with aplomb in the 52nd minute to provide what would be the final margin of victory. It was Morgan's fourth career goal from the penalty spot for the USA.
Andonovski then turned to his bench to keep the players fresh in the KC heat. In the 64th minute, forward Midge Purce came on for Smith, forward Megan Rapinoe replaced Pugh and midfielder Ashley Sanchez came on for Horan. A second set of subs entered in the 70th minute as midfielder Ashley Hatch entered in place of Morgan, midfielder Kristie Mewis subbed on for Rose Lavelle and defender Hailie Mace, she of the local NWSL side Kansas City Current, took over for Emily Fox. It was Mace's fourth career cap and first since 2018.
The strong display from the USA earned the team its ninth consecutive clean sheet which ties the third-longest shutout streak in program history and sets up the teams' rematch at Audi Field in Washington D.C. on Tuesday, Sept. 6 (6 p.m. ET; ESPN2). A capacity crowd is expected for that match, the USWNT's first-ever at Washington, D.C.'s soccer-specific stadium.
Goal Scoring Rundown:
USA – Sophia Smith, 14th minute – A Nigeria goal kick was headed back into Super Falcons' territory by the Sofia Huerta and a wild backheel attempt to clear by Christy Ucheibe sent the ball back towards her goal and into the path of Smith. The forward sped past the defense and hit a left footed shot into the lower right corner for her eighth goal in her last nine caps. USA 1, NGA 0
USA – Lindsey Horan (Sophia Smith), 25nd minute – Smith was involved again on the USA's next goal, this time playing provider for her fellow Coloradan, Lindsey Horan, to bag her 26th career goal. After a corner kick from the left side, high pressing from the WNT won the ball back just outside the Nigeria box and Smith was able to stab a pass into the stride of Horan in the right side of the box. The Olympique Lyon midfielder cut inside past a defender before depositing a left-footed strike into the lower left corner of the net. USA 2, NGA 0
USA – Sophia Smith (Emily Fox), 45+1st minute – Fox earned her first career assist with an excellent bit of play to set up Smith for her second tally of the game. After initiating the passing sequence, Fox made a long run up the left sideline before getting the ball back and sending a beautiful low cross through the Nigeria box to the feet of Smith, who only had to redirect the ball home for her fourth multigoal game in red, white and blue. USA 3, NGA 0 
USA – Alex Morgan (Penalty Kick), 52nd minute – After Mallory Pugh drew a penalty kick, Morgan stepped to the spot and with veteran poise buried her shot in the lower left corner for the 119th goal of her career. USA 4, NGA 0
Additional Notes:
The USA improves to 7-0-0 all time against Nigeria and 9-0-0 overall against CAF opponents.
Head coach Vlatko Andonovski is 40-2-6 in 48 games (two at the end of 2019, nine in 2020, 24 in 2021, and 13 so far in 2022).
The USA is on a 12-game win streak during which it has outscored opponents 50-1. It is the team's longest win streak since winning 16 in a row from November 2019 to February 2021.
The team is currently in the midst of its second longest home unbeaten streak (70 games) which has lasted more than five years. With a 63-0-7 record, the streak trails only the WNT's 104-game home unbeaten streak that lasted from December of 2004 to December of 2015.
With the clean sheet, the USA has matched its third-longest shutout streak ever. It last achieved nine straight shutouts from August to November of 2018. The U.S. kept 14 straight clean sheets from July 1990 to May 1991 and had a 10-game shutout streak from December 2004 to October 2005.
With Sophia Smith scoring her 10th career goal in just her 22nd career cap, she's tied with Michelle Akers for the 6th fastest to double-digit goals in USWNT History.

Fastest to 10 goals in WNT History: Christie Welsh and Christen Press (14 caps), Abby Wambach (16), Carin Jennings-Gabarra (20), Sydney Leroux (21), Sophia Smith and Michelle Akers (22)

With her goal, Alex Morgan has now scored against 31 different opponents. It was also her first goal against an opponent from Africa, giving her goals against all six FIFA Confederations. Morgan is the 14th USWNT player to score against a team from each Confederation.
It was Morgan's 119th career goal and 12th as a mom, putting her within two goals of becoming the USA's highest scoring mom in team history. Joy Fawcett scored 13 goals as a mom.
With her first goal of 2022, Lindsey Horan becomes the sixteenth different player to score for the USWNT so far in 2022 – Sophia Smith (8), Mallory Pugh (6), Catarina Macario (5), Rose Lavelle (3), Kristie Mewis (3), Alex Morgan (3), Ashley Sanchez (3), Ashley Hatch (2), Trinity Rodman (2), Midge Purce (2), Kelley O'Hara (1), Lindsey Horan (1), Jaelin Howell (1), Andi Sullivan (1), Taylor Kornieck (1) and Emily Sonnett (1).
– U.S. WOMEN's NATIONAL TEAM MATCH REPORT –
 Match: United States Women's National Team vs. Nigeria
Date: Sept. 3, 2022
Competition: International Friendly
Venue: Children's Mercy Park; Kansas City, Kan.
Attendance: 14,502
Kickoff: 1:30 p.m. ET (12:30 p.m. local)
Weather: 82 degrees; cloudy
Scoring Summary:               1          2          F
USA                                        3          1          4
NGA                                       0          0          0
USA – Sophia Smith                                                 14th minute
USA – Lindsey Horan (Sophia Smith)                       25
USA – Sophia Smith (Emily Fox)                              45+1
USA – Alex Morgan (Penalty Kick)                            52
Lineups:
USA: 1-Alyssa Naeher; 8-Sofia Huerta, 3-Alana Cook, 4-Becky Sauerbrunn (Capt.), 19-Emily Fox (5-Hailie Mace, 70); 17-Andi Sullivan, 10-Lindsey Horan (2-Ashley Sanchez, 64), 16-Rose Lavelle (22-Kristie Mewis, 70); 9-Mallory Pugh (15-Megan Rapinoe, 64), 13-Alex Morgan (7-Ashley Hatch, 70), 11-Sophia Smith (23-Midge Purce, 65)
Substitutes not used: 18-Casey Murphy, 21-Aubrey Kingsbury, 6-Savannah DeMelo, 12-Naomi Girma, 14-Sam Coffey, 20-Taylor Kornieck
Head coach: Vlatko Andonovski
NGA: 16-Chiamaka Nnadozie; 12-Michelle Alozie, 3-Osinachi Ohale (11-Akudo Ogbonna, 76), 4-Glory Ogbonna (5-Blessing Demehin, 56), 7-Toni Payne; 6-Uchenna Kanu (8-Rofiat Adenike Imuran, 46), 19-Deborah Abiodun (17-Nicole Payne, 46), 13-Christy Ucheibe, 2-Gift Monday (10-Amanda Mbadi, 46); 15-Rasheedat Ajibade (Capt.), 9-Ifeoma Onumonu (14-Vivian Ikechukwu, 65)
Substitutes not used: 1-Christy Ohiaeriaku, 18-Onyi Echegini, 20-Esther Onyenezide
Head coach: Randy Waldrum
Stats Summary: USA / NGA
Shots: 14 / 8
Shots on Goal: 9 / 4
Saves: 4 / 5
Corner Kicks: 3 / 3
Fouls: 6 / 11
Offside: 0 / 1
Misconduct Summary:
NGA – Deborah Abiodun (caution)              28th minute
NGA – Osinachi Ohale (caution)                  40
Officials: 
Referee: Melissa Borjas (HON)
Assistant Referee 1: Shirley Perello (HON)
Assistant Referee 2: Lourdes Noriega (HON)
4th Official: Tori Penso (USA)
Woman of the Match: Sophia Smith