Sophia Smith records hat trick as USWNT routs Uzbekistan 9-1 in Columbus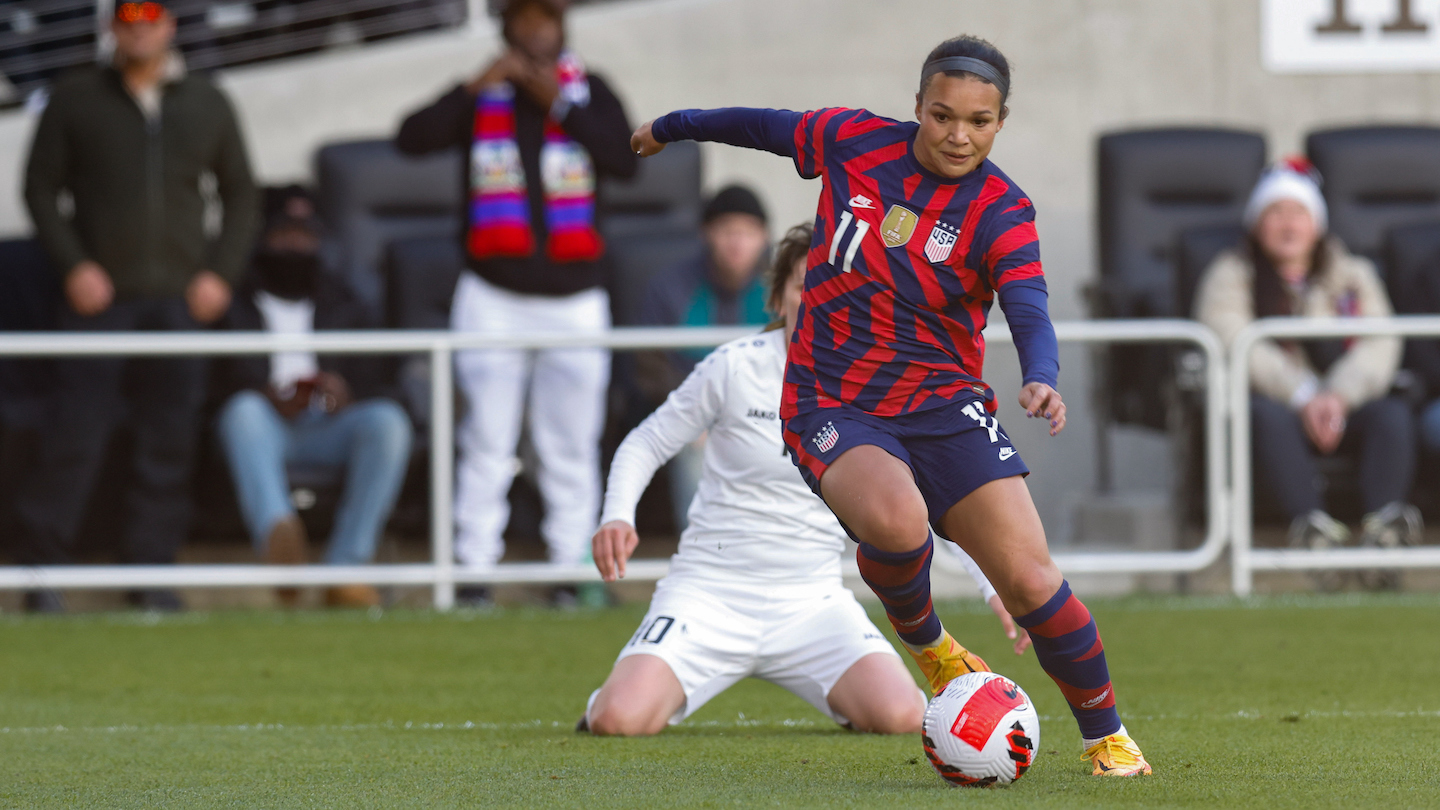 COLUMBUS, Ohio – The U.S. Women's National Team rolled past Uzbekistan 9-1 as seven different players scored goals in the first of two friendly matches between the teams during this April international window. Seven of the nine goals were scored by players under the age of 25.
A hat trick from forward Sophia Smith led the attack as midfielder Andi Sullivan, forward Mallory Pugh, forward Catarina Macario, midfielder Jaelin Howell, forward Ashley Hatch and midfielder Ashley Sanchez tallied a goal apiece to extend the team's home unbeaten streak to 66 matches.
For U.S. Youth National Team veterans Howell and Sanchez, the goals were the first of their senior team careers.
The USA created a plethora of attacking threats early, including a back-to-back denial by the woodwork in the fifth minute, but could not pierce a crowded low block and a committed Uzbekistan defense through the first 25 minutes. The floodgates opened in the 26th minute as a string of three headers following a corner kick concluded with Sullivan's headed goal. The USA wasted no time striking again as Pugh doubled the lead just 46 seconds later following an impressive team defensive press and attack immediately after the Uzbekistan kickoff to restart play.
Smith's shining night started when she added her name to the score sheet in the 33rd minute, burying a Pugh cross that came from deep on the left flank with a right-footed strike from 10 yards out. Smith doubled her tally just two minutes later after Sullivan intercepted a punt from the goalkeeper to play her in on goal with a one-touch pass. Smith finished with a powerful left-footed strike from just inside the penalty box from 17 yards out to send the team into the halftime break with a comfortable lead.
Just 39 seconds into the second half, Macario added her goal after dribbling around the goalkeeper following a brilliant run of possession play. Ten minutes later, Smith completed her first career hat trick after finishing off another cross from Pugh, who had dribbled around the onrushing goalkeeper, with a tap in from close range.
At 21.66 years of age, Smith is the youngest player to score a hat trick for the USWNT since 2000 when Christie Welsh achieved the feat at 19-years-old. Forward Sydney Leroux scored five goals in a match in January of 2012, but she was slightly older at 21.73 years old.
Following a string of USA substitutions, Howell scored her first career international goal in the 64th minute with a lobbed shot over the goalkeeper. Four minutes later, Uzbekistan pulled one back when Aziza Norboeva got on the end of a flicked corner kick and scored off her thigh from close range to make it 7-1, ending the USA's two-year shutout streak on home soil at an astonishing 1,632 minutes. The team had not allowed a goal at home since March 11, 2020.
The USWNT then closed out the night with goals from Hatch on a brave header in the 86th minute and another from Sanchez in the 90th after a nifty dribble inside the box. The USA will now take on Uzbekistan again at Subaru Park in Chester, Penn. on Tuesday, April 12 at 7 p.m. ET (ESPN2, Vix).
GOAL SCORING RUNDOWN:
USA – Andi Sullivan (Alana Cook), 26th minute: The USWNT opened the scoring with a string of three headers following a corner kick from Catarina Macario which initially found Lindsey Horan near the center of the box. Horan headed the ball toward Cook just left of the goal and she headed it back into the center to find Sullivan for a finishing header from the edge of the six-yard box. USA 1, UZB 0
USA – Mallory Pugh (Rose Lavelle), 26th minute: Just seconds after the first goal, Lavelle recovered the ball immediately after the visitors' kickoff following a team press that earned a turnover and played the ball to Pugh into the penalty box on the left side. Pugh she took a touch and buried it from 12 yards out with a powerful strike. USA 2, UZB 0
USA – Sophia Smith (Mallory Pugh), 33rd minute: After playing out from the back, Pugh received the ball almost flush on the left sideline and sent in a cross into the penalty box past the rushing goalkeeper and right into the path of Smith, who buried it into the open net with a right-footed shot from 10 yards out. USA 3, UZB 0
USA – Sophia Smith (Andi Sullivan), 35th minute: Sullivan intercepted a goalkeeper punt and found Smith on the left side with a one-touch pass. She ran at goal and finished with a powerful, left-footed shot high into the net from just inside the box from 17 yards out. USA 4, UZB 0
USA – Catarina Macario (Rose Lavelle), 46th minute: Following a run of possession to start the second half, Lavelle unlocked Macario with a perfectly weighted through-ball to break the last line of defense. Macario took a touch to round the 'keeper toward the right side of the box and slotted the ball into the open net from 12 yards out. USA 5, UZB 0
USA – Sophia Smith (Mallory Pugh), 56th minute: Kristie Mewis played a long ball to meet Pugh on the run. She then dribbled past the rushing goalkeeper toward the right side of the box, taking her out of position to shoot, but then crossed to Smith inside the box and she tapped it into the open net from two yards out to complete her hat trick. USA 6, UZB 0
USA – Jaelin Howell (Alana Cook), 64th minute: Pugh collected the ball on the left corner of the goal box and sent a cross into the heart of the penalty box which Cook headed down for Howell who then lobbed the ball over the goalkeeper and just under the crossbar to score her first international goal. USA 7, UZB 0
UZB – Aziza Norboeva (Diyorakhon Khabibullaeva), 70th minute: Khabibullaeva sent in a corner kick from the right side. The ball was flicked on by the head Khabibullaeva and Norboeva touch knocked it off thigh and into the net from two yards out to pull one back for the visitors. USA 7, UZB 1
USA – Ashley Hatch (Kelley O'Hara), 86th minute: O'Hara sent in a cross from about 30 yards out on the left wing. Hatch jumped high in a pack of players to win a challenge against the goalkeeper and score the team's eighth of the night from eight yards out. USA 8, UZB 1
USA – Ashley Sanchez (Mallory Pugh), 90th minute: O'Hara played Pugh on the left side of and she played a one-touch pass into Sanchez on the run. Sanchez dribbled into the box and cut inside to beat her defender and curl a shot past the goalkeeper from 12 yards out for her her first international goal. USA 9, UZB 1
ADDITIONAL NOTES:
Andi Sullivan's goal marked her third career score, all of which have come in the state of Ohio (two in Cincinnati and one in Columbus).
Alana Cook's assist to Sullivan marked the first of her USWNT career as she set up her former Stanford teammate's goal. She then set up Jaelin Howell's goal in the second half to tally her second career assist.
Mallory Pugh scored her 22nd career goal which also marked her third goal in as many matches. It is the first time in USWNT career that she has scored in three consecutive matches.
Sophia Smith's goals marked her second, third and fourth career USWNT goals en route to her first career hat trick.
Smith is the first USWNT player to score a hat trick since Alex Morgan who scored three goals on Sept. 21, 2021, vs. Paraguay in Cincinnati, Ohio.
Smith became the 25th USWNT player to score three goals in a game and hers was the 63rd all-time three goal game in USWNT history.
Catarina Macario's goal marked her sixth USWNT career goal as well as the first time the forward has scored in consecutive matches.
Ashley Hatch's goal marked her fourth career goal.
With the win, the USA is now on a 66-game home unbeaten streak, which includes 59 wins and seven draws. During this unbeaten streak, the USA has outscored its opponents 246-28, including a 116-4 margin during its last 28 matches at home, all but two of which have been wins save for a 0-0 draw with Korea Republic on Oct. 21 and a scoreless draw vs Czech Republic on Feb. 17.
Head coach Vlatko Andonovski is 31-2-6 in 39 games (two at the end of 2019, nine in 2020, 24 in 2021, and four so far in 2022), setting a record for best start for a head coach in USWNT history. His first ever game in charge of the USWNT came in Columbus, Ohio in a 3-2 win over Sweden on Nov. 7, 2019 at MAPFRE Stadium.
Eight different players have scored for the USWNT so far in 2022 – Mallory Pugh (4), Sophia Smith (3), Catarina Macario (3), Ashley Hatch (2), Jaelin Howell (1), Kristie Mewis (1), Andi Sullivan (1) and Ashley Sanchez (1). The USA's other three goals this year came via own goals.
-U.S. WOMEN'S NATIONAL TEAM MATCH REPORT-
Match: United States Women's National Team vs. Uzbekistan
Date: April 9, 2022
Competition: International Friendly
Venue: Lower.com Field; Columbus, Ohio.
Attendance: 12,071
Kickoff: 5:30 p.m. ET
Weather: 41 Degrees, Cloudy
Scoring Summary:   1          2          F         
USA                            4          5          9
UZB                             0          1          1
USA – Andi Sullivan (Alana Cook)                                         26th minute
USA – Mallory Pugh (Rose Lavelle)                                      26
USA – Sophia Smith (Mallory Pugh)                                      33
USA – Sophia Smith (Andi Sullivan)                                      35
USA – Catarina Macario (Rose Lavelle)                                46
USA – Sophia Smith (Mallory Pugh)                                      56
USA – Jaelin Howell (Alana Cook)                                        64
UZB – Aziza Norboeva (Diyorakhon Khabibullaeva)             70
USA – Ashley Hatch (Kelly O'Hara)                                       86
USA – Ashley Sanchez (Mallory Pugh)                                 90
Lineups:
USA: 1-Alyssa Naeher; 5-Kelley O'Hara (Capt.), 15-Alana Cook, 2-Abby Dahlkemper, 19-Emily Fox (8-Sofia Huerta, 68); 17-Andi Sullivan (6-Jaelin Howell, 46), 10-Lindsey Horan (22-Kristie Mewis, 46), 16-Rose Lavelle (13-Ashley Sanchez, 68); 11-Sophia Smith (23-Margaret Purce, 62), 20-Catarina Macario (7-Ashley Hatch, 62), 9-Mallory Pugh
Substitutes Not Used: 21-Aubrey Kingsbury
Head coach: Vlatko Andonovski
UZB: 1-Laylo Tilovova; 21-Shokhida Tojiddinova (3-Ugiloy Kuchkarova, 57), 9-Ziyoda Irisboeva, 20-Kmaila Zaripova; 17-Tanzilya Zarbieva, 5-Maftuna Panjieva, 6-Irodahon Turdalieva, 10-Ilvina Ablyakimova (22-Solikha Khusniddinova, 46); 7-Nilufar Kudratova, 18-Aziza Norboeva (4-Shakhrizoda Zaynitdinova, 72), 23-Diyorakhon Khabibullaeva
Substitutes Not Used: 12-Zarina Saidova, 13-Nigora Uzganova, 2-Yulduz Nabieva, 8-Dildora Ergasheva, 11-Mukhlisa Mirzayorova, 14-Setora Takaboeva, 15-Madina Vokhidova, 16-Diyora Juraboeva, 19-Nozima Kamoltoeva
Head coach: Midori Honda
Stats Summary: USA / UZB
Shots: 33 / 1
Shots on Goal: 17 / 1
Saves: 0 / 7
Corner Kicks: 9 / 2
Fouls: 6 / 6
Offside: 7 / 0
Misconduct Summary:
USA – Catarina Macario (Caution)                53rd minute
Officials:
Referee: Katja Koroleva (USA)
Assistant Referee 1: Melissa Snedden (CAN)
Assistant Referee 2: Nikesha Gage (ATG)
4th Official: Samantha Martinez (USA)
Woman of the Match: Sophia Smith