Q&A: April Heinrichs dishes on Girls DA, Mallory Pugh and more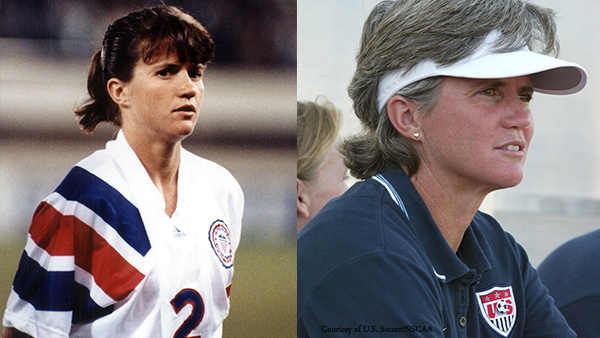 When the U.S. Soccer Federation finally, officially announced the new Girls Development Academy initiative set to launch next year, April Heinrichs was front and center.
A former star player on, and later coach of, the U.S. Women's National Team, Heinrichs became one of the first full-time technical staffers ever hired for the women's side of the federation when she was named technical director in 2011, a position she still holds.
She was one of a few officials made available to media via a conference call on the eve of the Girls DA announcement, and a few days afterward she spoke to SoccerWire.com in a one-on-one conversation in which she expanded on a number of the leading topics in youth development today. Here are some of the highlights from that discussion.
SoccerWire.com: Thanks for your time, April. First off, what are your personal reactions to the rise of the Girls DA and how do you foresee your role in this new league?
April Heinrichs: It will be run out of our U.S. Soccer national offices, and it will be closely aligned with our youth national team program, vision and philosophy, so in that sense it's quite exciting to have the resources to be able to launch a nationwide league where we can provide a little bit of guidance and benchmark the expectations at the club level of the girls game, which has really never been done by the federation. And it's quite an undertaking, so the fact that we have a year and a half to prepare, I think is a good thing. As far as my role, certainly I'm somebody that's worked at U.S. Soccer for a lot of years and is familiar with the club level and the college level, the boys Development Academy…. My role will be more to help get the vision and the people in place, rather than on a daily basis.
SW: Do you know who will be leading the Girls DA yet?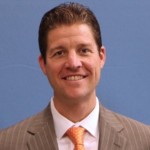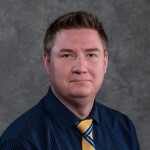 AH: No, we haven't explored any day-to-day leadership. At the start, Ryan Mooney, Jared Micklos and myself will undertake a process to get the leadership in place. And because we have quite a bit of time, we haven't had any of those specific conversations yet. But I think we'll find some very good people that are interested and very good fits.
SW: This new project seems to be guided by the idea that the model of the boys Development Academy should be mimicked to the greatest degree possible. That raises a philosophical question: Is player development the same for girls and boys, or are there distinctions and nuances between the genders?
AH: I think there's two things going on here. Most of us have agreed for many years now that with girls, the development of the player is very, very similar. From my own perspective, development of girls and boys – and even getting into Zone 3 [Under-18 and up] – developing of players is becoming more and more similar than different. So when you then put programs in place, for example US Club, US Youth Soccer, ODP and AYSO for the most part, I would say the structures and rules and regulations are about the same for both genders. I think that we all believe that with regards to the girls Development Academy, the structure and the rules should be the same as the boys Development Academy.
I'm not an expert on the boys side of the game, but I think most people would also say that the boys Development Academy, for the nine years that it's been in place, has been a pretty big boost for the boys game, in terms of the structure, setting expectations and standards at the club level. And that's where we can take that same program and put better standards in place for the girls game.
SW: You previously mentioned that a factor in the creation of the Girls DA was the rise of new funding streams, and a lot of us are curious about that aspect. Can you explain that in more detail?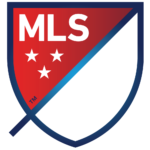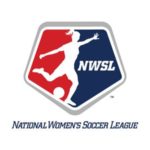 AH: The budget will come from U.S. Soccer's budget, and that was an allotment that certainly wasn't there five years ago. … it's hard to pinpoint that number exactly, because there's also some sponsorship opportunities involved. So in that regard, it's new money for the girls side of the game.
We now can direct – in terms of the full-time employees that we have in place at U.S. Soccer on the girls side – we can steer that conversation, that vision and philosophy, towards some of our own beliefs and standards we need to be putting in place. So that new money is a huge boost to the game. And then combined with that, you have new interest from the NWSL and MLS: Both have expressed interest in creating, or partnering with a current club, to create a girls Development Academy underneath. So those are new resources that people are also exploring to participate in the women's game. It's another boost that I think will be very helpful.
SW: You also mentioned the positive effect of last summer's Women's World Cup championship on the rise of this new initiative.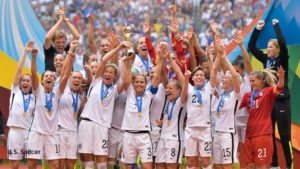 AH: I think the desire has been there for a while, in that we've explored various ways in which we can put that money to good use. The nice thing, from my perspective, is that we won the World Cup AND we're investing this money in [future] Women's World Cups. Because historically, a lot of people think when you win, they take their foot off the gas, so to speak, after they win.
So the fact that we've done the opposite of that … is for me a commitment and an investment in the youth game, and the future. Because it's unlikely that any of the players playing in the girls Development Academy starting in 2017 will make the Women's National Team for five to 10 years at least. So it's a long-term investment in the girls game.
SW: Meanwhile, the senior squad seems to have simultaneously gotten younger and more sophisticated since the World Cup.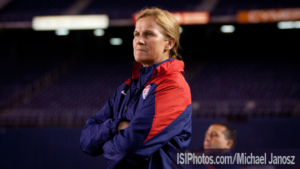 AH: I have to credit Jill Ellis and her coaching staff. They had the very difficult task of preparing for, competing in and then eventually winning the Women's World Cup and then to come off that, to have what appears to be the same hunger and conviction and urgency to win in the Olympic Games – to qualify for and compete to try and win. It's a very difficult task. No country has ever won the World Cup and followed it with and Olympic win, so I love the way that our coaching staff, and in particular under Jill Ellis' leadership, is pursuing excellence. And we see that on the field…
To be honest, I think that's been part of Jill's vision for a lot of years. Her expertise in development goes back 20 years. U.S. Soccer hired her five years ago to be our development director – she and I partnered in overseeing our youth national team program … In our selection process, from 13-year-olds to 23-year-olds, we're prioritizing the technical piece much more than we ever have. The first 20 years it was about the physical and the psychological piece. We began back in 2011, 2012, to talk about how we need to flip that model upside down and start selecting players that are more technically sophisticated – we call them "360-degree players," who can play with both feet, [get] their head up and they're very confident with the ball. We're just starting to see, at every World Cup age group, from [U-]17s to 20s to our [senior] women's team, that emergence of the 360-degree player … we're just starting to see them be able to perform and have that be a cultural shift that's happened in the women's game.
SW: Mallory Pugh, Lindsey Horan and Morgan Brian are the USWNT's three youngest players at the moment, and perhaps the most influential.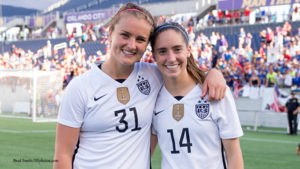 AH: Yeah, I think the growth of the game is happening so quickly right now… [It's] a playing population that's more athletic and more technical. Ten, 15 years ago, I'd say girls were probably playing a lot of sports for a lot of their youth years, and [now] they're specializing a little more, a little bit earlier. I think that's been a good thing for our game. I understand all the points of how early specialization might also not be great for a player. I was a multi-sport athlete growing up, until almost my college years. But the fact that our sport has shifted to an early-specialization sport over the last 10 to 15 years, the good part of it is that players … are touching the ball more often, they're developing both feet, they're developing their technical ability not just with their feet, but all the other surfaces that you use… and along with that, their tactical understanding is a little bit more evolved than it was 10 years ago, I'd say. So the early specialization piece has served us well, and it's the direction we need to go, evolutionarily.
We can't win with just great athletes and a competitive spirit. We'll always retained that – we have retained that. You saw one of the most competitive teams in the World Cup was our team. One of the toughest psychological teams was our team. One of the most prepared physiological teams – THE most prepared physiological team was our team: Seven games in less than a month and we had no cramps out on the field. So we can retain the psychological preparations and physical qualities, but we have to continue to put programs in place and refine players' technical and tactical abilities at much younger age groups. I think the Development Academy will help that.
Jill's openness to the younger players has also shown that they're technical enough to compete in training camp for our women. They also have to have the other pieces to compete – let's be clear, Mallory Pugh and Lindsey Horan are exceptions rather than the norm. Ten years ago our best Under-20 graduates would leave our Under-20 program and would fight the first year or two of college to be one of the better players on their [NCAA] team. Now, most of our Under-20 players leave the Under-20 program and go into their college program and they're one of the better players at the start.
SW: During Olympic qualifying in Houston, Jill acknowledged that this means the current norm of doing a full four years of college before entering the professional level may not be the only model for these younger generations of talent – mindful especially of Pugh and Horan's situations.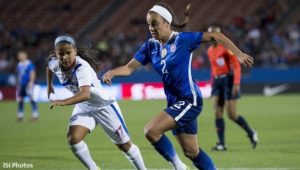 AH: In five years, there have been only two of these players that have actually seriously had those conversations. I think there's been a handful of others that have wondered whether they should make that choice, but didn't make that choice. U.S. Soccer's always going to be open to trying to help them explore what's best for their career and reach their goals. I don't see us starting to put a plan in place where we would fast-track kids to go professional and bypass college – college is a great opportunity, it's an important four years in their lives, the academic piece is vital.
I actually just talked to a young woman who's thinking about graduating early and going to Europe, and the very first thing out of my mouth was, 'make sure you graduate.' Because it doesn't do any good to have three years of college, you have to have four in America. We'll still support the academic piece, because I think it's vital in terms of making them a more balanced person, a more educated person, so they can make the right choices in their lives.