SoccerWire Q&A: Rob Ukrop on Richmond Kickers Elite's Va. State Cup title run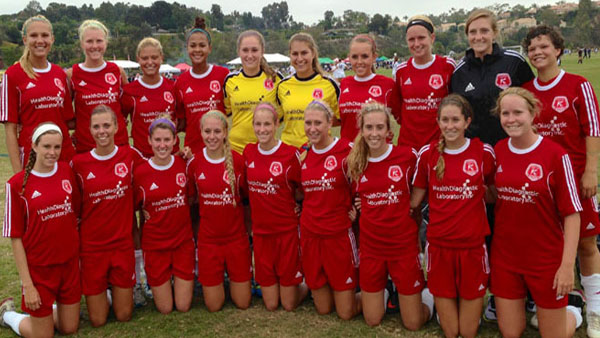 There is nothing quite like winning a title at home.
That was the case last weekend for Richmond Kickers Elite, the Under-18 Girls Virginia State Cup champions. Led by coach Rob Ukrop, Kickers Elite beat Prince William Courage Red 3-1 in the semifinals before taking the cup final 3-0 over Braddock Road YC 95 Elite.
Kickers Elite, who compete in the VA Premier League, were one of three Kickers teams to earn a place in finals weekend.
Fittingly, their win took place at Ukrop Park in Richmond, one of the Kickers' home venues. Afterwards their coach spoke with Soccerwire.com about the successful weekend, which capped off a great journey after the team won a State Cup title in its first year under Ukrop at U-13 level, only to bookend it five years later.
Soccerwire.com: What was it like to win the State Cup in your final season with the team?
Rob Ukrop: For us, it is just part of our journey. We really respect Braddock Road. They have been a rival for years. We beat them in the final in U-13. You appreciate the hard work, appreciate the opponent. We expected to win. On Sunday, it was our day … It was a great game.
SW: Star midfielder Katie Cousins [a U.S. youth national teamer and University of Tennessee commit] was vital as always, facilitating the ball and really making an impact. What is her upside?
RU: She is definitely a future senior team [USWNT] player, just because of her skill set. For our team, it is nice to have her as part of it.
SW: Did you feel like your team had an advantage playing at home?
RU: I mean, we got to sleep in our beds, but I don't know if it is an advantage. Last year we lost in the semifinals to Braddock Road with a couple injuries. Two years in a row, U-14 and U-15, we lost to Beach FC on that same field. I think our advantage is that we have a group of kids, seven or eight kids, who have been together since U-9. They have been headstrong. All the kids bought into a free-flowing, attacking style. When we lose, we lose with grace.
SW: A 3-0 win over Braddock Road in the final was an impressive result on that big stage. What did you see from your team?
RU: They are always a really good team. You are talking about two teams that put a premium on possession. On any day, if we played 10 times, I think they would win five and we would win five. We got outstanding goalkeeper play from Carly Maglio – the last three halves in the State Cup, she pitched a clean sheet. We just have a veteran group of players that have played for a long time. We caught them on the counterattack late in the first half to go up 2-0.
[ +Kickers U18 girls claim state championship, U16 girls suffer PK heartbreak ]
SW: Was the preparation different for this game than any others?
RU: We train three times a week. We had been working on our penalty kicks, but we had really good leadership from my team captains, Payton Cook [South Florida commit] and Caroline Crowder [Longwood commit]. We had great leadership, great production. It's just a really great group of girls that love playing with each other. It's a wonderful thing, win or lose.
[ +Find more of SoccerWire.com's Va. State Cup coverage here ]