SoccerWire Q&A: Nadir Moumen dishes on his undefeated McLean (Va.) ECNL U-17s
It's been a stunning start to the ECNL season for McLean Youth Soccer's Under-17 team (96 Force). The Northern Virginia-based ladies, led by coach Nadir Moumen, are a perfect 9-0 and occupy first place in the talented Chesapeake Division of the Midatlantic Conference.
In nine games, they have scored 27 goals and have allowed just three goals, and rank among a select few national powerhouses who've carried an undefeated mark deep into league play.
It's a new high for an ambitious group which has climbed up the Washington, D.C. area youth scene. Moumen recently chatted with Soccerwire.com about just how special this season has been – and how special it can become.
Soccerwire: How would you explain your team's play in ECNL regular season? At 9-0, it's been an amazing run. What have the keys been?
Nadir Moumen: Our play has obviously been very good. We have defended very well and our offense has created a lot of scoring chance, and we've played some very attractive soccer along the way, which makes it fun for the girls.
SW: What can you say about your defense?
NM: It's been fantastic. Every ECNL team is well coached so you have different problems to solve in every game and the back line has done a really good job at solving those problems. To give up only one goal every three games is something to be proud of for sure.
SW: What is the competition in ECNL like, and have you ever had this much success in a regular season before?
NM: The ECNL is a collection of the best clubs in the country and the coaching within those organizations is top-notch. We know we have some great competition ahead of us. We have never started a season 9-0-0 before, but we did manage to win the U-16 Midatlantic Conference last year so we have done well in the past.
SW: Some readers may not understand completly how the ECNL groups work, as teams aren't ranked by total points. Can you describe how it works?
NM: Teams are ranked by points per game in the ECNL system and then by goal differential after that. The ECNL schedules its games around the high school soccer season – that varies across the country – thus different teams play different numbers of games at different times of year.
Note: McLean have an average ppg of 3.0; for comparison, the ECNL MidAtlantic's second-place team, CASL (N.C.), have played 12 games and as an average of 2.17.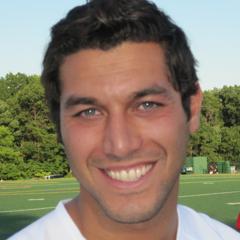 SW: Obviously, ECNL is big for players who want to make it to the next level. What players from your U-17 squad are committed to college programs?
NM: We have nine players who are verbally committed. We still have a lot of top players left who are uncommitted but are nearing decisions soon. Our committed players are Amber Stearns '15 (Boston College), Madeline McCracken '15 (Boston College), Alia Abu Hawa '15 (Virginia Tech), Katelyn Jensen '15 (Kentucky), Rebecca Callison '15 (Kentucky), Gracie DeGooyer '14 (Tennessee), Jenna Hamilton '14 (George Mason), Mia Hoen-Beck '15 (Stanford) and Lorato Sargeant '15 (Virginia).
SW: What is the one thing you are hoping to see your team do as ECNL play resumes this weekend?
NM: We are looking to continue to improve our play. We are still far from our peak of performance. McLean is right on the border of D.C. and Maryland, so we have a number of fall high school players and the winter months allow us a chance to have everyone fresh with no one playing high school. As a result, our training and performance always improve.
Our hope this year is to win our conference once again and to be one of the eight teams that advance to the ECNL U17 National Finals in July of 2014. At last year's play-offs, after qualifying for the U16 Champions League in sixth place nationally, we had nine players fall ill with food poisoning in Colorado and were unable to advance. So we want a do-over on those playoffs.