SoccerWire Q&A: Glenn Crooks talks girls DA – "This should be a very exciting time and it's being met with skepticism"
Word of U.S. Soccer's new, soon-to-be-unveiled "girls Development Academy" project has set the nation's youth soccer landscape abuzz this winter, and some of the most influential reporting has come from Glenn Crooks.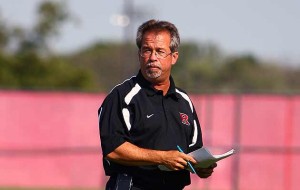 The New Jersey-based coach, columnist and satellite-radio host has repeatedly broken news on this topic, including this week's confirmation of high-level meetings in Texas between the federation and the Elite Clubs National League, whose leadership had up until now been largely left out of USSF's process.
Hearing that #ECNL will meet w/ #USSoccer tomorrow to discuss Girls DA – expect formal announcement early next week @cboehm @JeffKassouf

— Glenn Crooks (@GlennCrooks) February 12, 2016
The former head coach of Rutgers' women's program, Crooks currently leads teams in the Players Development Academy and New Jersey state ODP systems and discusses hot youth soccer topics on "The Coaching Academy," a weekly satellite-radio broadcast on SiriusXM FC on Wednesdays from 1-2 p.m. ET. Recently he spoke to SoccerWire.com in an in-depth discussion centering on the rise of the "girls DA" and its potential reception. [Full disclosure: PDA is an ECNL member club and perennial national championship contender.]
SoccerWire.com: Thanks for taking the time to speak with us, Glenn. With so many people surprised by, and curious about, the federation's plans for a new national girls academy league, maybe we should start with the origins of this concept.
Glenn Crooks: Just a little over a year ago, there was an advisory committee headed up by Carin Jennings-Gabarra, who coaches at the Naval Academy [and is] a former Women's National Team player. [U.S. Soccer's women's technical director] April [Heinrichs] was on this committee, there were USYSA people, Christian Lavers from ECNL, and the whole purpose of it was how to best utilize the scarce funds that they had for the development of women's soccer in our country. So that's in late 2014, I think. At that time, it was deemed by the committee – and April proclaimed herself – that ECNL is doing a good enough job, we don't need to spend the money on a girls Development Academy because ECNL is getting the job done.
And I'm sure the reason she could proclaim that is because when the ECNL kicked off – they started in '09 and by 2011, when April and Jill [Ellis] came on board as full-time federation employees, they immediately understood that ECNL events are where a lot of the best players are, so they started staffing those events to evaluate.
At first there were one or two national staff would be there. Up to now, you'll see as many as seven or eight national staff people at ECNL events. So that's the level of importance that the national staff held for [ECNL] … that's a symbol of their high regard for how it was going. They would also evaluate at the id2 national camps. And the other thing that's interesting is that there were at least seven ECNL coaches like Christian, Jason Dewhurst at Stars of Mass, Damon and Sean Nahas at CASL. These guys all were head or assistant coaches at one time or another over the last few years with the youth national teams.
The appearance was of a great relationship between US Soccer and ECNL, because the ECNL was providing an environment that was created by soccer people at the grassroots. That at the moment is something that could be lost in all this, and I don't completely understand it. If there truly has not been collaboration between US Soccer and the ECNL, I don't understand why.
SW: You broke the news that the girls DA will in fact bar players from participating in high-school soccer. That's a hot-button topic here, perhaps even more so than on the boys side.
GC: We know it was a major part of the discussion when the boys [Development] Academy began – it was probably the most contentious part of the boys academy, the fact that the boys couldn't play high school… If that's going to be the case in the new girls DA, it's really apparent that they're going to mimic the boys side. Can they do every single thing that's listed when you go to the boys DA website? I don't think so, because you've got to grow. But the one thing that seems certain is that the girls in the academy program that play for academy clubs are not going to be permitted to play high-school ball.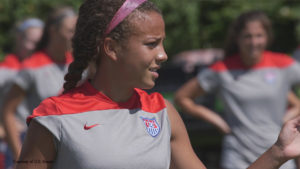 I just don't know if the hierarchy at US Soccer fully comprehends how much these girls want to play high school. … I think the most vivid example I have is, I had Lorne Donaldson on my show, "The Coaching Academy." He coached [17-year-old phenom] Mallory Pugh on the club level at Real Colorado, and still does. He said she LOVES playing high-school soccer. She wants to be there for her team, it's an important part of her soccer life and her life in general. He even said, 'we were like, wow. You've got all these opportunities, are you sure you want to play high-school?' She said, 'no, I'm playing high-school. This is what I'm doing, because this is what I want to do and it's very important to me, important to my team.'
SW: Clearly there's a group of people that passionately believes kids should be allowed to choose high-school play, and another group that just as passionately believes it's a really bad influence on players' development.
GC: I coached high-school soccer for 10 years, it was back in the '80s into the '90s, so obviously a different landscape, but I think there's value to high-school soccer. I just think that may have more of an impact in terms of clubs even deciding whether they're going to apply for [girls development] academy status. … One prominent college coach direct-messaged me after he saw my tweet [about the girls and said, 'Can you give me one reason why a very successful ECNL club would join the [girls] DA?'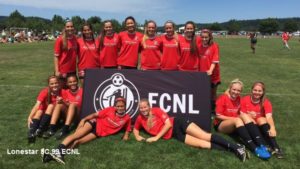 SW: You've also revealed that the federation has apparently adjusted the timing of its rollout for this new initiative in order to bring ECNL leaders into the loop about their plans and vision.
GC: It's an important group because they really truly did develop an academy model and they did it through the grassroots with intelligent people. And it's not perfect – ECNL is not perfect. There are ECNL detractors out there. But what it has presented – and a majority of those who are involved with it have observed it – it has provided better competition more consistently, and that's within the teams in training and those environments, and also, in the competitions on gameday. The best are going up against the best much more often than in the past, which is the essence of the academy program on the boys side as well. … There's always different variables as to why things happen with a player, a team, but it would be hard to argue that ECNL has had a profound impact on the development of the women's game.
SW: Our coverage of this topic has prompted a fair chunk of skepticism and dismay among youth soccer people who question the federation's approach. What feedback have you received?
GC: This should be generating excitement in the girls soccer community – it really should be. It could be presented as an enhanced opportunity for the elite-level player. That's what we're working with here – the people who created it can speak better to it than I, but one of the reasons the ECNL was formed was to provide a better environment, and not just on the soccer field, but off the field: Leadership development, providing opportunities for the best clubs and the best players.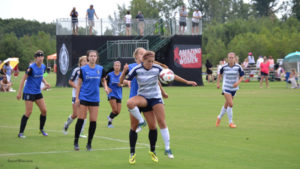 And there's going to be a small, small group out of all those thousands that are playing, that are going to have an impact on the national level. A high, high, high majority are seeking opportunities at the collegiate level. There are a lot of girls that would like to stay with the sport when they're done with college, and there are more opportunities to do that than there ever have been. But you're not going to do it without also teaching or waiting tables or being an accountant or whatever else you have to do, because very few people can survive playing professional women's soccer without help from the outside. Or [unless] you're a national-team player.
This should be a very exciting time and it's being met with skepticism. And that's really unfortunate.