SoccerWire Q&A: Former U.S. goalkeeper Kasey Keller on the 2014 FIFA World Cup Draw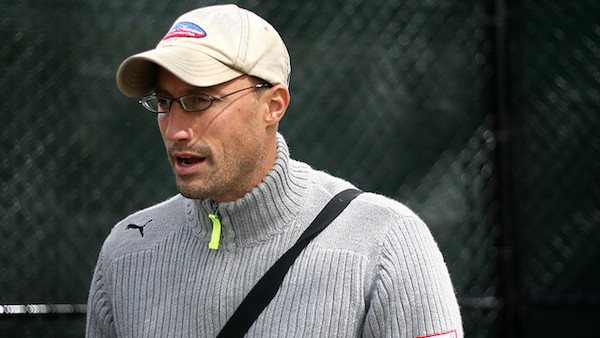 KANSAS CITY, Kan. — Before he had too much time to stew on the World Cup draw results, SoccerWire.com sought out former United States national team goalkeeper Kasey Keller at Sporting Park.
The most capped goalkeeper in U.S. history stays in the soccer scene mostly on the broadcasting side these days, providing color commentary for local Seattle Sounders FC transmissions and ESPN's coverage of the national team. He also took over goalkeeper coaching duties for a short period during the 2013 CONCACAF Gold Cup.
Keller played in four World Cups from 1990 to 2006, missing the 1994 tournament, and famously shut out Brazil in the 1998 Gold Cup semifinals. His performance prompted Romário to call it "the greatest performance I have ever seen from a goalkeeper."
We spoke briefly about the 2014 draw, the U.S.'s qualifying campaign, and what might change by the time the match against Ghana on June 16 rolls around.
SoccerWire.com: What are your thoughts on the draw?
Kasey Keller: "It's not the easiest draw, if you look throughout the different groups, but I thought it was pretty inevitable that Jürgen would draw Germany. I thought that was pretty funny. I sent him a text just to tease him a little bit. The only thing I think if you look at it, usually, the Europeans don't necessarily travel great to South America, so to have two European teams and an African team maybe might not be the same situation as if you were playing those teams in a European venue.
"But it's difficult, obviously. Portugal is one of those teams that, on their day, can beat anybody. Sometimes, the consistency isn't quite there, as we saw in 2002. Ghana, same thing — third World Cup in a row now, and it hasn't gone so well for us the previous two times. Yeah, it's very difficult, but you knew it probably wasn't going to be easy. You didn't necessarily need it to be that difficult, but we'll see."
SW: As it stands right now, do you think the U.S. back line is ready for this challenge? Germany is a dynamic attacking team, you've got Cristiano Ronaldo with Portugal, and Ghana always causes problems.
KK: "I think there's only one way to find out. That's the tricky part. It's a back line that kind of came together during qualifying. They haven't been in this scenario before. Sometimes, ignorance is bliss, but at the same time, sometimes, you'd like to have a little bit of experience there as well. It's going to be a trial by fire. No question about it. Then if you throw into the equation: Is Brad Evans going to be there? Is DaMarcus Beasley going to be playing left back? So it's going to be a formidable test."
SW: So you don't think it's set in any way that Beasley and Evans will be the starting outside backs? Do you think things could still change at this point?
KK: "Yeah, no question about it. I think we've seen that so many times. Klinsmann's a little less apt to make wholesale changes as opposed to maybe some of the other managers, but you don't know what injury situations are going to be like. You don't know what form or fitness is going to be like at the time. Sometimes, it just comes down to what you think is going to be your best option at that particular time.
"With the qualifying campaign, you're looking at the situation over 16 months or so. This is 11 days. What is going to be your best team for this particular 11-day schedule? That's where it gets a little bit tricky."
SW: You were with the team this summer, coaching the goalkeepers for a bit during the Gold Cup. They were in a great run of form, beating everybody. What kind of confidence does this team have after beating Germany's 'B' team, even though it was the 'B' team, going to Bosnia and winning there, and getting good results? Is there an attitude shift that now the U.S. is one of those tough teams, which is what makes this such a tough group?
KK: "I think that's exactly what Portugal and Ghana are thinking as well. This is a team that's proven that they can beat big teams on the occasion. The question mark is, can they consistently do it over those three games in that short period of time? That's what we'll find out, but there's no question that Germany, Portugal, Ghana are thinking, 'Oh, great. We got the U.S.' I think they would have preferred to have had Costa Rica or Honduras or Japan or Korea out of that pot. Exactly what we're saying about the opponents that we have to play, that's exactly what the other countries are saying by drawing the U.S."