SoccerWire.com Q&A: Cincinnati United U-18 coach and director of coaching Bobby Puppione
PHILADELPHIA — Cincinnati United has quietly carved out a strong spot among programs that produce professional soccer players in the United States. Major League Soccer 2012 Rookie of the Year Austin Berry played for them, as did 2014 Toronto FC draftee Nick Hagglund.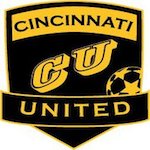 One of the club's directors of coaching, Bobby Puppione (pictured above, to left of Hagglund), sat down with SoccerWire.com at the 2014 National Soccer Coaches Association of America Convention. We discussed his under-18 team that won the Disney Showcase and his club's philosophy of player development.
SoccerWire.com: Your team won the Disney Showcase, and you played very well. The things that grabbed my attention the most were your attacking patterns and creativity in the final third. Is that part of your club philosophy, or is it special to that team?
Bobby Puppione: "We definitely try to mix it up and look for ourselves to create opportunities, through individual play and players trying to make something happen on their own, but what's nice about the team is they're also pretty unselfish. They look to play with others in and around the box. When you're playing against top teams who are pretty well organized, you're going to need good movement off the ball, combination play, and obviously, the technical ability to pull off those types of things.
"A couple of the goals that we scored in the final third were products of combination play and movement and losing opponents in certain areas and creating the little windows to be able to expose and try to play in between the lines. That was really a nice thing to show in that [tournament]. I think that we have players on the team. We have guys that are All-Americans and are going to Division I schools and things like that, but we don't have a superstar that's always just going to do it for us. If you look at the showcase, we had probably seven or eight different guys score in the showcase over four games, which is nice. We don't have to rely on one person. I think that's credit to the work that they've put in throughout the years, and now being 18, they're able to enjoy the fruits of that work from all their younger years of constantly working on technical repetition and small-sided games."
SW: A lot of aspiring college players think it's an individual battle, but when the team does well, everybody looks good. How do you stress that to players when it might seem counterintuitive?
BP: "I think you said it. A thing that we say to our kids all the time is, if the team plays well, you'll play well. … There are times when you need to be on your island and showcase yourself and do things individually to create something. But we're more about a team, especially with that U-18 team. They're team-first, as we say to each other. The team comes first because we know if the team comes first, and we put all of our efforts together, each individual is going to shine. That's something that I've heard echoed from the coaches that have come and watched us play from colleges. They say, 'You guys have a really good team. They're all on the same page. They work for each other; they play for each other.' Because of that, the individual shows well."
SW: Your club has a knack for developing professional players in the United States. Have any guys gone to Europe or anywhere else yet?
BP: "Austin Berry had a couple weeks at Atlético Madrid, but nobody's gone full-time to Europe yet or anything like that. We've had some youth kids go over to like a West Ham thing that he got selected for, but nobody's been over there full time. In three years, we've had four people go to the MLS: Austin Berry two years ago; Luke Spencer was drafted last year from Xavier, and he got picked up by the [New England] Revolution and then got hurt, so he's coming back from injury; then Nick Hagglund this year was drafted 10th by Toronto, and he grew up playing for us; and Matt Walker, who signed a Homegrown contract with the Columbus Crew, played for us until he went up to the Crew's development academy his final two years. We were an affiliate of theirs at the time when he went there. …
"That's obviously a nice carrot to have at the end of the stick, and we're always looking to produce players for college and hopefully professional one day, but not everyone's going to make it there. We still try to instill the right habits and the right values that are going to give those kids the best opportunities to be successful post-youth career. … Commitment is huge with us. Good communication is huge with us — being able to express what you're feeling and handle situations well. Good values and morals are something that we try to pick out in training, and hopefully they carry those things on to the rest of their lives."
SW: Just for our readers to get to know you a bit better, what's your soccer background, and how did you get into coaching?
BP: "I grew up in California, and I played youth and high school in the Bay Area. For college, I took an academic scholarship to University of Alabama. They don't have a men's team there. I played on some club and men's amateur teams and through the university intramurals, and I also worked for the women's team as a student manager during that time. So I got to be around a college program, be around college coaches, and just see that type of management and coaching experience there. While I was in school, I coached for a local club and high school, then after I finished my master's degree, I moved up to Birmingham, Ala., and coached for Birmingham United for two years. In January 2009, I moved up to Cinicinnati United and became a director of coaching. It's been five years as a director there and one year I've been our youth director of coaching, which is a new role we created. I got the position I wanted, and I've been there for a little bit less than a year now.
"I love working with our younger players because I think it's the most crucial age. We've really tried to do a good job, as a club, of putting our best coaches in those younger age groups. A lot of people always want to coach the highest team, the best team, the top team. I coach our 18s, obviously, but we have quite a few of our directors — younger teams, they coach. One of our directors coaches our U-8s. Another one coaches our U-10s. I coach our U-11 girls, who are very good. So we've tried to put some of our best coaches and best staff in the younger ages because we feel that those are the most important ages for development, and if we create the right habits and give them the right skills needed at those younger ages, as they keep continuing and progressing, we can continue to develop that player."