Slammers FC and Beach FC each take home two ECNL Girls Regional League trophies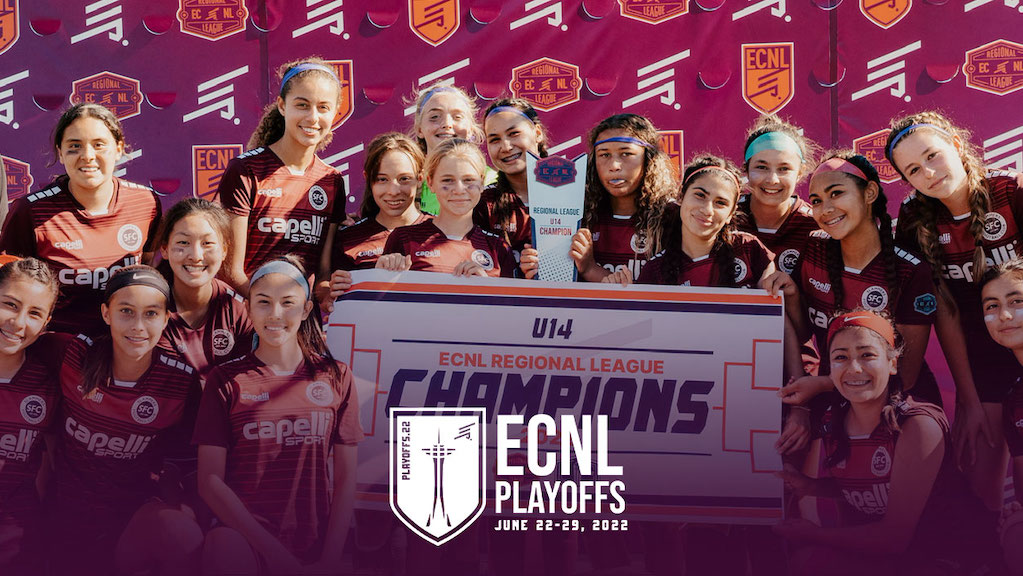 Running alongside the ECNL Girls National Finals, the inaugural ECNL Girls Regional League Finals has been an entertaining event in its own right.
After a fantastic day of competition for the U16, U17 and U18/19s, Sunday afternoon featured more champions being crowned in the U14 and U15 age groups. Southern California clubs Slammers FC and Beach FC took the U14 and U15 titles respectively, as they each finished the season with two ECNL Regional League champion teams.
U14 Regional League Champions: Slammers FC
After winning the Regional League Championship in the U17 age bracket, Slammers FC had another chance to add to the trophy case when the team took on cross-state rival Pateadores in the Final, playing for the national championship.
In a game fit for rivals, the two sides battled each other completely for 90 minutes. From the opening whistle, both defenses shined, turning away scoring chances, denying breakaways, and steadfastly leading the charge to victory. With each scoring chance stifled, the offenses grew more emboldened, looking for any opportunity to breakthrough.
[+READ: Beach FC, Slammers FC and FC Dallas win titles at ECNL Girls Regional League Finals]
But throughout the game, both sides never relented, forcing the game to extend to extra time following the initial 90 minutes of gameplay. And even with the extra time, the 0-0 score remained.
The U14 Regional League Championship would be decided by penalty kicks.
In the shootout, Slammers FC managed to best Pateadores on clutch goals and even more clutch saves, and just like their U17 counterparts, the U14 Slammers FC team headed home from Seattle champions.
U15 Regional League Champions: Beach FC
The U15 ECNL Girls Regional League Championship was a classic, pitting Beach FC against Connecticut FC in Seattle.
Beach FC, who was the third-ranked team heading into the tournament, defeated Albion Hurricanes and then the top-seeded Crossfire Premier. Meanwhile, Connecticut FC handed losses to Washington Premier and Pacesetter SC en route to the title game.
The championship match featured the East Coast vs. West Coast, which, in turn, meant vastly different playing styles combating on the pitch. Those differences created a lot of uncertainty in the midfield and led to a chess match between the two sides.
However, as the game wore on, that chess match started to tilt in favor of Beach FC, as the team started to control play and dictate the pace of the match. That play is what allowed Beach FC to take over the game.
Throughout the course of the game, Beach FC potted a pair of goals, and only allowed a single tally from Connecticut FC. And when that final whistle blew, just like the U18/19s, Beach FC brough home a championship.
All 2021-22 ECNL Regional League Champions:
U14 Regional League Champions: Slammers FC
U15 Regional League Champions: Beach FC
U16 Regional League Champions: FC Dallas
U17 Regional League Champions: Slammers FC
U18/19 Regional League Champions: Beach FC