Sky Blue FC partners with youth club New York Surf SC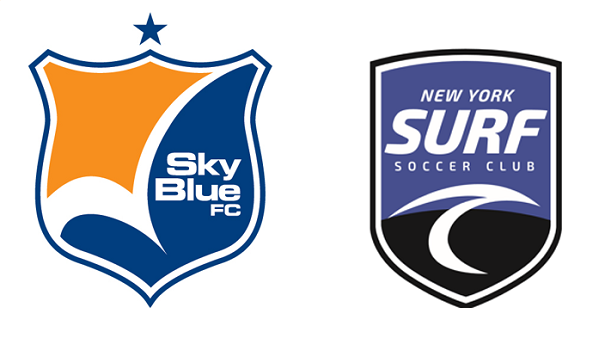 Tinton Falls, N.J. (Via Sky Blue FC) – Sky Blue FC of the National Women's Soccer League has established a club partnership with New York Surf SC. As part of the relationship, it was also confirmed that NY Surf will host a preseason match between Sky Blue FC and St. John's University at Belson Stadium on Saturday, March 25.
"We are very excited to create this club partnership with NY Surf Soccer Club," said Tony Novo, Sky Blue FC President & General Manager. "This relationship will play a vital role in establishing a stronger connection with our New York supporters, beginning with the St. John's preseason match next month. We look forward to working together with NY Surf in the development of the game, as well as the growth of both of our organizations."
New York Surf Soccer Club is a non-profit premier soccer club based in metro New York and operates as the East Coast affiliate of San Diego Surf Soccer Club, one of the most successful clubs in the country.
"As an organization, we share a similar soccer philosophy and set of core values as Sky Blue FC," said Matt Popoli, founder and President of NY Surf. "The Sky Blue FC – NY Surf partnership is exciting for our organization, players and coaches, and the St. John's vs. Sky Blue FC scrimmage will be a great way to kick off the partnership."
Kickoff for the March 25 preseason match between Sky Blue FC and St. John's University will take place at 3:00 p.m. at Belson Stadium, and admission will be free of charge. The game marks the fifth consecutive year that Sky Blue FC and St. John's University have played during the preseason, and it will be the first time that they have met in New York since 2013.
"This is a big step for Sky Blue FC as we continue to grow the profile of our club, not only in New Jersey but also in the New York marketplace," said Christy Holly, Sky Blue FC head coach. "We already have a strong fan base in New York, and now we look to expand our soccer influence even further throughout the region. We are excited about the long-term potential that lies ahead as we begin working with New York Surf because they are such a strong club within the metropolitan area."