Sky Blue FC, New York SC partner to join U.S. Soccer Girls' DA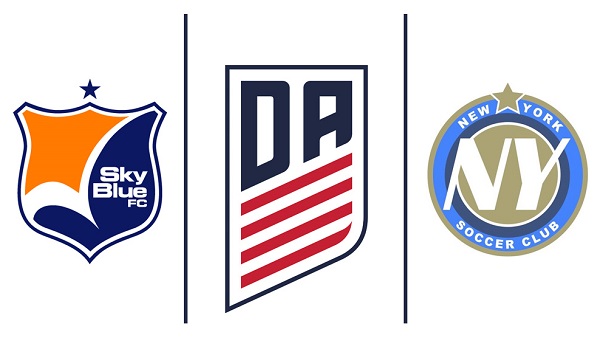 Chappaqua, N.Y. (May 7, 2017) – Sky Blue FC of the National Women's Soccer League and New York Soccer Club have announced a formal partnership to establish Sky Blue – NYSC, which will commence play in 2017 as an inaugural member of the U.S. Soccer Girls' Development Academy.
"We are proud and honored to partner with Sky Blue FC to form what will be the leading development program for girls in the Southern New York and Connecticut marketplace," said Stephan Feldgoise, Chairman of New York Soccer Club. "Sky Blue – NYSC will provide the top players with unrivaled development, clear access to the professional game with Sky Blue FC and national exposure through the U.S. Soccer Girls' Development Academy."
The Girls' Development Academy is part of U.S. Soccer's global leadership position in women's soccer and connects with its long-term plan to improve player and coach development. The mission of the program is to provide education, resources and support to directly impact the everyday environment for clubs to develop world-class female players. Girls' Development Academy games will be scouted by U.S. Soccer, and the program will serve as the top female program for soccer players in the country, providing a direct pathway to U.S. Soccer Youth National Teams.
"We are very excited to establish Sky Blue – NYSC and be named as an initial member of the U.S. Soccer Girls' Development Academy, and to play a pivotal role in the furtherance and development of the women's game," said Steven Temares, Sky Blue FC co-owner. "As an organization, we remain focused on the technical ability and tactical awareness of our players. We also strive to play a brand of entertaining and winning soccer that is world-class in caliber. With the establishment of Sky Blue – NYSC, we are thrilled to join the exceptional talents of New York Soccer Club with the women's professional game. New York Soccer Club has produced many youth national players through their U.S. Soccer Boys' Development Academy program, and we look forward to having similar success on the girls' side with Sky Blue – NYSC."
Four age groups will exist in the Girls' Development Academy (U-14, U-15, U-16/17, U-18/19), incorporating a proper training to game ratio that will involve playing more meaningful matches on a consistent schedule. The typical season schedule will operate from September to July, playing approximately 25-30 games per season. Clubs will be organized by divisions and conferences, with national and/or regional events incorporated into league play.
Sky Blue – NYSC will commence player trials and signings immediately.