Sizing up new U.S. women's national team boss Tom Sermanni
By Charles Boehm
If the U.S. Soccer Federation was looking for a safe pair of hands to continue the Women's National Team's reign atop the world game, it seems to have found them in the form of Tom Sermanni.
On Wednesday the newly-appointed head coach made his first public rounds since being named to the post the previous day, displaying competence, thoughtfulness and good humor as he conducted video interviews for the federation's website and ESPN, and answered a bevy of questions in a lengthy media conference call and subsequent one-on-one sessions.
"I'm really excited by the challenge ahead. I feel very privileged and honored to be given this position," said Sermanni, who has coached the Australian women's national team for the last eight years.
"I want to maintain and improve the team as the No. 1 team in the world. I want to increase competition within the squad and I want to play a brand of soccer that's positive, that's technically good and is based around winning games."
The well-traveled Scotsman didn't make bold statements or drop any memorable gems. Yet he left no doubt about his experience and savvy as he prepares to wade into the complex work waiting for him in January, when he officially takes on the highest-profile coaching job in women's soccer.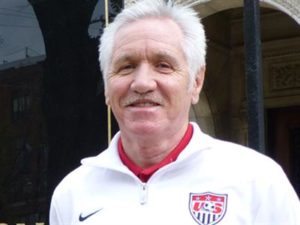 "You want to improve some of the weaknesses but still keep some of those same strengths that the U.S. team has always had," he said when asked about the United States' uneven attempts to transition from a style based, in his words, on "pace and power and fitness" to one more possession-centric.
"Actually, it's a huge strength that intimidates opponents, so you want to keep that, but you do want to keep developing your team to play a better brand of soccer – not possession for the sake of possession, but a positive style of possession."
Sermanni coached USWNT veterans Shannon Boxx and Christie Rampone during his stint at the helm of the San Jose CyberRays and New York Power in the now-defunct Women's United Soccer Association from 2001-03. Yet he was evenhanded on perhaps the biggest issue facing his new team: how to augment and challenge an aging core with fresh blood, without slighting the heroes who led the charge to gold medals in the past two Olympic games.
"You don't come into a team like this and suddenly make radical changes. That would be an unwise thing to do," he said. "But what you do need to do is continue to do is try to improve players as individuals, try to improve the team as a whole and try to create even more competition within the squad. It's a balance between those things."
The 58-year-old earned a reputation for grooming young players to contribute for Australia, but on Wednesday he avoided specifics about the extent of his involvement in other areas of the U.S. women's program such as junior national teams. He did offer a few revealing thoughts, though.
"Technical development of youth players has to take priority over physical development," he explained. "In the next generation of players, I think physical differences between teams will eventually be null and void and therefore the technical differences and the ability to play and understand the game will become much more critical."
Sermanni will wrap up his duties with Australia next month as the Matildas travel to China for the East Asian Cup Qualification tournament November 20-24.
In December he plans to meet with U.S. technical director April Heinrichs and development director Jill Ellis and attend the USWNT's final three matches on the "Fan Tribute Tour," the dates and locations of which remain unannounced – though Sermanni did let slip that the opponent will be China.
[ +Read more of Sermanni's quotes from his Wednesday media conference call here ]