Six teams earn national titles at US Club Soccer Girls NPL Finals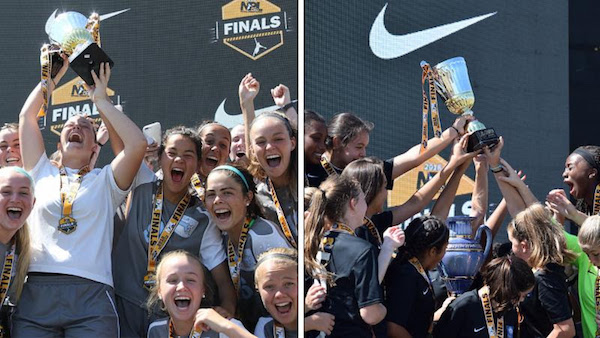 Photos | Results | Daily log | @USClubSoccerNPL on Twitter
AURORA, Colo. (Via US Club Soccer) – The 2018 Girls NPL Finals, held July 12-16 at Aurora Sports Park, awarded six championships in 13-U through 19-U age groups.
The Girls NPL Finals represented the final stage of a competitive 2017-18 season that included 17 regional NPLs throughout the country with the regular season winners of those leagues earning berths to this national championship event in Colorado.
Of the six championship games, four were decided by two goals or fewer, including the 14-U title, which came down to penalty kicks. The six champions emerged victorious after group stage games, July 12-14, and then the semifinals and finals on the last two days.
Here are the championship game results for each age group:
13-U division
14-U division
15-U division
16-U division
17-U division
19-U division
Southern Soccer Academy (SSA), of the South Atlantic Premier League, was the only club to clinch multiple titles, although SUSA and South Shore Select were represented in two different championship games.
Two champions – SUSA NPL '03 and South Shore Select '01 – capped off a season-long redemption tour after losing in the national final of their respective age groups last year at the 2017 Girls NPL Finals in Indiana.
"The 2018 Girls NPL Finals was arguably the most successful edition yet," said Leo Garcia, NPL General Manager and US Club Soccer Vice President of Competitions. "These champions all come from some of the top NPLs in the country, and that consistent competition level throughout the season undoubtedly helped them grind through the competition here in Colorado."
All six of the championship games at the Girls NPL Finals were live streamed and are archived for a limited time on the tournament web page.
The NEP – NPL Division led the way among other member NPLs with four representatives on Monday, while the Northeast Girls NPL, NYCSL – NPL Division and South Atlantic Premier League each contributed a pair of top two finishers during the tournament. The Central States NPL – in its first season in the NPL platform – saw Sporting Omaha FC win the oldest age group. The EDP – NPL Division also was represented on stage on the final day.