Semifinals set at US Youth Soccer Far West Regional Championships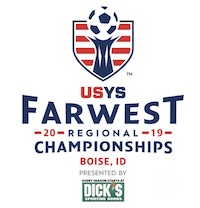 Scores & Standings
Follow the moments: Sign up for News | Far West Regional Championships Website
Twitter | Facebook | Instagram | #ROADtoKS
BOISE, Idaho — Two days of play remain at the 2019 US Youth Soccer Far West Regional Championships after quarterfinals took place Friday at the Simplot Sports Complex in Boise, Idaho.
Of the 200-plus teams who started in the tournament, the dreams of 56 remain alive entering the weekend's semifinals and finals.
Regional winners of the 13U through 19U age groups earn a berth to the 2019 US Youth Soccer National Championships, which will be played July 22-28 at the Overland Park Soccer Complex in Overland Park, Kan.
The US Youth Soccer National Championships will consist of US Youth Soccer Regional Champions in the 13U through 19U Boys and Girls age groups, as well as the US Youth Soccer National League qualifiers in the 14U through 19U Boys and Girls age groups to complete the field of teams.
A few notes from Friday's games:
13U Girls 
Legends FC 06 Pre-Academy (CA-S) earned a, 3-0, shut out victory over Eastside FC 06 Red (WA) to earn a spot in the semifinals. Legends got the scoring started early as it blitzed the opposing defense and quickly scores in the fourth minute thanks to Madison Schuler. Eastside had an excellent opportunity early in the second half but the shot bounced off the post and out. Legends extended its lead shortly after after Brianna Nesser finished her close ranged shot. The final goal was scored in the 58th minute by Legends' Karina De Silva. Legends defense held for the clean sheet and move on to the semifinals to face Colorado Rapids Youth Soccer South 06 Volt (CO).
13U Boys
3RSC 06 RCL Black (WA) have made it its business to score goals and it was no different in its 5-0 victory over Central Coash Condors 06 (CA-S). Ramiro Moreno started 3RSC's scoring in the 8th minute of the game. Moreno's teammates, Christopher Aquino and Alfredo Jimenez, followed suit and and added goals of their own and the first half ended 3-0 with the advantage to Washington. Aquino added a second in the 59th minute, his eighth of the event, to make it 4-0. 3RSC earned a penalty kick in the 68th minute and sealed its victory as Humbero Vervantesfinished the chance. 3RSC now faces Rebels SC (CA-S) in tomorrow's semifinals.
14U Girls
Group D winners, Sparta 05 Premier DM (UT) earned a tight, 1-0, victory over Group A runners-up Arsenal FC (CA-S) to seal it's spot in the semifinals. Sparta had some good attempts early but couldn't capitalize until Amanda Caswell gave her team the lead in the 35th minute. Arsenal pressed for an equalized in the second half but the Sparta defense manage to sweep aside any good Arsenal chances. Arsenal threw it all forward trying to level the score late but Sparta survived the late onslaught and advances into Saturday's semifinal games to face in-state foe Forza FC 05DN (UT).
14U Boys
Cal North side Santa Clara Sporting 05 White (CA-N) need over time to finish USA Premier 05 Angeletti (UT) with a close 1-0 victory. Each team tried to ignite its team's offense with a first goal but both defenses continued to extinguish each other's attacking attempts. Sporting had a good chance early in the second half, but the shot was saved by Tyler Napier. The winner of the match is not decided until the final minutes of overtime when Jake Sharp scores to send his team to the semifinals. Sporting will face LVSA 05 Red (NV) in tomorrow's game.
15U Boys
Sparta Premier JK (UT) got two second half goals to earn a, 2-0, win over Players Elite (NV). Sparta looked to take the lead early in the first half but the chance was saved at the near post. Sparta looks to break the stalemate in the 40th minute with a close ranged shot but it is saved by the goalkeeper. After some more saves from the Players keeper, Sparta finally broke through. Charles French gave his team the lead with a tap to the right side of goal and then Mark Martinez give the Utah side some breathing room in the 73rd minute with a goal off of a corner kick. Sparta held for the clean sheet, and now face another Nevada opponent in Downtown LVSC 04 Gold (NV) in the semifinals.
16U Girls
After scoring 20 goals in group play, LVSA 03 (NV) showed no signs of slowing down in its, 5-1, quarterfinals win over Pride SC Predators 03 (CO). Each team had chances early but it was LVSA's Olivia Garcia that would strike first in the 15th minute. LVSA continued with a flurry of goals as Samantha Nieves would score within the next minute and then Garcia added a second before halftime. Pride SC's Lauren Lacey makes a couple of saves early in the second half to keep the game close but Jacqueline Hillegass struck in the 50th min to make it 4-0. Garcias finished the LVSA spree of goals in the 55th minute and finished the game with a hat trick. Pride SC kept fighting until the end and earned a 78th minute fromCapri Dewing. The goal allowed is the first scored against LVSA all event but LVSA will put that in the rearview as it now moves onto the semifinals to face 03 Boise Thorns Elite (ID).
18U Girls
01 Boise Thorns Elite (ID) earned a, 3-0, victory over Capital FC Timbers Hafeni NLNC (OR) to earn a spot in tomorrow's semifinals. Boise scored the game's lone first half goal after being awarded a penalty kick in the 31st minute. Kylee Geis stepped up and finished her chance to send her team into halftime up 1-0. As both teams continue to battle in the second half, it was Boise's Lauren Elwer who would strike next. Capital FC couldn't find a score and Geis added a late goal to seal the game in the 88th minute. Boise Thorns now advances to face La Roca PO (UT) in Saturday's semifinals.
19U Boys
Westside Timbers 00 Copa NLNC (OR) continued to lean on its great defense to help earn a, 3-0, win over Rio Rapids 0 (NM). With both teams unable to convert chances in regulation, the teams headed into overtime. Westside's offense woke up at the overtime whistle and scored three goals in the two overtime periods starting with a Ryan Wallace goal in the 92nd minute. Eric Seaman added a struck just eight minutes later before Glenn Sutter finished the scoring. The shutout is Westside's third consecutive and it will look to lean on that defense as they come up against a FC Golden State White (CA-S) that has scored 16 goals through its four games.