Seattle Reign Academy players sign National Letters of Intent for 2019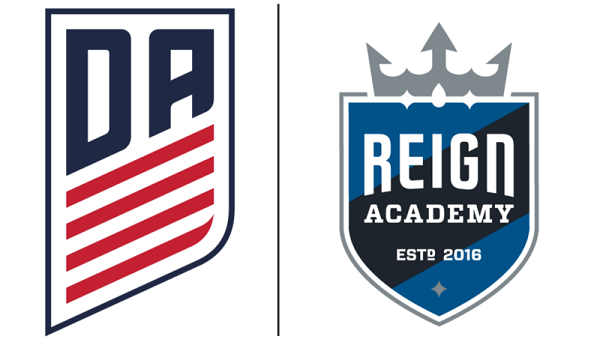 (Via Seattle Reign) – Across the country today, high school seniors are signing National Letters of Intent to commit to play at the schools of their choice.
The Seattle Reign Academy has seven players committing to play collegiately in 2019: Emily Morrissey, Jordan Snyder, Kaitlyn Abrams, Katie Watt, Makenzie Rodrigues, Sadie Kenny, and Sakura Yoshida.
"Signing a National Letter of Intent is an exciting day for each player and her family," said Reign Academy Technical Director Kim Calkins. "This is a culmination and celebration of her own hard work in the classroom and on the soccer field and the tireless support of families and friends, and we celebrate each Reign Academy graduate with her entire community of support. It is an honor to know and work with each of these student-athletes. We look forward to introducing additional Reign Academy players and their commitments in their own due time.
Emily Morrissey, who has been with Reign Academy since its inaugural year in 2016, has committed to Villanova University, where she looks forward to studying Cognitive Behavior and Neuroscience.
"I chose Villanova because the school itself was perfect for me and fit the profile of what I was looking for," Morrissey said. "I love how close it is to Philly, but that it still has a campus feel, is relatively small, and has lots of spirit."
Morrissey credits Reign Academy coaches with guiding her through the recruiting process and continuing to help her get ready for college physically, technically, and tactically.
Reign Academy Technical Director Kim Calkins shared her thoughts on Morrissey's career with the program. "Emily has been one of the most consistent players with the Reign Academy," said Calkins. "Her tenacity down the edge of the field and precision in service has made her one of the most valuable distributors and offensive threats in the program. Above all else, Emily is an incredible human. Villanova is fortunate to have such a talented, gifted, driven, competitive, and exceptional student-athlete."
Jordan Snyder has committed to play at the University of Oregon. Snyder has also been with Reign Academy since 2016. She chose Reign Academy over other programs because she felt it would give her the best opportunity to hone her soccer skills and provide better college exposure — and she was right.
The University of Oregon first saw her play during Reign Academy's Silverlakes Tournament in California earlier this year. Snyder will join fellow Reign Academy teammate, Sakura Yoshida, in Eugene.
"Jordan has experienced some severe injuries during her years as a soccer player, but her athleticism and strong supportive family unit has propelled her to return faster and more tenacious than ever," Calkins shared. "Jordan can play any position called upon her on the field. She can defend and shut down speedy forwards, drive through the midfield with cuts and unpredictability, and stretch opponents out as an exciting forward. We are thrilled to see her further develop with the University of Oregon and are confident in her continued growth."
Kaitlyn Abrams is on her way to Fort Collins to join the women's soccer program at Colorado State University in the Mountain West Conference. Abrams joined Reign Academy in its inaugural season and has been a key member of the Reign Academy attack ever since. In her first season playing in the Development League, she put up six goals and has already added two goals in the 2018–2019 season.
Abrams is excited to attend Colorado State University next fall and hopes to study Health and Exercise Science. She believes that the great coaching and life points from Reign FC first team coach, Sam Laity, and Reign FC forward, Bev Yanez have helped prepare her for success at the collegiate level.
"Kaitlyn has already produced important assists and inspiring goals this year with her powerful left foot," said Calkins. "Kaitlyn gives everything she does 100% from school, to practice, to games; she will outwork anyone and take on any challenge presented. She will surely impact the school and soccer program in Colorado and will certainly experience success in all facets of life with her generous smile and outgoing personality."
Katie Watt, another inaugural member of Reign Academy, is staying in Washington next year to join the ranks of 2016 NCAA Division II National Champions, Western Washington University. Katie chose Western Washington because it combines both a great education and an outstanding soccer team, all while being close to home.
"Reign Academy from the start has provided me with coaches who have developed me into the player I am today and the teammates I have had on Reign have felt like my sisters," Watt reflected. "I have wanted to play at the highest level of soccer in Washington and Reign Academy provided that opportunity."
"Katie Watt is a fantastic addition to the tradition of national soccer excellence and notoriety of Western's soccer program," Calkins shared. "Katie has been an explosive forward and outside defender for the Reign Academy. She has an aggressive mindset, impacts the game, and is an all-around talented athlete. Most importantly, Katie brings a fun passion and enjoyment of the game that is demonstrated in the energy she brings to any group, training environment, and game."
Makenzie Rodrigues joined Reign Academy this year, and immediately made her impact felt. In her first year with the club, Rodrigues has scored three goals in ten games played. She credits Reign Academy with improving her fitness level and understanding of the game to prepare her for collegiate success.
Rodrigues has committed to Rider University, a Division I school in the Metro Atlantic Athletic Conference (MAAC). Rodrigues knew Rider was the right fit when she visited the campus in Lawrenceville, New Jersey.
"Once I visited the campus and got to know the team and coaches at Rider, I knew I'd want to spend my next four years there," she explained.
Calkins credits Rodrigues with playing an important role in her first year in the program. "Makenzie Rodriquez has stepped up this year from our partner club, Eastside FC, and played an important part in this team's rise to the top of the West Division prior to heading to the December DA Showcase event," Calkins said. "Makenzie has seen most of her minutes as a forward with her quick change of pace and equally as quick strike of the ball that has found the back of the net for game-changing goals this year. We are thrilled for her next step as a college player and look forward to her continued development this year with the DA as she prepares for the next four years of her life as a student-athlete. She has proven herself a dedicated and strong soccer player whom Rider is fortunate to have moving forward."
Reign Academy goalkeeper, Sadie Kenny, will head to Los Angeles to join the women's soccer program at Loyola Marymount University. She looks forward to exploring majors in LMU's College of Science and Engineering.
Since joining Reign Academy in its inaugural year, Kenny has been a stalwart in goal, helping her U17 team qualify for the first year of the Development Academy playoffs, and has been a big factor in the success of her U18/19 team, which currently sits in second place in the Northwest Division.
"LMU is welcoming a student-athlete who epitomizes a team player," Calkins said of Kenny's sportsmanship. "Sadie will be a great contributor and will grow as a talented goal keeper and become a great member of their collegiate culture as a student. She is extremely bright and driven in the classroom and equally as dedicated to her individual player development and team. She can work with any person in a group and has an uncanny ability to bring the best out of people and this is demonstrated in her soccer playing."
Sakura Yoshida will join Reign Academy teammate, Jordan Snyder, at the University of Oregon next year.
"I really like the coaching staff and the facility [at U of O] is amazing," Yoshida shared.
Yoshida has played with Reign Academy for the past two years and credits the Academy coaching staff with providing her with different knowledge and new ideas to set her up for success in college and beyond. Ten years from now, she sees herself playing as the first homegrown player for Reign FC!
"Sakura Yoshida's long-term goals are fitting as this is a player who loves the game and is constantly learning, growing, challenging herself, and challenging her teammates," Calkins asserted. "She is humble, hard-working, passionate, and incredibly thoughtful in how she approaches the game. Sakky has been a leader for the Reign Academy. Her talents and efforts have provided many opportunities with Youth National Teams and international play including crafty play, composure to get out of most tight situations, left-footed precision, and smart movement on and off the ball will also bring some entertainment to a PAC-12 program. We look forward to a long and illustrious soccer career for Sakura Yoshida for years to come."