Schellas Hyndman talks NCAA schedule on his return to sidelines with Grand Canyon U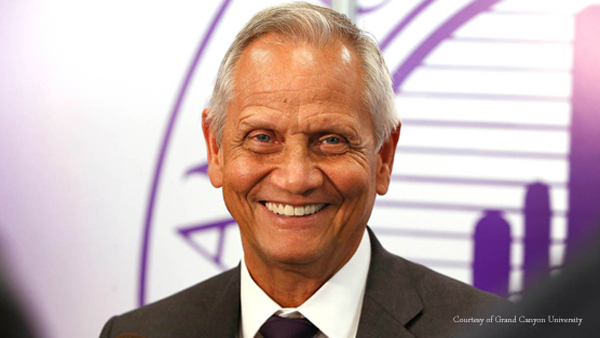 PHILADELPHIA — After a year away from full-time coaching, former FC Dallas head coach Schellas Hyndman is back where he started his career, in the college game.
After spending the final year of his contract in Dallas as a consultant for the team, Hyndman — who previously served as head coach of Eastern Illinois University and Southern Methodist University and has won 466 college games in his 31 years at the NCAA level — now joins Grand Canyon University as they begin their second year in Division I.
+FIND more coverage of the 2015 NSCAA Convention here
The 63-year-old recommences his working relationship with GCU athletic director Mike Vaught, who was also AD at Southern Methodist during his time with the Mustangs. And with the promise of a new, 2,800-seat soccer stadium on the way, Hyndman is excited to begin his latest challenge.
"I looked at a few opportunities in MLS that didn't come my way, and then of course there were some college opportunities," Hyndman told SoccerWire.com at the NSCAA Convention. "I said yes, because I really want to get back into coaching. It's fun, and I really enjoyed the 31 years I coached in college.
"I miss the young kids, I miss the energy they bring, I miss the excitement they bring, I miss the fact that their sole reason to play is for the university. I said yes, that I'd look at it, and the more I looked the more I thought it was pretty cool. They have a president who is very, very committed to the whole university, enrollment is rising rapidly. By chance, I went and visited and thought it would be a pretty neat job for me."
Hyndman joins a Lopes (short for Antelopes) program that is still transitioning to Division I soccer from Division II. In that regard the school's switch is historic, as it's the first for-profit school in the history of NCAA Division I athletics. GCU have a 9-26-4 record overall after their first two seasons in the top division, and the 1981 NSCAA Coach of the Year is determined to make them into a competitive program, especially as they are the only Division I men's soccer program in the entire state of Arizona.
"To find success, you have to have good players," Hyndman said. "Good players win games for you. If you have average players, the ball's going to have to bounce right for you or you really do some type of coaching that they don't extend past their limits.
"I think right now, if I can get a couple of really good recruits, that would be a big help. Maybe the following year, continue to grow the level of the players. I need to get to know the area and really work hard in recruiting Arizona. You have some great clubs there, and I want to develop relationships with those coaches so that they at least get their players to consider staying home and playing at Grand Canyon."
In the past, Hyndman has been involved in efforts to extend the college regular season beyond just the fall, with league play proposed to take place in the spring as well as opposed to teams playing exhibition games. With many coaches now in favor of a change to the schedule, Hyndman says that a switch to a six-month season as opposed to the current three-month model would be highly beneficial in a number of ways.
"There are a lot of coaches who say we have to do this [change the schedule]," he said. "But I also know there are a lot of coaches who say we don't need to do this. It is a hot topic. The reason that we need to do it is probably no different from the reasons when I was involved in college, is that it extends the season so you can train players longer.
"It really is for the best welfare of the student-athletes to take those three months and extend it to six months, where if they do pick up an injury they can recover. I think another thing is weather conditions. We go into our tournament in November, when the weather is just starting to turn, especially in the northern states. Then you play your championships in December. I think we really do promote that game if we extend it for all those reasons."
+READ: Men's college soccer coaches, executives propose a reorganized season
However, in recent months the NCAA has expressed opposition to a change in the schedule, citing financial concerns for its institutions as one reason why soccer's regular season should only be played in the fall. For Hyndman, the college sports governing body has to be shown clear consensus in favor of a change if they are to make the adjustments necessary.
"I think the NCAA must be convinced that this is something that's wanted across the board, that it's not just a Division I request," he said. "I was very involved in limiting substitutions when I was the chairperson of the coaches committee, I was very involved because coaches wanted to start limiting as free substitutions meant there was no rhythm in the game, no development in the game. By limiting substitutions, we were able to compromise.
"I think this is something we might be able to do, compromise. Some of the Division I schools, let's say the Ivy League, where the academics are so important, you might be able to focus on the season, but now we've extended the season, that means your grades are going to be affected for two semesters. I'm sure there's some negative things, but for the growth of the sport and development of players, the longer we get to coach them, the better we are."