San Jose State women's soccer announces nine incoming recruits for 2021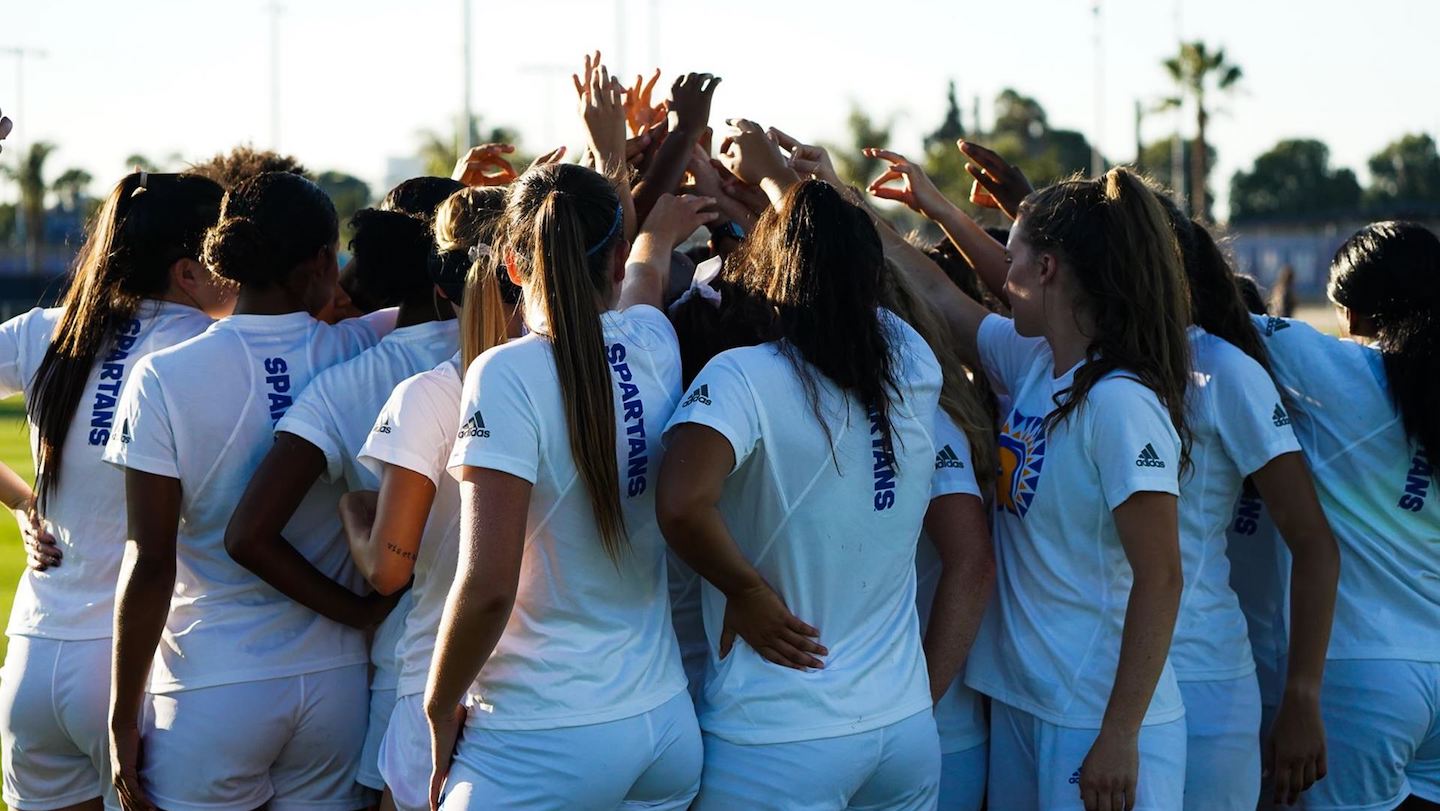 SAN JOSE, Calif. – San Jose State women's soccer received a huge boost to their 2021 roster by signing an incoming signing class that features nine players.
The class includes: Karina Barkmeyer, Carly Burns, Tiana Cello, Isabella Flocchini, Kayla Fortenberry, Autum Monty, Taylor Phillips, Danna Restom and Shayla Sugai – as part of the Spartans' 2021 signing class. Head Coach Lauren Hanson made the announcement on Monday.
"Our staff did an amazing job of evaluating and developing relationships to bring in such a special 2021 class here at SJSU," Hanson said. "Every player in this class is a captain of their club or high school teams, which speaks volumes to their character and leadership, not to mention how talented they are. We needed a dynamic attacking class and these players reflect that perfectly. We look forward to this class being a special one.  They will help us continue to build upon our strong culture, and work toward achieving our program goals."
In addition to each signee serving as team captain of either their club or high school program, the class features three 2019 National Champions at either the Elite Clubs National League (ECNL) or US Youth Soccer Championships level. All nine signees are also from the high school ranks and will have four years to play once arriving in San Jose.
Karina Barkmeyer, Forward, Mission Viejo High School (Mission Viejo, Calif.)
A two-time first team all-league award winner, Barkmeyer has played three years of varsity soccer and also ran track for two seasons at Mission Viejo High. She served as the team's captain in both her junior and senior seasons. In 2019, she helped lead her club team So Cal Blues to the ECNL National Championship title.
Coach Hanson on Barkmeyer:
"Karina developed under one of the top coaches and clubs in the country helping her team reach peak success winning a 2019 ECNL National Championship.  She is a natural left footed player with craftiness and creativity that will add a much-needed dimension to our attack.  Her comfort on the dribble and ability to combine with others is what makes Karina special. We are thrilled to have her playing for our program and the opportunity to help her develop into one of the top left sided players in our conference."
Carly Burns, Defender, Serrano High School (Phelan, Calif.)
Burns excelled both on the pitch and on the track at Serrano High, leading both programs to league championship titles. As a junior, she earned both first team all-league and all-area honors in soccer after leading her team to the first round of the CIF. She was also selected as a second team All-CIF Division II pick. Burns was also an all-league performer in cross country, helping her team to a fourth-place finish at the state finals as a sophomore. She played club ball for Legends FC and in 2019 helped lead the squad to the 2019 National League Championship title. The team was then a finalist at the 2019 US Youth Soccer National Championships.
Coach Hanson on Burns:
"Carly's athleticism, incredible work ethic and team first mentality fit our program perfectly. She will be an exceptional player that carries a tremendous amount of grit and passion for the game that is contagious. We are excited about her ability to play multiple positions and roles within our squad at a very high level."
Tiana Cello, Midfielder, Sierra High School (Manteca, Calif.)
Cello has put up eye-popping offensive numbers during her three seasons at Sierra High. As a freshman, she scored 28 goals and tallied 12 assists, and was named the team's Most Outstanding Player. She followed that up with a 36-goal, 16-assist season as a sophomore, picking up the team's Outstanding Offense Award. In 2019, she had an even bigger impact by scoring a whopping 44 goals to go with 15 assists, and was once again named the team's MVP after leading the team to the 2019 CIF Sac Joaquin Section Championship title. Cello was picked as an All-Valley Oak League selection in all three seasons and was the 2020 All Star Record Preps Female Soccer Player of the Year. She was also named as a 2020 Top Drawer Soccer Winter State Star for the state of California. Cello has also served as team captain for the Pleasanton Rage ECNL. In 2018, she was named to the ECNL Northwest All-Conference Team and in 2020 she was named to the ECNL Player Development Program roster.
Coach Hanson on Cello:
"Tiana's attacking ability on the dribble is exceptional.  She is incredibly quick and explosive both on and off the ball and always eager to have the ball at her feet. She is a true explosive force in the attack. We look forward to her adding another dimension to this gifted attacking class, and to watching what she can do in the future within our conference."
Isabella Flocchini, Forward, Galena High School (Reno, Nev.)
Flocchini is a three-time all-league honoree at Galena High in Reno that has scored 86 goals and notched 43 assists so far in her outstanding career entering her senior season. In 2018 and 2019 she led the state of Nevada in points scored with 94 and 92, respectively. In the 2018 she was named an all-state performer and also picked up a Max Preps Player of the Week nod. She plays her club ball for the Players Soccer Club in the Nevada Sierra League 4A.
Coach Hanson on Flocchini:
"Bella will be one of the most underrated players that will surprise our conference. Her technical ability on the ball, and understanding of the game, are gifts.  She is a player that can play multiple positions in the attack and has an incredible nose for goal.  We look forward to her contributing in multiple ways throughout her career."
Kayla Fortenberry, Midfielder, San Marcos High School (San Marcos, Calif.)
Fortenberry has played four years of varsity soccer at San Marcos High and was a first team All-CIF performer as a junior. Serving as team captain for three seasons, she was named the team's MVP in both her sophomore and junior seasons. She was named a first team All-San Diego Section honoree by the San Diego Union-Tribune following her junior season, and was also tabbed as a Top Drawer Soccer Winter State Star. Fortenberry was also a driving force, along with future teammate Karina Barkmeyer, in helping the So Cal Blues capture the 2019 ECNL National Championship.
Coach Hanson on Fortenberry:
"Kayla is a true ball winner!  She has played at the highest youth club level helping her team to win a 2019 ECNL National Championship.  She is a gifted ball striker and competitor in the air.  Her composure brings a settling element to the game that we look forward to having here at SJSU. She is just at the brink of showing what she can do on the field, and we look forward to developing this and watching her excel."

Autum Monty, Goalkeeper, Mount Whitney High School (Visalia, Calif.)
Monty is a three-time team captain and four-year starter in the goal for Mount Whitney High in Visalia. She was named the team's MVP for her freshman, sophomore and junior seasons. As a sophomore, she posted nine clean sheets and helped her team advance to the playoffs for the first time in four years where they picked up a win in the opening round over the defending valley champions. She was twice picked as a first team All-West Yosemite League performer as a sophomore and junior, and was a second team pick as a freshman. Monty plays club ball for the Central California Soccer Alliance.
Coach Hanson on Monty:
"Autum is a thriving keeper that comes from an underrated area. She has an incredible work ethic, willingness to learn and a team-first mentality that we admire. Her character is incredible and her potential is untapped. We look forward to developing that potential with her already strong traits mentioned above."

Taylor Phillips, Midfielder, Buchanan High School (Clovis, Calif.)
Phillips has established herself as one of the top goal scorers in her league during three four seasons of varsity soccer. She scored 16 goals in both her freshman and junior seasons, tops in the league on both occasions. She is both a three-time all-league and Team Offensive Player of the Year selection and in 2020 was the league's Offensive Player of the Year. Phillips was also selected to both the Olympic Development Program state and region teams, and earned an invite to train with FC Bayern women's team in Germany. In 2019, she led her club team, Girls Academy, to the Top Division National Championship title.
Coach Hanson on Phillips:
"Taylor is an exceptional goal scorer! She has an innate ability to find the goal and the composure to finish with both feet. She is physical and aggressive in the attack and can play multiple attacking positions. Her contagious energy and will to find the goal are what make her special on the field.  We look forward to her being a dynamic force in the attack and are thrilled to have her start her career in 2021."

Danna Restom, Forward, Visions In Education (Carmichael, Calif.)
Restom plays club ball for IR Academy of Soccer Development in Elk Grove, Calif. In 2018-19, she was named to the NPL Best XI Girls Players Team. In 2019, she helped lead the team to the league championship title, as well as winning the Silver Lakes and Las Vegas Showcase Brackets. The team is currently rated No. 1 in their league and 19th nationally.
Coach Hanson on Restom:
"Danna has unmatched potential as a power striker.  She is the perfect mix between power and finesse.  She has all the tools to be unstoppable here.  She is technically very good on the ball, drives at goal and is hungry to score.  Her creativity on and off the ball and ability to combine with other players creates a number of chances on goal.  We are thrilled to have her join this incredible attacking group."
Shayla Sugai, Goalkeeper, 'Aiea High School ('Aiea, Hawaii)
Joining the Spartans all the way from the Hawaiian Islands, Sugai has been a four-year starter in the goal at 'Aiea High. Serving as a team captain, she helped lead her team to a league championship. In 2020, she was named an All-OIA honorable mention selection. Sugai plays club ball for Leahi 03 Premier, and has helped her squad win the state championship as well as the Surf Cup and Disney Cup Championships.
Coach Hanson on Sugai:
"Shayla is incredibly athletic, has great hands, and high level experience competing on the top team in Hawaii for years.  Her potential is untapped and we're thrilled to have her mentality, energy and work ethic in goal. We look forward to her joining us in 2021!"