San Jose Earthquakes launch Girls' Academy teams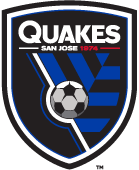 SAN JOSE, Calif. (Via San Jose Earthquakes) – The San Jose Earthquakes announced today that the club has been selected to participate as a member of the U.S. Soccer Girls' Development Academy and will compete in the Northwest Division, beginning in the 2017-18 season.
"The Quakes are excited to be a part of the inaugural season of the U.S. Soccer Girls' Development Academy," said Earthquakes interim general manager Chris Leitch. "We're looking forward to fielding a competitive team and giving girls in the Bay Area an opportunity to advance their game with the goal of playing at the highest level."
U.S. Soccer has built a national Development Academy program that includes 74 clubs in six regional divisions. The program is designed to accelerate the development of world-class female players and will begin play in the fall of 2017.
+Read: Girls' DA adds four clubs, announces Regional Divisions
The Academy will provide member clubs with a consistent schedule of league and showcase games as part of a balanced program built on an appropriate training-to-game ratio. The overall schedule is designed to provide meaningful games and a variety of competition.
The six Academy divisions will serve as the foundation for each club to play an appropriate amount of home and away games against divisional opponents. Each respective market division will have a unique schedule designed by U.S. Soccer based on the amount of travel and the number of available weekends.
Four additional clubs have made a commitment to join the Girls' Development Academy, along with the initial group of clubs that were announced on June 30, July 8, and August 17. Three clubs will be added in the West market: Albion SC (San Diego, Calif.), LA Galaxy (Carson, Calif.), and San Jose Earthquakes (San Jose, Calif.). In addition, United Futbol Academy (Cumming, Ga.) will join in the Southeast market.