Saint Louis FC Academy tops U.S. U-17 MNT in PKs after 1-1 draw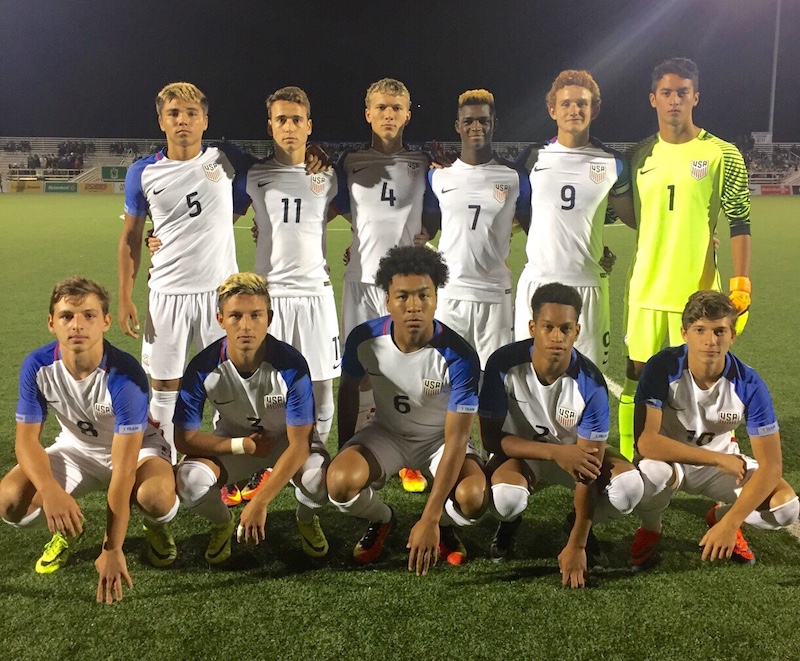 ST. LOUIS (Via U.S. Soccer) – The U.S. U-17 Men's National Team tied 1-1 and ultimately fell 5-4 in sudden death penalty kicks against the Saint Louis FC Academy U-18's in front of 3,241 fans at the Worldwide Technology Soccer Park. The St. Louis side was made up of top players from two U.S. Soccer Development Academy clubs: St. Louis Scott Gallagher Missouri and St. Louis Scott Gallagher Illinois.
+Read: USA roster named for FIFA U-20 Women's World Cup
The U-17 MNT started the match strong with an early 13th minute goal by Tonny Temple, assisted by George Acosta. The U.S. maintained the lead throughout the first half, but STLFC's Jack Lynn found the equalizer in the first minute of the second half. Neither team was able to break the tie, so the game ended in a 1-1 draw and went directly to penalty kicks, resulting in a 5-4 win for STLFC.
STLFC's Aedan Stanley buried the first PK in the back of the net, while George Acosta missed the first one for the USA. U-19 MNT goalkeeper Alex Budnik then saved STLFC's fifth penalty kick, leveling the score and adding another dose of drama to an already thrilling match. Facing sudden death, STLFC goalkeeper Seth Stiebel converted the sixth PK and immediately saved U-17's Carlo Ritaccio's attempt.
The U-17 MNT will now look ahead to hosting two international games vs. Costa Rica on Oct. 22 and 24 in Bradenton, Fla.
-U.S. U-17 Men's National Team Match Report-
Match: U.S. U-17 Men's National Team vs. Saint Louis FC Academy
Date: Oct. 8, 2016
Competition: Showcase Game
Venue: Worldwide Technology Soccer Park; St. Louis, Mo.
Kickoff: 7:30 p.m. CT
Weather: 55 degrees
Attendance: 3,241
Scoring Summary:         1          2          F          PKS
USA                                1          0          1          4
SLSG                             0          1          1          5
USA – Tonny Temple (George Acosta)                     13th minute
STLFC – Jack Lynn                                                 46
PENALTIES
| | | | | |
| --- | --- | --- | --- | --- |
| STLFC | 5 | | USA | 4 |
| Aedan Stanley | Make | | George Acosta | Miss |
| Jack Maher | Make | | Blaine Ferri | Make |
| Jack Lynn | Make | | Josh Sargent | Make |
| Jacob Phillips | Make | | Arturo Vasquez | Make |
| Orlando Arreola | Saved | | Tonny Temple | Make |
| Seth Stiebel | Make | | Carlo Ritaccio | Saved |
USA Goalkeeper: Alex Budnik
STLFC Goalkeeper: Seth Stiebel
Lineups:
USA: 1-Justin Garces (12-Alex Budnik, 46); 3-Tristan Weber, 5-Arturo Vasquez, 4-Carlo Ritaccio, 2-Akil Watts (14-Ethan Bartlow, 63); 6-Isaac Angking (13-John Murphy, 85), 8-Blaine Ferri, 10-George Acosta; 11-Matthew Hundley (16-Indiana Vassilev, 63), 9-Joshua Sargent (Capt.), 7-Tonny Temple
Subs Not Used: 15-Jose Rivas, 18-Wilmer Cabrera, 22-Quantrell Jones, 32-Nicolas Defreitas-Hansen
Head Coach: John Hackworth
STLFC: 1-Seth Stiebel; 3-Evan DeGreef (12-Chase Niece, 46), 4-Aedan Stanley (Capt.), 5-Jack Maher, 2-Reed Hawkins (21-Will Showers, 71); 16-Orlando Arreola, 8-Armando Sanchez (18-Blake Little, 46), 10-Nick Faddis (20-Jack Lynn, 46); 9-Jacob Phillips, 11-Ben Brodie (17-Sheridan Smith, 61), 7-Matteo Kidd (22-Kyle Barks, 84)
Subs Not Used: 0-Gage Steiner, 15-Kyle Swanner, 19-Alex Welch
Head Coach: Tim Lees, Kevin Stoll
Stats Summary: USA / STLFC
Shots: 12 / 2
Shots on Goal: 10 / 2
Corner Kicks: 8 / 2
Fouls: 12 / 7
Offsides: 2 / 3
Misconduct Summary:
STLFC – Chase Niece (Caution)                             55th minute
STLFC – Matteo Kidd (Caution)                              81
Officials:
Referee: Dule Djurasevic
Assistant Referee: Christopher Slane
Assistant Referee: Matt Geringer
Fourth Official: Matthew Rodman
Please note: Match was 90 minutes on artificial turf. The match was decided by penalties.