Rosters named for concurrent U.S. U-14, U-15 Girls National Team camps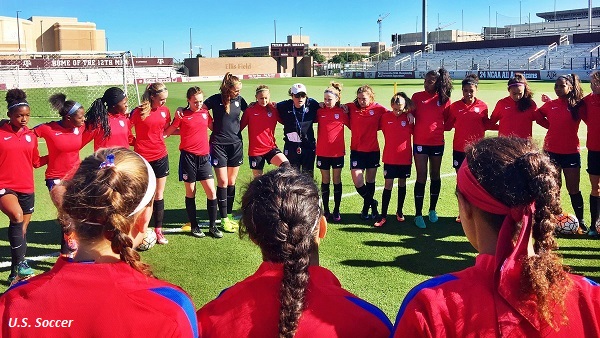 CHICAGO (Via U.S. Soccer) – The U.S. Under-15 Girls' National Team and the U.S Under-14 Girls' National Team will hold concurrent training camps from Sept. 10-17 at the U.S. Soccer National Training Center in Carson, Calif.
U.S. U-15 GNT head coach Tracey Kevins has called up 24 players, all born in 2003, for what will be her first camp at the helm of this age group.
U.S. U-14 GNT head coach April Kater has called up 24 players, all born in 2004. This cycle for the U.S. U-14 GNT would generally begin in early 2018, but this camp gives next year's U-14s a head start. For all but the few players who have been called into U-15 GNT training camps, this will be the first experience in a National Team training camp environment.
+READ: Sky Blue – PDA tops FC Virginia 1-0 in featured Girls DA match
The teams will scrimmage against each other during the week.
This group of U-15 players is in the first year of a two-year cycle before transitioning to U-17s in 2019, when they will form the core of the team that will attempt to qualify for the 2020 FIFA U-17 Women's World Cup.
U.S. U-15 GNT Roster by Position:

GOALKEEPERS (3): Haley Craig (Hawks-Wolves SC; Dexter, Mich.), Isabella Grust (San Diego Surf; Rancho Santa Fe, Calif.), Neeku Purcell (Seattle Reign; Seattle, Wash.)
DEFENDERS (7): Baleigh Bruster (Tophat SC; Smyrna, Ga.), August Hunter (Seattle Reign; Seattle, Wash.), Andrea Kitahata (San Jose Earthquakes; Hillsborough, Calif.), Phoenix Miranda (Leahi SC; Aiea, Hawaii), Ayo Oke (Concorde Fire; Lawrenceville, Ga.), Kellie Pagador (Placer United; Roseville, Calif.), Lilly Reale (South Shore Select; Hingham, Mass.)
MIDFIELDERS (7): Korbin Albert (Eclipse Select SC; Gurnee, Ill.), Colby Barnett (Strikers FC; Los Alamitos, Calif.), Summer Denigan (Cincinnati Development Academy; Union, Ky.), Emma Egizii (Beach FC; Downey, Calif.), Carina Lageyre (Weston SC; Cooper City, Fla.), Olivia Pena (Solar Chelsea; Irving, Texas), Isabella Piete (San Diego Surf; Alpine, Calif.),
FORWARDS (7): Simone Jackson (Slammers FC; Redondo Beach, Calif.), Caetlyn Johannes (Valley Isle SA; Kihei, Hawaii), Arianna Manrique (Tophat SC; Buford, Ga.). Alexis Missimo (Solar Chelsea; Southlake, Texas), Dorrian Savage (San Diego Surf; Chula Vista, Calif.), Jillian Shimkin (FC Fury; Rockville Center, N.Y.), Amelia White (Fort Wayne United; Fort Wayne, Ind.)
U.S. U-14 GNT Roster:
PLAYERS (24): Mikayla Abrenica (Legends FC; Temecula, Calif.), Jordan Brown (Heat FC; Las Vegas, Nev.), Maggie Cagle (SC Del Sol; Phoenix, Ariz.), Lindsey Chau (Legends FC; Highland, Calif.), Meka Doyle (San Jose Earthquakes; Berkeley, Calif.), Elise Evans (San Jose Earthquakes; Redwood City, Calif.), Jill Flammia (Richmond United; Manakin-Sabot, Va.), Juliauna Hayward (Real Colorado; Thornton, Colo.), Lumi Kostmayer (Oakwood SC; Southbury, Conn.), Georgia Leb (Solar Chelsea; Colleyville, Texas), Bridgette Marin-Valencia (PSV Union; San Francisco, Calif.), Molly Martin (FC Stars of Mass; Acton, Mass.), Ava Minnier (Penn Fusion; Downington, Pa.), Allison Montoya (MVLA SC; Los Altos, Calif.), Olivia Moultre (Beach FC; Canyon County, Calif.), Jordan Nytes (Real Colorado; Aurora, Colo.), Kayla Reed (Sky Blue-PDA; East Brunswick, N.J.), Jaedyn Shaw (FC Dallas; Frisco, Texas), Evelyn Shores (Tophat SC; Atlanta, Ga.), Emma Stransky (Internationals; Copley, Ohio), Maggie Taitano (San Diego Surf; Carlsbad, Calif.), Alyssa Thompson (Real So Cal; Studio City, Calif.), Teagan Wy (West Coast FC; Rancho Santa Margarita, Calif.), Ella Zimmerman (Tophat SC; Cumming, Ga.)