Roster named for U.S. U-19 Women's National Team training camp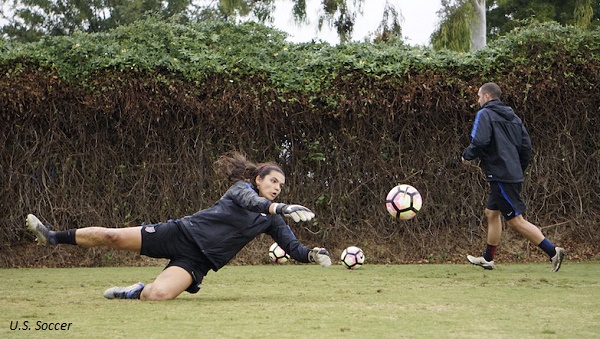 CHICAGO (Via U.S. Soccer) – The U.S. Under-19 Women's National Team will kick off its 2017 programming with a training camp in Sunrise, Fla., running from Jan. 28-Feb. 4.
Head coach Jitka Klimkova has called up 30 players, including eight who were on the USA's 2017 FIFA U-17 Women's World Cup Team. Those eight combined for 127 caps at the U-17 level along with 29 goals, including 15 from forward Civana Kuhlmann and 11 from forward Frankie Tagliaferri. Kuhlmann scored a hat trick against Paraguay at the U-17 World Cup in Jordan while Tagliaferri scored against Paraguay and Ghana.
+NCAA Women's Soccer Commitment Announcements: January 2017
The roster is a mixture of two birth years with sixteen players who were born in 1998 and 14 born in 1999. All the players are eligible for the team that will attempt to qualify for the 2018 FIFA U-20 Women's World Cup to be held in France. The age cut-off for that World Cup is players born on or after January 1, 1998.
Of the 30 players called up, nine are in college with the remainder still playing youth club. During the camp, the USA will play a match against the University of Central Florida on Friday, February 3 at the Paul Filipe Estate in Palm City, Fla., with a kickoff at 5:30 p.m. ET.
+READ: US Youth Soccer ODP Girls National Training Camp rosters announced
U.S. U-19 WNT Roster by Position

GOALKEEPERS (4): Aubrei Corder (Nebraska-Lincoln; Barboursville, W.V.), Amanda Dennis (Penn State; Palmetto, Fla.), Laurel Ivory (West Florida Flames; Surfside, Fla.), Amanda McGlynn (Virginia Tech; Jacksonville, Fla.)
DEFENDERS (11): Kerry Abello (Eclipse Select; Batavia, Ill.), Sydney Dawson (Internationals SC; Akron, Ohio), Samantha Hiatt (Crossfire S.C.; Newcastle, Wash.), Julie Mackin (Clemson; Castle Rock, Colo.), Tara McKeown (San Diego Surf; Newbury Park, Calif.), Zoe Morse (Michigan Hawks; East Lansing, Mich.), Karlie Paschall (Tennessee Soccer Club; Brentwood, Tenn.), Kiara Pickett (Eagles; Santa Barbara, Calif.), Isabel Rodriguez (Michigan Hawks; Canton, Mich.), Karina Rodriguez (So Cal Blues; Torrance, Calif.), Emily Smith (De Anza Force; Los Gatos, Calif.)
MIDFIELDERS (6): Haley Berg (Solar; Celina, Texas), Samantha Coffey (Match Fit Academy; Sleepy Hollow, N.Y.), Jordan Harr (Texas Tech; Sachse, Texas), Arlie Jones (San Diego Surf; Las Vegas, Nev.), Frankie Tagliaferri (PDA U18 Arsenal; Colts Neck, N.J.), Viviana Villacorta (Beach F.C.; Lawndale, Calif.), Natalie Winters (Iowa; Plymouth, Mich.), Sydney Zandi (Penn Fusion; West Chester, Penn.)
FORWARDS (7): Amirah Ali (PDA; Voorhees, N.J.), Belle Briede (Tophat SC; Alpharetta, Ga.), Cecilia Gee (Stanford University; Orinda, Calif.), Mireya Grey (Crossfire; Seattle, Wash.), Abigail Kim (California; Vashon, Wash.), Civana Kuhlmann (Colorado Rush; Littleton, Colo.), Kelsey Turnbow (Santa Clara; Liberty Lake, Wash.)