Rosedale Super Eagles and Manhattan Pride crowned champion U23 teams in Eastern New York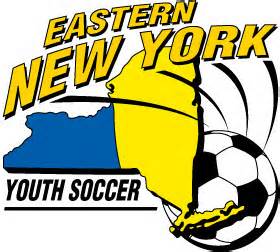 (Via Eastern New York Youth Soccer Association) – The best Under-23 teams from across the Eastern New York State Adult Soccer Association came to Stringham Park in LaGrange on Sunday, July 27 and the champion teams crowned that festive day wound up coming from New York City.
These games for state supremacy pitted the top teams from the Eastern District Soccer League's (EDSL) members: Greater Hudson Valley Soccer League (GHVSL), Capitol District Soccer League (CDSL) and Long Island Soccer Football League (LISFL).
Most of these teams' rosters grew up playing in the Eastern New York Youth Soccer Association (ENYYSA).
"This league comes together only through great cooperation between Eastern New York's adult and youth associations," commented EDSL President Peter Pinori.
In the men's final, the Rosedale Super Eagles, coached by Michael Duncan, became the first Long Island Soccer Football League (LISFL) team in the six-year history of the title game to become champions. Rosedale shut out Middlepath of the GHVSL, 2-0. Andie McFarland scored on a penalty kick in the 28th minute after Middlepath was whistled for a hand ball, then Dan Brown added an insurance goal for the Queens-based team in the 53rd minute.
Both semifinals went to a shootout. Rosedale advanced with a 4-3 shootout win after tying Albany Celtics, 1-1, while Middlepath and Manhattan were scoreless and Middlepath advanced in the shootout, 5-4.
On the women's side, Manhattan Pride repeated as champions with a 3-2 win over Nirvana Legend as the teams traded goals for most of the game. Sofia Munn opened the scoring in the 25th minute for Manhattan but Nirvana responded a minute later with a tally by Meaghan Gagnon.
Jackie Bruno put Manhattan ahead in the 53rd minute but Caroline Staudle responded for Nirvana four minutes later. Manhattan's Quinn Massaroni scored the winner in the 70th minute for the Jay Myers-coached side.
This is the fourth year that the GHVSL has featured a women's division. Middlepath United won the championship two years ago, while Capitol United of the CDSL captured the inaugural women's Under-23 State Cup in 2011.
"Our league gives men and women home from or entering college the opportunity to keep in shape during the summer," GHVSL President Jim Eleftherion said. "All in all, it was the perfect soccer day."