Riverhounds Academy teams start strong in ECNL and Great Lakes Alliance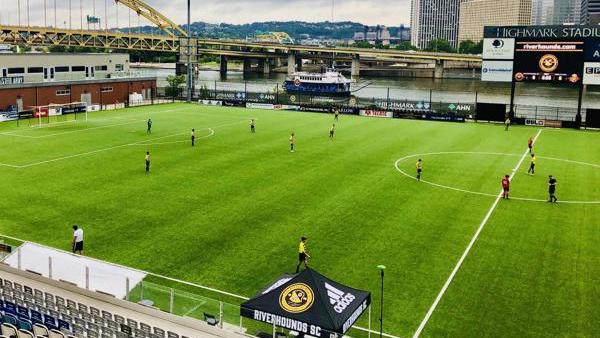 By Riverhounds.com Staff
After a big tournament weekend to return to play, the first "regular" weekend of Riverhounds Development Academy (RDA) competition last weekend placed teams in league action in both ECNL and Great Lakes Alliance matches.
The 2007 Boys provided one of the weekend's highlights by launching their ECNL campaign successfully with a 3-1 win over the Western NY Flash at Highmark Stadium on Sunday, as the team rallied after conceding first to a Flash counter. Aidan Thomas headed home the tying goal, and J.J. Vozar added two more off corner kick plays, while the team's back four of Garrett Chandler, Daniel Moya-Gibbons, Justin Walsh and Brayden Davin solidified in front of keeper Logan Joseph.
The 07 Regional League Girls side also put a point on the board Saturday on the strength of their defense. They went on the road to face the Flash and played a 0-0 draw — the fourth straight shutout for the team — thanks to the goalkeeping of Braidyn Recker and the defensive corps of Alessia Palladio, Ava Simpson, Aliah Evans and Lilly Hillegas.
The 2010 Girls also came away with two Pre-ECNL wins out of three on a Midwestern road swing. The side split 2-0 decisions Saturday against the Michigan Hawks, with Leesia Phetsomphou and Lucy Szakelyhidi scoring in the win, and an excellent Penny Walker strike paired with an own goal Sunday to give the Hounds a 2-0 win over Pacesetter SC (Ohio).
More than two dozen GLA crossover matches on the road in Ohio filled out the weekend's schedule and yielded further good results.
The high-scoring 09 Boys added two more wins over Team Challenger FC by scores of 5-3 and 6-3. Warren Agostoni scored two in each match, while Cole Celedonia netted three and four other players addded goals on the weekend.
The RDA East also produced a pair of double winners in the 07 East Girls and the 08 East Boys.
Playing the first match of the weekend Friday night, the 08 East Boys topped Canton United, 3-2, after rallying from down two goals with strikes in the final 25 minutes by Matt Kolencik, Ian Natale and Rocco Hagan. Natale's Friday goal was just an appetizer, as he posted a whopping six goals Sunday in a 10-2 win over Barca Academy Columbus.
For the 07 East Girls, it was a defensively sound weekend in a 1-0 win over Worthington United and a 2-0 victory over Club Ohio. Cali Dyche scored the lone goal in Saturday's opener, and Carmella Simco netted the two Sunday goals.
For a full rundown of the weekend's matches, be sure to keep checking the Live Results page.