Richmond Strikers' Ben Grant returns from Arsenal training stint, Fulham trial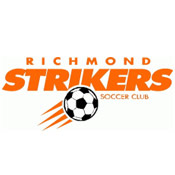 Richmond, Va., teenager Ben Grant recently completed his third training stint with an English Premier League academy, which included a trial at Manchester United at age 10. His most recent experience saw him spend two months with Arsenal and Fulham at the end of 2013.
The 14-year-old striker plays for the Richmond Strikers' Under-14 Development Academy team. His father, Patrick, is English, giving Ben a highly-sought European passport and the opportunity to play overseas, but his family has settled in Virginia.
"It's a nice compromise, I think, for him to go back and have these experiences when he can," Patrick told SoccerWire.com. "They've been very gracious to bring him in and to watch him. Fulham in particular have been incredibly good to Ben, always keen to have him back."
Eventually, Ben said he wants to pursue his dream of playing professionally in England. Fulham boasts one of the strongest academies in the United Kingdom, having won the U-18 title and currently sitting atop the U-21 Premier League table. Fulham's U-18s are also home to American Emerson Hyndman, son of former FC Dallas head coach Schellas Hyndman.
Ben has trained with Fulham three separate times in the past three years, each longer than the previous. It started with a week in 2011, after a scout saw him in a camp stateside, and progressed to two weeks in 2012 and five weeks in 2013.
"They've been very positive about Ben, especially in the technical side of his play," Patrick said. "Basically, we left it that he could come back again, visit again in the future. I get this feeling that they're kind of watching him develop — watching how he grows physically and as a player."
Ben's time training with Arsenal at the end of 2013 was facilitated by his participation in the Strikers' Arsenal Training Program. Bob Jenkins runs the program for the Richmond club, which attempts to replicate the technical training in the Arsenal academy.
Richmond is one of two American clubs directly connected with Arsenal through international partnerships performance supervisor Steve Morrow. The other is St. Louis Scott Gallagher SC, and Arsenal has established similar bases in Belgium, Vietnam and Greece. The Greek academy is Arsenal's flagship youth program abroad, boasting a full-time, residential setup.
"I've been over there [to London] enough times to watch their senior team and their reserves and their 18s and all that stuff, and all those different teams are doing stuff that we're doing," Jenkins said.
As a result, United States-based players can be as comfortable in technical situations as their Arsenal counterparts, Patrick Grant said.
"What was kind of neat, to go over there with Ben, was to watch these boys train," he said. "Ben could actually quite comfortably jump in at Arsenal, which isn't a trivial thing to do, because of the technical side of things, the way they move the ball — and be comfortable in that environment."
The goal of the Strikers' program is to create well-rounded players with superior technique, regardless of age or size. At home, Richmond players are arranged into training groups according to ability rather than age.
"I thought I matched up pretty well technically, but I'm not very big, and most of the boys are technical and physical," Ben said. "It's at a really fast pace, and they're combining technical skills with physicality."
Jenkins said Ben has "the right mentality" when he trains at home, allowing him to play with English players who grow up in a different soccer environment than him. Every day, they are exposed to the culture of a club that has a professional team at the top of its development pyramid and a tradition of success.
"We still have trouble replicating that here, so for him to have the opportunity to go over there and train [is great]," Jenkins said. "That's something for him that I'm hoping will really help to accelerate him."
Ben's experience came full circle in his latest stretch at Fulham, when he got to meet David Beckham and play with his son Brooklyn. The eldest Beckham child, whom Ben described as a "very good" player, is the same age and recently joined Fulham's U-15s upon the family's return to England.
Beckham waited around after a training session to take a picture with Ben, who was star struck.
"Growing up, David Beckham was my favorite player, ever since I started watching the game," Ben said. "It was kind of awesome to meet my idol."