Richmond Strikers 04 Elite Boys continue dominance with Jeff Cup title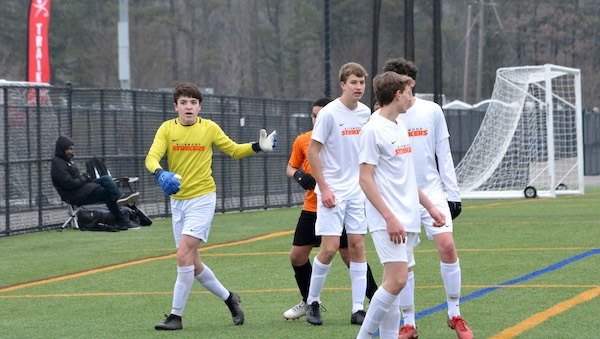 Follow the Jefferson Cup
Twitter | Instagram | Facebook
Schedule / Standings | Website
Sam Roberson netted a hat-trick as the Richmond Strikers 04 Elite Boys used a four-goal blitz inside the opening 30 minutes to ease to a 6-0 victory over SUSA in the U-15 Championship Division title match at the prestigious Jefferson Cup.
During four matches in the Jeff Cup's top U-15 bracket, the Strikers did not concede a single goal, earning four straight clean sheet victories. Their attack was also on point, scoring 11 goals in four matches.
The Jeff Cup title added to the Strikers' fast-growing list of accolades. They are the reigning Virginia State Cup champions, and recently won division titles at the visitRaleigh.com College Showcase and the Ultimate Cup, and placed 2nd at the Disney Soccer Showcase.
In Sunday's Jeff Cup title match, the hometown Strikers came out with a ferocious high-press that had SUSA spinning with turnovers in its own half leading to the opening barrage.
"We like to press, and it's been successful," Strikers Head Coach Pat McStay said after the match. "The way that we pressed was working and we scored three goals in transition in the first half and that was the difference."
After Roberson christened the scoring, Edwin Romero hit a dipping screamer from the top of the box that literally nestled into the circular bar that connects the post and crossbar in the upper back-corner of the goal.
Moments later, John White won the ball at the top of the box and played a quick combination before steering it into the far corner to make it three.
Roberson completed the first half onslaught after another lovely piece of combination play put the striker in-behind the SUSA back-line. Richmond's No. 11 made no mistake, with a clinical finish to put the match beyond reach well before halftime.
"He's such a competitor but he's also very calm on the ball," McStay said of Roberson. "He certainly makes things happen for himself, and he's great at connecting with his teammates. It was fun to watch."
To their credit, SUSA never abandoned its commitment to building out of the back and eventually found the solution to bringing the ball into the middle and attacking thirds. This made for a more balanced encounter as SUSA's highly-technical players began to carve out openings.
The Strikers' defense remained resolute and organized to maintain it's clean sheet. At the other end, Roberson made sure he finished with a flourish. The Strikers' danger-man completed his hat-trick when he waltzed through the back-line and rounded the keeper before tucking the ball into the empty net.
Nur Wasi provided the perfect coup de grace for the tournament hosts when he capped off the tournament with a gorgeous solo-effort. Wasi picked up the ball on the left touchline and slalomed through three defenders before burying his shot to the far post from just inside the box.
Congratulations to the 2004 Elite Boys who won the top bracket of Jefferson Cup this weekend scoring 11 goals and giving up 0. ??? pic.twitter.com/ciqDnaa7TF

— Richmond Strikers (@RStrikersClub) March 10, 2019