Richmond Kickers hire Darren Sawatzky as Head Coach and Sporting Director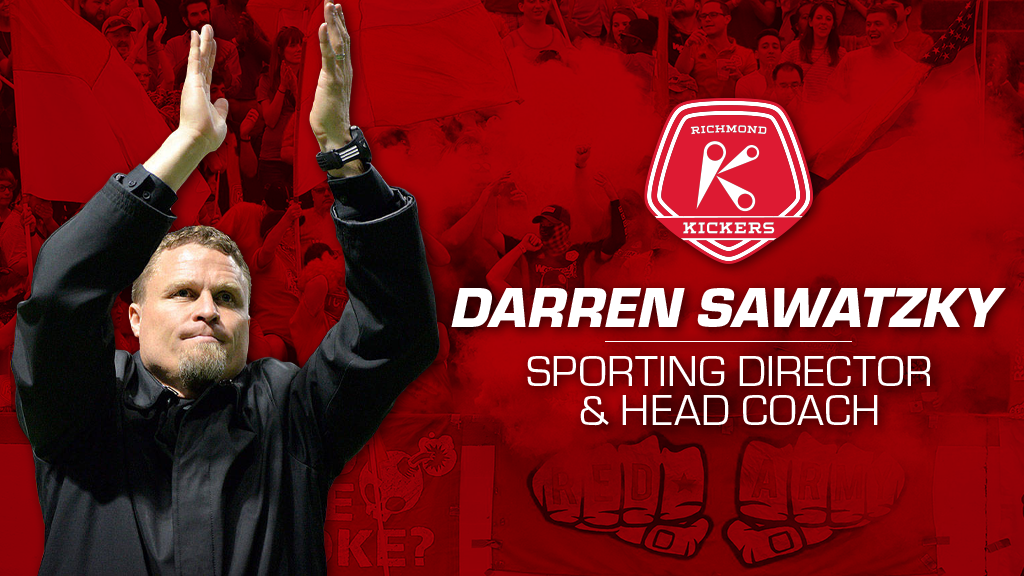 RICHMOND, Va. – The Richmond Kickers have announced Darren Sawatzky as the new Sporting Director and Head Coach of the pro team ahead of the 2020 USL League One season. Sawatzky takes the reins as the eighth head coach in the club's 27 year history.
"A clear perk is that Darren was a head coach in USL League One this season," commented Matt Spear, Richmond Kickers President. "His deep experiences with the Seattle Sounders is huge – especially the many years he ran their top quality U-23 USL League Two and Development Academy squads. He drives players to have a competitive bite and he enhances their best qualities. It helps that he played in Major League Soccer, has been a GM and that he has a deep scouting network and relationships with MLS, USL, international and agents."
Sawatzky joins the Kickers after a campaign with USL League One side FC Tucson, which is the affiliate of USL Championship side Phoenix Rising FC, bringing in experience with coaching in the league. Prior to joining Tucson, Sawatzky made a name for himself in the coaching ranks within the Seattle Sounders FC system. He led the Seattle Sounders U-23 USL League Two squad along with directing the Development Academy, producing talent such as current United States National Team players Jordan Morris (Seattle Sounders) and DeAndre Yedlin (Newcastle United). The Seattle native also had a stint steering the Guam National Team, coaching former Kickers defender Alex Lee. He holds a USSF A License and a French Federation Formation license.
"I am very grateful for the opportunity to lead the Richmond Kickers and work with the technical staff, the operations staff, and the ownership group here in Richmond," said Sawatzky. "Watching the Red Army this past year showed me first hand what this team means to this community and I can't wait to meet the fans here and be a part of this growing phenomenon. Being engaged with the fans and the community and building a winner that launches into each postseason is the goal. We are going to hunt trophies while playing entertaining soccer in 2020!"
Starting his professional playing career in Major League Soccer, Sawatzky was drafted by the New England Revolution in 1996, playing two seasons before moving on to the Dallas Burn in 1998. He went on to sign with the Charleston Battery later that year. Sawatzky was back in MLS the next year with the Colorado Rapids. A year later, Sawatzky found himself back in his hometown, signing with the Seattle Sounders, then a USL Championship side.
"Darren Sawatzky was a tremendous asset to Seattle Sounders Soccer Club, both as an Assistant Coach with me in the USL era, and also an integral part of launching our Academy program during our early years," added Brian Schmetzer, Seattle Sounders FC Head Coach. "He is a very knowledgeable coach and has a good sense of what it takes to be a professional. His work ethic is very high, which translates to maximizing the strengths of each one of his players."
The club plans to formally unveil Sawatzky at a press conference next Friday, November 15. Details of the press conference will be announced at a later date.
"We are thrilled that Darren is joining the Richmond Kickers family along with his wife Ginny and kids," noted Rob Ukrop, Richmond Kickers Chairman. "He has a long history of developing young, talented players and preparing them for success at the top level. More importantly, he brings an incredible work rate and an unbridled enthusiasm that we believe will lead our team back to the playoffs.